Governments, businesses, and trade unions in the province have been carrying out many Tet caring activities for trade union members and employees with the motto "No one is left behind", "All union members and employees have happy Tet holiday".
Reunion on New Year's Day
According to the Provincial Labor Confederation, in 2022 because enterprises faced many difficulties in production and business activities, employment, income and life of workers were affected strongly. Nguyen Hoang Bao Tran, Vice President of Provincial Labor Confederation, said that sharing difficulties with trade union members and employees, this year Binh Duong decided to triple the funding compared to the previous year to take care of employees having extremely difficult circumstances during the Lunar New Year 2023.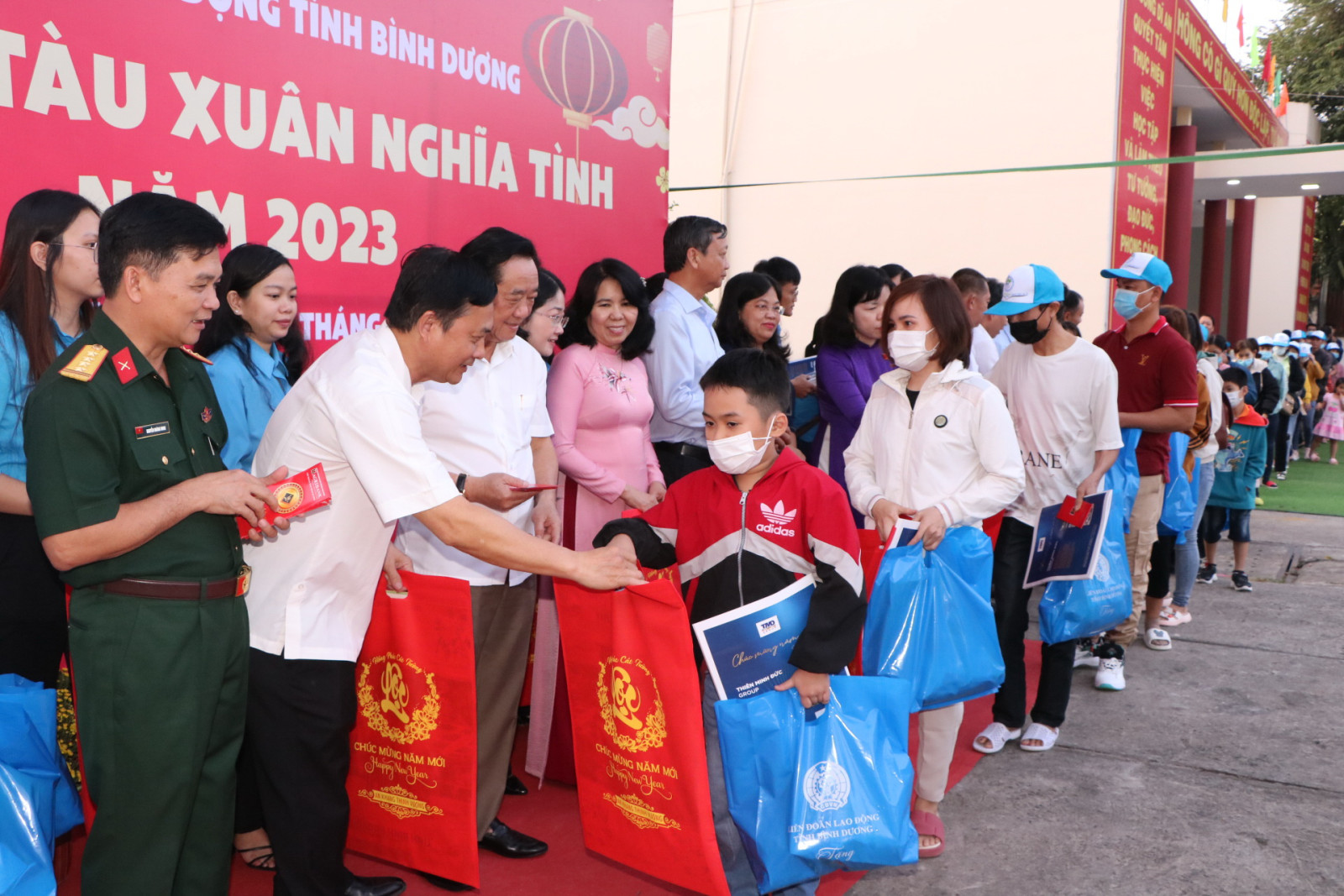 Provincial leaders see off and give gifts to workers returning home to celebrate Tet with their families at the "Spring train of gratitude" in 2023 organized by Provincial Labor Federation.
Namely, Provincial Labor Confederation proposed a plan that was approved by the Provincial People's Committee to support 46,500 gifts, each worth 1 million VND with a total value of 46.5 billion VND financed by provincial budget, for needy workers who stay in Binh Duong during Tet. Compared to Tet 2022, the support level increased from 500,000 VND/person to 1 million VND/person, and the number of supports also increased by more than 25,000 compared to the previous year.
Provincial Labor Confederation donated more than 7,000 train tickets and bus tickets for workers to return home to celebrate Tet with their families and return to Binh Duong to work after the Tet holidays; including more than 5,000 round-trip train tickets, more than 2,000 bus tickets; organized 2 sessions of "New Year's Trade Union Market" at the provincial level and the Vietnam General Confederation of Labor, with over 100 stalls providing many necessities, Tet products that were sold with discounts up to 50%, for union members and employees. In particular, at Tet markets, there were "zero-Dong" stalls supported by units, enterprises, and Provincial Labor Confederation; along with many other Tet caring activities from trade unions at all levels in the province with a total budget of more than 300 billion VND.
In addition, Provincial Labor Confederation also coordinated with provincial Department of Culture, Sports and Tourism to hold 20 nights of cultural music performances themed "Tet reunion - Spring together" to serve workers and people in the province in order to take care of union members and employees during the coming Tet and spring holidays.
Put more efforts to take care
Nguyen Kim Loan, Chairwoman of the Provincial Labor Confederation, said that in addition to activities financed by trade union's financial resources to take care of the union members and employees, the Provincial Labor Confederation also called on other organizations, enterprises, local authorities to cooperate in implementing the program "Welfare for employees" in order to mobilize resources to Tet-caring activities for union members and employees, especially for employees having extremely difficult circumstances, suffering labor accident, occupational disease, serious disease, lacking and losing job, taking unpaid leave due to difficulties in enterprises, falling orders…As a result, many units and enterprises joined hands and supported a total amount of 3 billion VND.
For example, Vietinbank Binh Duong donated VND 1 billion to Provincial Supporting Fund for Workers having Extremely Difficult Situations to help disadvantaged workers; gave 100 gifts, each 5kg of rice with a total value of 15 million VND, cash support of 50 million VND for Labor Confederation and industrial park trade unions in Tan Uyen town, Ben Cat town, Di An city and Thu Dau Mot City... In particular, recently, Vietinbank Binh Duong and Provincial Labor Confederation gave gifts to workers in lodging houses and 2 workers' children whose parents died due to the Covid-19, with a total value of 100 million VND.
Vietcombank Binh Duong donated 1 billion VND to Fund for disadvantaged workers. Becamex IDC supported 148 gifts for workers' children who are orphans due to the Covid-19, with a total amount of 148 million VND. Agribank Binh Duong supported disadvantaged workers with 200 million VND...
Besides, Provincial Labor Confederation directed trade unions to actively coordinate with the authorities and mass organizations of districts, towns and cities to mobilize lodging houses' owners to offer housing rent exemption or reduction for employees. Therefore, many lodging houses' owners understood tough circumstances of workers, reduced housing rent by 300,000 - 500,000 VND/month/room.
Nguyen Thi Kieu, owner of Pham Van Nghia lodging house (Hoa Phu ward, Thu Dau Mot city), said: "I was informed by workers in my lodging house that for the past few months, due to the company's difficulties, many of them had no jobs and income. From the mobilization of the local government and trade union, my family decided to reduce the room rate for employees with a reduction of 300,000 - 500,000 VND/month/room depending on the difficult circumstance of each worker". In addition, like every year, my family has also prepared Tet gifts, each gift includes cooking oil, monosodium glutamate, sugar etc. to present to workers".
With the efforts and care from the authorities, trade unions, businesses, lodging houses' owners have shared some of the difficulties and helped workers, who are away from home, to have a warm, joyful and happy Tet.
Reported by Do Trong - Translated by Ngoc Huynh