Morning of January 27, the Binh Duong provincial Department of Tax held a meeting at the beginning of the year to implement tasks in 2023.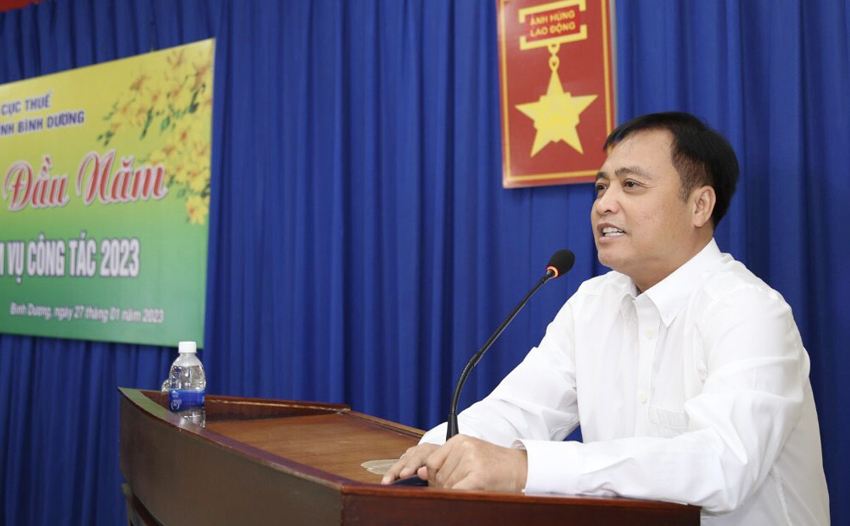 Nguyen Van Cong - Director of Binh Duong provincial Department of Tax speaks at the conference
In 2023, Binh Duong provincial Department of Tax continues to promote reforms, striving to reach the top of the province in administrative reform, and at the same time, achieve the highest index of assessing the satisfaction of taxpayers. Along with that, Binh Duong provincial Department of Tax strengthens propaganda, supports and urges taxpayers to fulfill their obligations to the State budget through innovation of methods and development of various forms of propaganda; tax management is well implemented for e-commerce business activities, online business and others, the provincial Tax Department also focuses on inspection by risk management method combined with specialized inspection. Industries are facilitated to ensure publicity and transparency in the implementation of tax obligations, creating fairness for the business environment.
In 2022, Binh Duong tax has successfully completed the assigned tasks. Specifically, budget revenue was VND 46,600 billion to reach 113% of the estimation assigned by the Ministry of Finance in the year. The whole department has handled tax arrears of VND 5,322 billion; estimated tax arrears of the whole department as of December 31, 2022 was VND 2,825 billion, decreasing by VND 67 billion compared to 2021. State budget revenue in 2022 guaranteed at 6.6% compared to 2021 not exceeding 8% of the target assigned by the General Department of Tax.
Reported by Thanh Hong – Translated by Vi Bao