Ever since 2010, Binh Duong provincial authority has been concentrating on timely promotion and encouragement of facilities to well practice environment protection by announcing Green Book of Binh Duong province. Thereon, enterprises are powered to protect the environment with delight outcomes.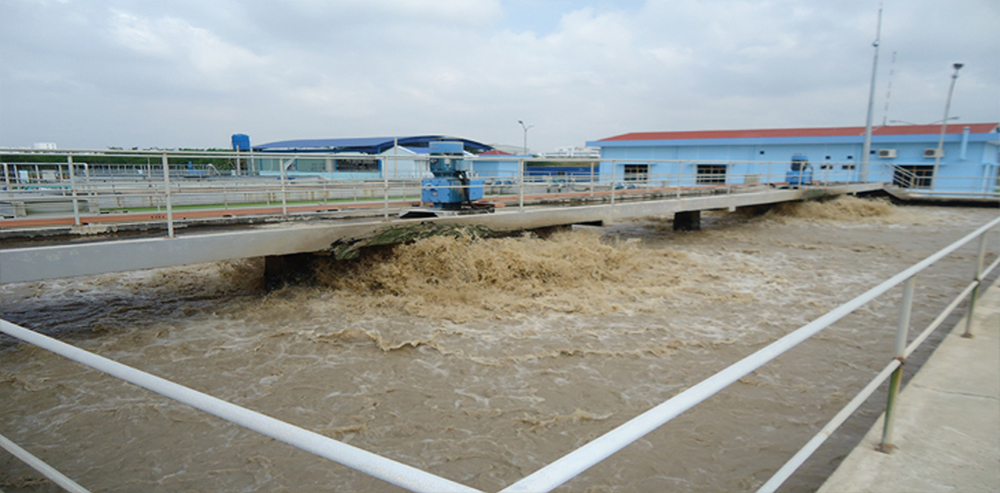 Waste water treatment factory is operating at VSIP II
Environment protection efforts
The announcement of Binh Duong provincial Green Book 2020 was to praise, encourage, and stir up determination among enterprises in environment protection. In the meantime, the announcement and publication of environment information from industrial facilities have been helpful for community supervision and pressure on enterprises to well practice environment protection. Ngo Quang Su, Director of Binh Duong provincial Department of Natural Resources and Environment, said: "The project targets at disseminate information that affects awareness and transform actions of enterprises in terms of environment protection, contributing to the process of broadcasting images, brands, and commercial values of enterprises to consumers and community. Examples of enterprises well implementing environment protection are praised to improve environment quality of Binh Duong."
The specific aims of announcing and issuing Binh Duong provincial Green Book 2020 are to response to the campaigns of cleaning the world. Enterprises are timely praised and awarded for brilliant practice of environment protection and listed in Green Book 2020. Department of Natural Resources and Environment has surveyed 105 industrial producers in the province (86 are within industrial parks, 19 are outside industrial parks with 28 domestic ones and 77 foreign ones).
Through the survey and measurements at 82 enterprises (28 failed to join), 13 failed to meet the evaluation and ranking (accounting for 15.8% of the survey), 60 met the evaluation and ranking (accounting for 73.1% of the survey). Of the survey, 59 were classified at green level (for gaining over 90 points) with 44 enterprises meeting the requirements and 15 ones registered or nominated. Thirty six enterprises gained over 100 points including VSIP II for industrial waste treatment, Vinasoy Factory of Binh Duong for food processing, adn Showa Gloves Vietnam Co. Ltd.
Ngo Quang Su said: "Enterprises participating the scheme have fully submitted environment profiles, making it easier for the survey and information collection. Besides, all participating enterprises have upheld good cooperation with the scheme."
Promoting the effectiveness
The project of constructing Binh Duong provincial Green Book 2020 has been initiated by Center for Observation and Technology of Resources adn Environment ever since July 2020 and fulfilled in August 2020. Ngo Quang Su said: "To encourage enterprises to better implement environment protection and increase the quantity of participating enterprises to the provincial Green Book, the Department of Natural Resources and Environment has proposed to the provincial authority to earn special policies for those enterprises listed in the Green Book. Besides, the budget is announced and preserved for praising enterprises in televised dissemination reports to introduce the green enterprises, which is helpful to broadcast their brands and for better tryouts of environment protection. Su added that the Department has suggested for widespread introduction of provincial Green Book to enterprises in the province so that more participants will join.
Reported by Phuong Le – Translated by Vi Bao