Although facing numerous difficulties with training and competitionbecause of the Covid-19 pandemic, many sports teams of Binh Duong Province overcame all obstacles in 2021 and successfully won impressive achievements, contributing to the overall success of the province's sports sector. This is a good springboard for Binh Duong sports to look forward to 2022 with more success.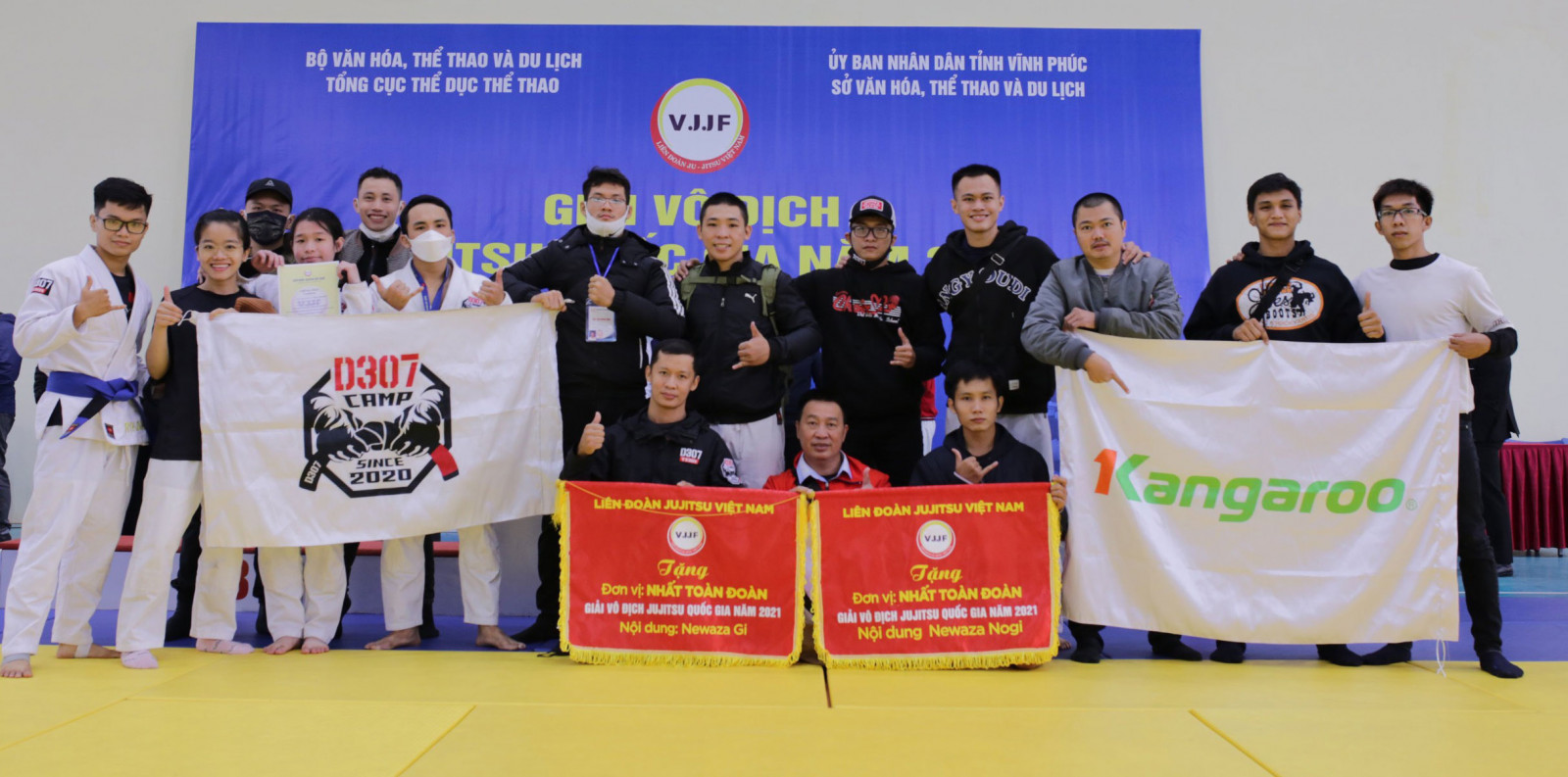 Binh Duong Jujitsu team is holding a unique position in the Vietnamese Jujitsu martial arts.
When the Covid-19 broke out in late April and early May, most provincial athletes had to stop practicing at their center. Accordingly, coaches let athletes train at home according to their own lesson plans and monitor athlete's self-training process over the Internet. With this option, success is mainly based on the efforts of each individual athlete. Without passion and independent spirit, it was very hard for them to maintain their endurance for nearly five months of self-training at home. However, overcoming all the difficulties, most athletes in provincial sport teams well completed their lesson plans assigned by coaches. That is a good springboard for athletes to compete in national sports tournaments held in last months of 2021.
Karate team began successful year-end months of Binh Duong sports. Nguyen Minh Phung and his athletes performed impressively and won two gold and four bronze medals.
Members of provincial Billiards team also entered the national competition in Da Nang City. The excellence of players, like Quoc Tuan and Thanh Tu, helped the team to finish in third place overall. Success after success, Binh Duong bodybuilding team with a total of five gold medals, two silver medals and three bronze medals rose to second place at the national bodybuilding championship 2021. A good news also came to Binh Duong women's cycling teams as they won third place of team category. In addition, Jujitsu martial arts team won first place with a total of ten gold medals.
The impressive achievements of Binh Duong athletes at the end of 2021 are the motivation and leverage for top athletes of the province's strong sports, such as Karate, cycling, bodybuilding, and Jujitsu, to look forward to 2022 with many more successes In particular, this year, in addition to national championships, Binh Duong will also attend the 2022 National Sports Festival at the end of the year in Quang Ninh province. Binh Duong determines this as a playground to affirm its position in the whole country. Hence, right from first days of the new year, leaders of provincial sports sector put some sports in the competition system of Provincial Olympic Games 2022. It is the carefulness and thoughtfulness of the leaders and head coaches that will help provincial sports sector achieve more successes in the new year. Binh Duong determines to perform with dedication, beauty, attain high achievements, and contribute more athletes to the national teams, especially at the 31st SEA Games held in Vietnam.
Currently, Binh Duong has athletes who have received tickets to the 31st SEA Games, including: Pham Quoc Tuan of one-band carom Billiard, woman cycler Dinh Thi Nhu Quynh of mountain biking, and 4 fighters of Jujitsu martial arts team including Duong Thi Kieu Oanh (48 kg), Nguyen Thanh Huong (45 kg), Tran Ngoc Luong (62 kg), Pham Tri Dung (69 kg).
Reported by Hung Cuong - Translated by Ngoc Huynh