Part 1: International cooperation to build smart city
Binh Duong has implemented a project on smart city construction, mobilizing internal resources and actively expanding cooperation relations with foreign localities, international partners and organizations to approach, exchange, learn from experience and apply scientific achievements to the local process of smart city construction. Currently, Binh Duong is an official member and a reliable partner of 3 international organizations, including: International Community Forum (ICF), Asian Economic Cooperation Forum (Horasis) and World Trade Center Association (WTCA).
Initial results
Binh Duong has a dynamically and strongly developed economy with growth rate and people's incomes being higher than the national average levels. With a modern and synchronous technical infrastructure system, a complete inter-regional traffic system, creating favorable conditions for industrial development and planning for the construction of new urban areas, Binh Duong is an ideal destination for investors and is always ready to "roll out the red carpet" to welcome enterprises for investment cooperation.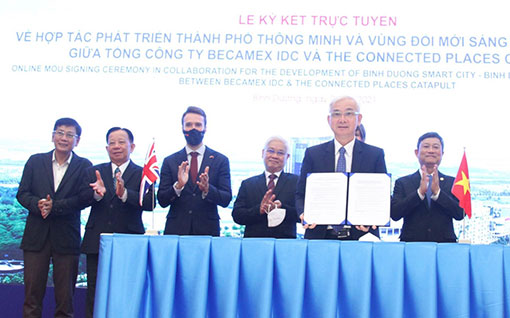 Provincial leaders witness the online signing ceremony on cooperation agreement between Becamex IDC, CPC and the UK to develop the Binh Duong Smart City and Innovation Zone project
Binh Duong has implemented the Smart City project, a breakthrough project for socio-economic development, gradually building technical and social infrastructure facilities, building a favorable and stable investment climate. In 2016, Becamex IDC accompanied the province to build the Binh Duong Smart City Project and now the Binh Duong Innovation Zone Project. Determining that Binh Duong needs to take innovation and science-technology as its core, Becamex IDC has also joined hands with Binh Duong in developing a project to form up a science and technology industrial park in order to raise the development level of Binh Duong Smart Zone with the region and the world. In particular, in 2018, Binh Duong province became an official member of the ICF and was selected as the host of the Ceremony Honoring the TOP 7 World Smart Communities in 2022.
With the theme of "Recovery after the pandemic, digital transformation and innovation to promote growth in the community", the forum brought many views of the community on smart city development, smart community, shared values and visions. Joining the ICF has helped Binh Duong connect and learn many things from other members in the world, thereby affirming and continuing persevering with its development strategic direction.
Mai Hung Dung, member of provincial Party Standing Committee, Permanent Vice-Chairman of provincial People's Committee, Head of the Executive Board of Binh Duong Smart City said: "Binh Duong has been honored in the Top 21 Intelligent Communities for four times in a row and the Top 7 Intelligent Communities with typical smart city development strategies by the ICF for 2 times. This affirmed that the choice of approach of the Binh Duong Smart City Project is consistent with the general trend of the world. TOP 7 is not the final destination to reach, but Binh Duong will try harder to be always a place worth investing in, studying and living."
Continuing development cooperation
In its development strategy, Binh Duong will continue implementing the "Binh Duong Innovation Zone" project with the planning of a science and technology industrial park, an innovative start-up ecosystem, promoting the proportion of services, especially e-commerce, international trade... In order to realize the development goals and strategies along with upholding internal resources, the province will strengthen bilateral and multilateral cooperation. Binh Duong is not only an attractive destination for domestic and foreign investors, but also a reliable place to organize external events of national and international stature. After the event honoring the TOP 7 World Smart Communities in 2022 successfully held in Binh Duong, the province is well preparing conditions to successfully organize the Horasis - India Economic Cooperation Forum in 2022 which will take place at Binh Duong Convention and Exhibition Center from September 25 to 27.
The successful organization of international events helps Binh Duong expand its international cooperation in the fields of economy, culture, education, science and technology, especially in the field of investment-trade cooperation; be proactive to promote Binh Duong brandname - a dynamic, creative and effective industrial province with foreign partners, increase opportunities for exchange and connection between domestic and foreign enterprises and business associations, contributing to enhancing investment attraction, business cooperation towards a smart, dynamic, creative and worth-living Binh Duong. (To be continued)
*Mai Hung Dung, member of provincial Party Standing Committee, Permanent Vice-Chairman of provincial People's Committee, Head of the Executive Board of Binh Duong Smart City: "Building a smart city, a digital and innovative ecosystem is being strongly developed. The province is promoting digital transformation, developing digital government to serve people and enterprises. The World Trade Center Binh Duong New City (WTC BD) has helped the province connect with tens of countries and trade centers around the world. Enterprises have paid more attention to the trend of automation and data exchange in production technologies and processes. The Smart Industrial Park Project, projects on education - training, healthcare, housing development, synchronous and connected traffic infrastructure... are implemented to bring a better life to the community in Binh Duong, more convenient production and business activities to people and enterprises".
*Dr. Frank Jurgen Richter, Chairman of the Asian Economic Cooperation Forum (Horasis): "I am very grateful to Binh Duong province for successfully hosting the Horasis Asia Meeting for 2 consecutive years. The forum shared about development issues in the 4th industrial revolution as well as opportunities and challenges when the Free Trade Agreements are signed while proposing solutions to promote the spirit of startup and innovation that is very meaningful for planning development strategies of localities and corporations.
Reported by Phuong Le-Translated by K.T