Realizing the Project on Urban Agriculture Development in the southern region of Binh Duong under provincial People's Committee's Decision No. 3265, provincial Department of Agriculture and Rural Development has accelerated the restructuring of the agricultural sector towards diversifying production types in association with the consumption market, processing industry and the process of urbanization, gradually stabilizing people's lives, creating a green, clean and beautiful environment.
Building product brands
With the orientation of urban agriculture development in the southern region of Binh Duong, provincial Sub-Department of Cultivation and Plant Protection has cooperated with relevant departments, sectors and localities to implement a project on "Development of specialty orchards in association with eco-tourism in the southern region of Binh Duong province" as soon as provincial People's Committee approved the project. The project focuses on implementation in communes and wards along the Saigon river in Thuan An city and Tan Uyen city's Bach Dang commune.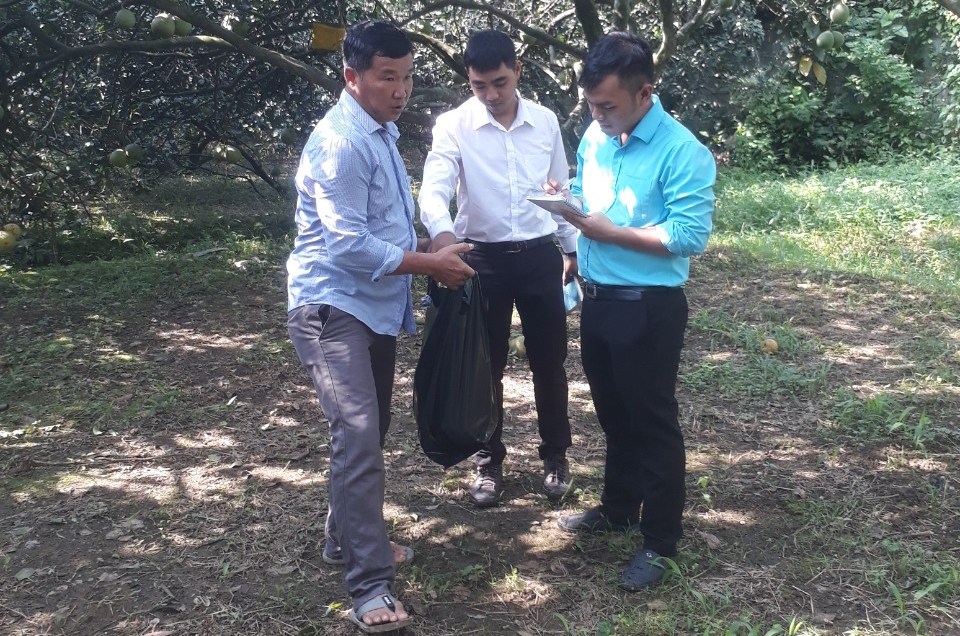 Officers of provincial Sub-Department of Cultivation and Plant Protection take soil samples from a pomelo orchard in Tan Uyen city's Bach Dang commune to assess conditions for VietGAP certification
The goal of the project is to build eco-tourism models of specialty orchards in association with eco-tourism in order to increase income for gardeners and promote eco-tourism in the southern region of the province. The project is implemented with such main contents as building 2 eco-tourism models of specialty orchards in 4 areas of Thuan An city and 3 areas of Bach Dang commune. These are models applying techniques on planting and tending specialty orchards to ensure food safety under the national standards TCVN 11892-1:2017 (VietGAP cultivation). The model is also a destination for tourists in and out of the province, increasing income for households participating in the project, creating jobs for the local people, forming up a garden eco-tourism system...
The type of ecotourism in association with agriculture will bring lots of interesting experience to domestic and international tourists. Through this, farmers can promote agricultural products and increase their income, contributing to promoting agricultural and rural economic development in a more sustainable way.
Luu Dinh Le Thuy, Director of provincial Sub-Department of Cultivation and Plant Protection said that over the past time, the sub-department organized 2 training courses on applying production practices under VietGAP standards, skills, solutions to organize, build a model on agricultural production development in association with garden eco-tourism for agricultural managers and fruit tree growers in communes and wards with 80 participants. Through the 2 training courses, learners were equipped with basic knowledge and skills on welcoming, introducing and serving visitors to specialty orchards as well as knowledge about environmental protection.
Along with that, the sub-department made guidance on applying the process of good production practices and 20 farmer households participating in the project were granted VietGAP certificates, or 100% of the plan. Among them, there were 10 households growing pomelo in Bach Dang commune and 10 households growing mangosteen in Thuan An city. This is also a good condition to affirm the quality of the local agricultural products while building product brands and a stable consumption market. The products of households participating in the project are supported with packaging, identification labels, and traceability.
Attaching special importance to developing concentrated production areas
According to Mrs.Thuy, the implementation of the project's contents has contributed to changing the traditional farming practices of the people to the application of scientific and technical advancements, safe production processes (VietGAP). This has also contributed to preserving and developing the province's specialty orchards, creating a green ecological environment landscape, effectively tapping advantages from riverside specialty orchards.
The local agricultural sector has also promoted socialization and attracted investors to develop the local eco-tourism, gradually contributing to forming up a garden ecotourism development area. And eligible households will develop a variety of tourism types, shift the economic structure towards improving the quality and brand of specialty fruit products at tourists 'demand.
In addition, the sector will further implement policies to support fruit tree production under VietGAP standards; recommend, advise and guide production towards organic agriculture, gradually forming up an organic citrus fruit trees growing area in order to improve the quality and value of products, building up a sustainable and safe citrus fruit trees growing area.
The local agricultural sector will strengthen the production of specialty fruit trees in a chain linked from production to consumption through the formation of cooperative groups, cooperatives, and clubs for citrus fruit production in order to attract farmers to live together on topics, especially new-style cooperatives with the role of linking production to ensure traceability, connecting businesses to purchase and consume products.
Moreover, the sector will build up collective trademarks, brand names for quality fruit products under VietGAP and organic standards; further research, propose and well implement policies to support development, carry out policies to encourage the formation of linkage chains - product consumption; fully mobilize investment resources, create conditions for the local organizations and individuals to access support policies in the best way.
In order to conserve, develop and effectively tap advantages from riverside specialty fruit orchards, protect the environment in association with tapping cultural heritages and traditional craft villages, the sub-department will further identify and focus on implementing a number of key solutions; step up the direction and organization of production under safe production processes, attach special importance to the development of concentrated production areas with a large amount of goods; monitor, evaluate and select suitable and effective fruit trees for each region. Especially, the local agricultural sector will give priority to the development of specialty varieties with trademarks and market competitive advantages in the coming time.
Reported by Thoai Phuong-Thao Truc-Translated by Kim Tin