For many years, Thu Dau Mot city has focused on urban development towards civilization and modernity, improving the quality of people's lives. The city plays a role of being a political, economic, cultural and social hub, a regional linkage center, creating a driving force for the development of satellite cities, greatly contributing to the local process of smart city, innovation zone construction.
Infrastructure investment, urban development
In the 2016-2020 period, provincial People's Committee has given priority to allocating capital from the local State budget for 61 projects of Thu Dau Mot city with total investment of more than VND 3.04trillion. The city also spent more than VND2.31trillion from the local State budget on 106 projects. Up to now, the city has put 29 streets into use, including a number of important traffic projects such as Tran Ngoc Len and Le Chi Dan streets, the road to Tan An ward, DX01 - Phu My street, "Cay me" intersection, "So Sao" intersection, Tran Van On, Nguyen Van Long, Le Van Tach streets...Some key projects such as the city's Funeral House, Hospital and 1,500-bed General Hospital have also been put into use, which is an important prerequisite for creating a driving force in the city's urban construction and development.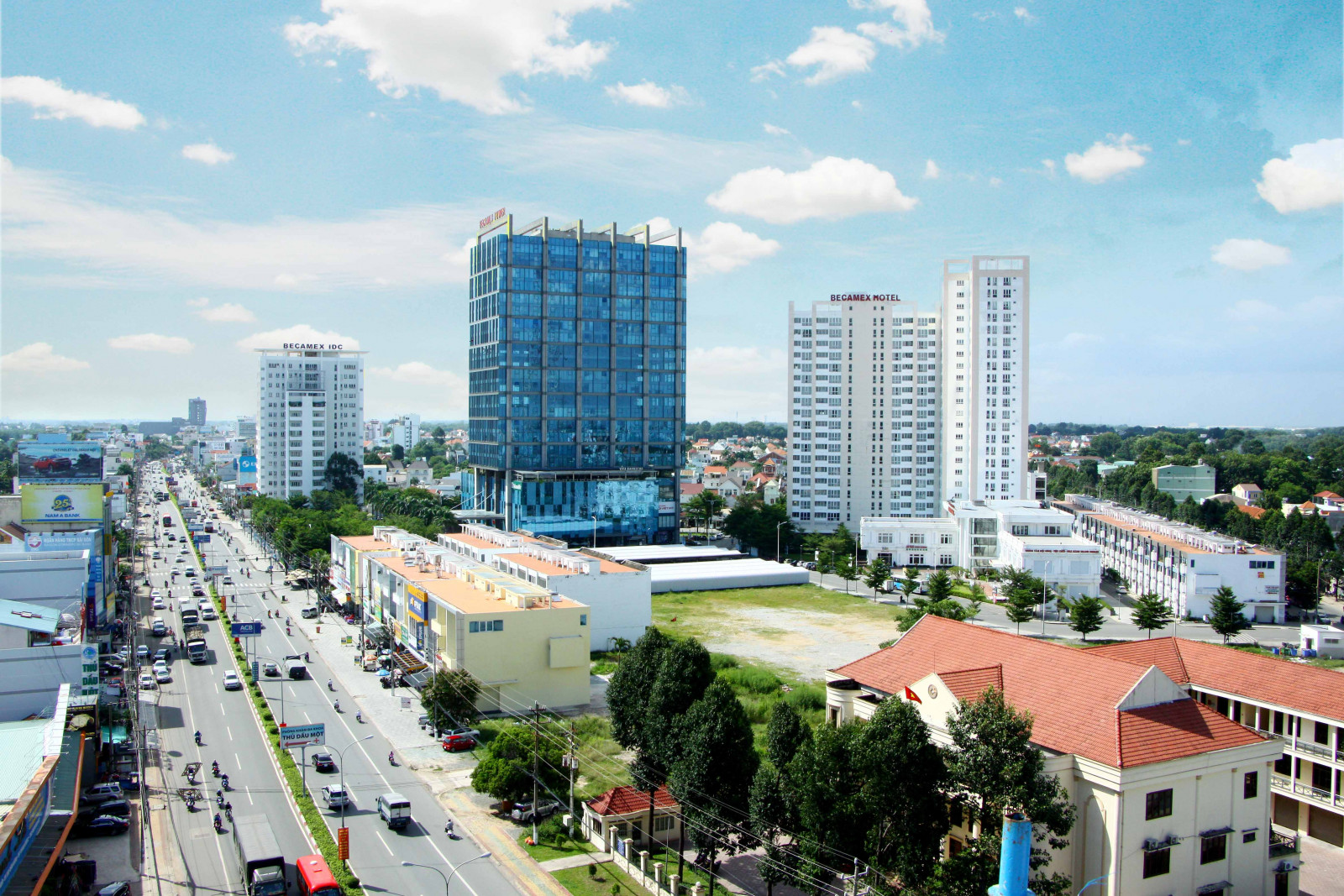 Binh Duong Boulevard at the section through Thu Dau Mot city
Besides, the city is implementing the expanded Bach Dang street, the Bung Biep - Suoi Cat and Suoi Giua drainage system. The city has also completed a dossier of reporting on the proposal of investment policy on the construction of an underpass at Cho Dinh intersection with a scale of 2 lanes and an underpass at the Phuoc Kien intersection with a scale of 4 lanes...In addition, the city has built 18 public schools, 1 hall and 1 multi-purpose gymnasium; upgraded 43 schools. The city's socialization of education has made many positive changes, contributing to improving the local quality of education at all levels.
Along with social-urban infrastructure development, the city has paid attention to fostering new urban areas. The city has taken steps to make local adjustments to the planning of functional zoning with 1/2000 scale, the detailed planning with 1/500 scale to call for investment in urban areas, commercial and service centers. Some areas like the intersection of Binh Duong boulevard - Pham Ngoc Thach street; the city's old Party Committee - People's Committee are very potential for development. Provincial People's Committee has also said ok to investors in researching to put forward investment projects for the 300-ha area in Tan An ward, the 13.5-ha area in Chanh Nghia ward.
The city has created favorable conditions to call for investors to develop housing projects. Many commercial residential areas, high-rise apartment buildings have been deployed with a larger scale and higher quality than in the previous period, contributing to raising the average housing floor area per person from 20.4 square meters to 29.89 square meters. In addition, Binh Duong Industrial - Service - Urban Complex has also lured many high-class housing projects with the birth of new urban areas, creating a new look with positive development for the city. In late 2017, Thu Dau Mot city was recognized as a first-class city, becoming one of the country's 18 cities.
Nguyen Thu Cuc, Chairwoman of Thu Dau Mot city's People's Committee said: "Over the past time, Thu Dau Mot city paid attention to directing and mobilizing resources on key projects on transportation system development, creating connection for urban development in the western and northwestern areas of the city as well as connecting the existing urban areas with the new urban area (Binh Duong new city). Thu Dau Mot city's recognition as a first-class urban area has fully reflected the local development position and reality- the central urban area of ​​Binh Duong province while creating conditions and opportunities for it to reach faster and more comprehensive development".
Towards smart city
Thu Dau Mot is one of five cities located in the Smart Region of Binh Duong. In the 2016-2020 period, the city set up and implemented an action plan on information technology application and smart city construction to initially implement the Binh Duong Smart City Project.
In the period of 2021-2025, the city's point of view on development has still been towards civilization - modernity, with focus on social-technological infrastructure development under the plan. The city has gradually developed "Green city - smart city" towards improving the quality of people's lives, creating a spacious and clean urban scenery, taking people and businesses as subjects during the local development process; mobilized investment resources for breakthrough projects and works, creating urban highlights, increasing connectivity and harmony between the development of existing urban areas and new urban ones under construction.
Thu Dau Mot city has set a goal of having a drastic change on urban image, worthy of being a first-class city under the management of Binh Duong province by the end of 2025 and the beginning of 2026. Some works have been commenced construction or others have been accelerated, completed and put into operation. The city's urban management, supervision and administration are centralized, synchronous and comprehensive, thereby contributing to improving the local people's living standards, demand for entertainment.
Mrs.Cuc added: "Thu Dau Mot city has set up an action plan, specific goals and tasks of basic elements, contributing to the foundation for smart city and innovation region construction for the period of 2021-2025, with a vision to 2030 and beyond. In the coming time, the city will focus on investing in information technology infrastructure, building a shared database, deploying softwares in the fields of public administration, urban management and environmental resources, education, healthcare, security- order and traffic safety in sync with the development orientation of Binh Duong smart city
Compared with 59 criteria prescribed for first-class urban classification, Thu Dau Mot has 37 criteria exceeding the maximum level compared to requirements (63%) with achieved scores of 91.2 out of 100 scores, in which there are many criteria on social-technical infrastructure. The total State budget expenditure for the city's capital construction investment in the 2016-2020 period is more than VND 5.27 trillion, including more than VND 2.31 trillion from the local State budget.
*Mai Hung Dung, member of provincial Party Standing Committee, Permanent Vice-Chairman of provincial People's Committee: "Thu Dau Mot city needs to bend on investing in key breakthroughs, creating highlights and changing the local urban image. The city's investment in synchronous infrastructure with regional connectivity is on the basis of renovating existing urban areas, effectively developing and exploiting public land resources into recreational places for people. In addition, the city needs to invest in information technology infrastructure, shared databases, and softwares in the fields in sync with the development orientation of Binh Duong Smart City.
*Nguyen Van Dong, Secretary of Thu Dau Mot city's Party Committee: "In the 2016-2020 period, Thu Dau Mot city focused on two basic tasks of urban development and rejuvenation with positive results. In the next period, a new draft resolution to replace the Resolution No. 17 set out by Thu Dau Mot city is expected to have 3 groups of basic tasks on urban development, smart city construction, civilized urban and cultural lifestyle construction.
Reported by Phuong Le-Ha Khanh-Translated by Kim Tin