In order to share difficulties with on-duty forces of epidemic prevention control and the people, many businesses in the province have joined hands to support to show their highest sense of responsibility. All are in order to contribute more resources to control and repel the epidemic, maintain and develop production and business activities.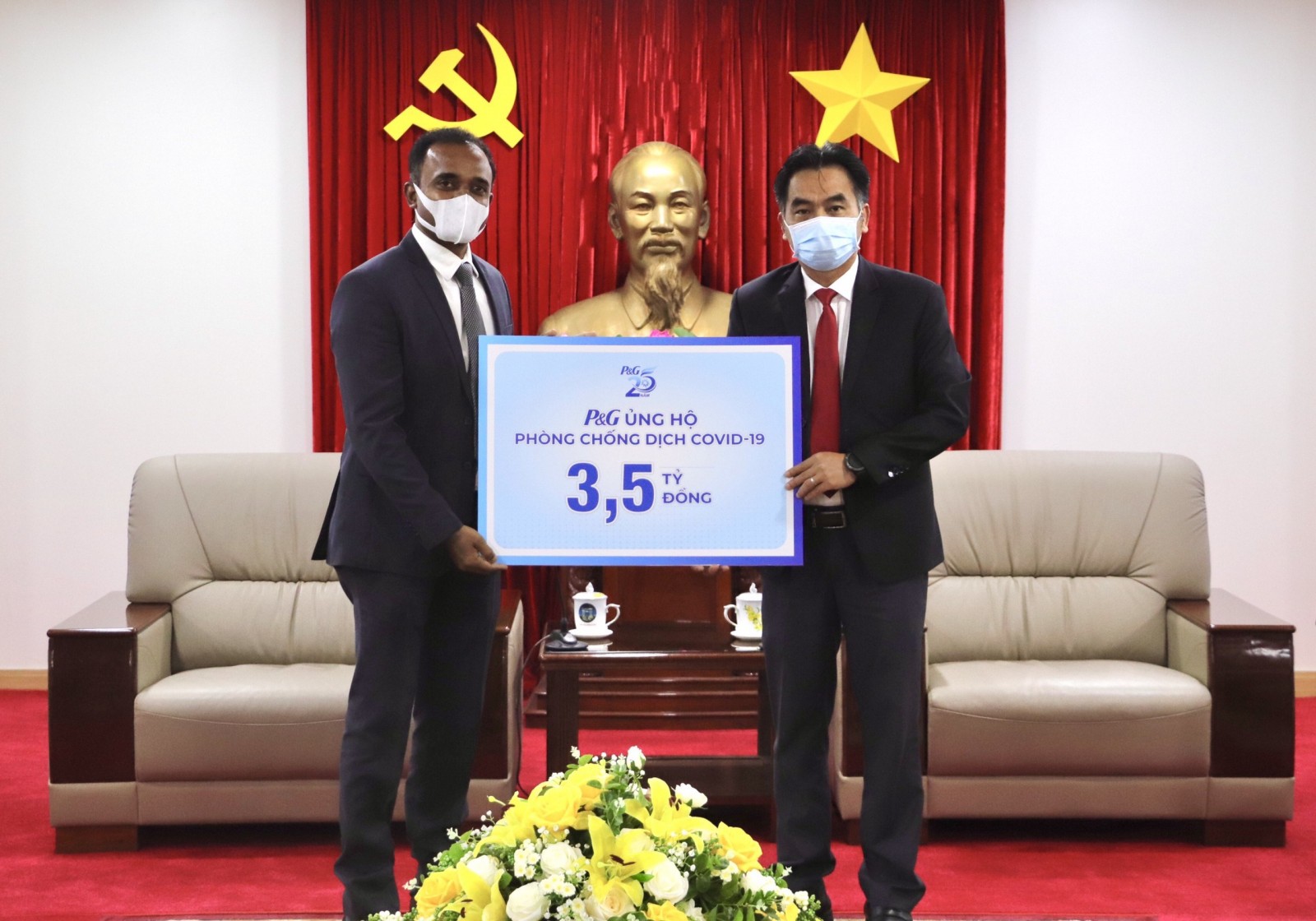 Nguyễn Lộc Hà (right), Provincial Party Standing member, Vice Chairman of Provincial People's Committee, receives a support from P&G Vietnam Company for anti-COVID work.
Solidarity and voluntary spirit
According to preliminary statistics of Provincial Fatherland Front Committee, total donation received of phase 1 for the COVID-19 prevention and control was 31.6 billion VND, in which, business community in the province contributed a huge part.
Especially, right at the launching ceremony of Vietnam Fatherland Front Central Committee, Becamex IDC Corporation donated 25 billion VND. Leaders of Becamex IDC affirmed that this time joining hands to support the COVID-19 prevention and control is one of their community-based activities to demonstrate a spirit of solidarity and mutual affection, helping each other. Becamex IDC believed that, with the drastic direction of the Government, the consensus of departments, mass organizations and the whole people, Vietnam would soon win against the pandemic.
Previously, through Provincial Red Cross Society, P&G Vietnam Company donated 3.54 billion VND to Binh Duong, of which 3 billion VND in cash and 540 million VND in support products. Sai Ramana Ponugoti, General Director of P&G Vietnam, said that the company always put the health and safety of employees on top, they are making efforts together with provincial government to control the pandemic well. In addition, the company strives to retain ure and supply to the market, including products to help people protect themselves and the community against the epidemic.
Phạm Quốc Liêm, Director of Unifarm, said that on behalf of the company's leaders and all employees, he gave 1 billion VND to disease prevention control fund of Provincial Fatherland Front Committee. Liêm said that this contribution showed social responsibility of the company, wished the frontline forces to remain steadfast, and Binh Duong in particular and the whole country in general would soon return to the normal condition. A leader of Binh Duong Water - Environment Joint Stock Company (Biwase), also said that in response to the call of Fatherland Front of the Central and the province, Biwase transferred VND 500 million to support the COVID-19 Vaccine Fund, including 200 million VND to Binh Duong, 300 million VND to the Central.
Transparency and spending on right purposes
Nguyễn Văn Lộc, Head of Provincial Party Mass Mobilization Committee, Chairman of Provincial Fatherland Front Committee, said Binh Duong is an industrially developing province, with large numbers of enterprises, workers and foreign experts. Thanks to the involvement of both political system and the people, the epidemic situation in the province is basically safe. He expressed deep gratitude to businesses, organizations and individuals who made materially and spiritually support for the disese prevention and control work. Binh Duong is committed to fully summarizing, publicizing all donations, being transparent and using donations for the right purposes to gain practical efficiency.
With a wish that all Vietnamese people, especially disadvantaged workers, get vaccinated, Binh Duong Provincial Labor Federation hopes to receive the support of business communities in the whole province. All donations will be transferred by Provincial Labor Confederation to Provincial Vietnam Fatherland Front and Golden Heart Fund to buy COVID-19 vaccines and carry out epidemic prevention work.
Reported by Tieu My - Translated by Ngoc Huynh