In addition to thousands of gifts including necessities and cash to take care of employees, businesses with strong grassroots trade unions also organized many meaningful activities in the Workers Month and Action Month on Occupational Safety and Health 2023. These are the improvement of meal quality, free medical examination, sports activities, and other meaningful playgrounds for workers.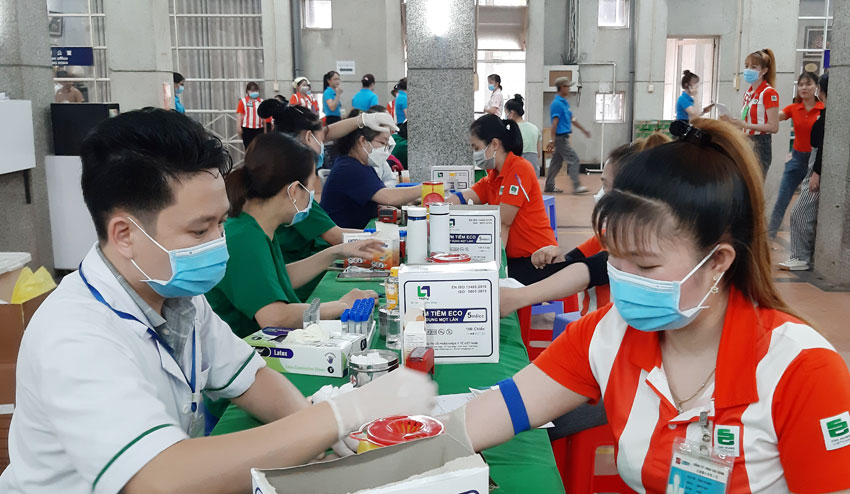 Chi Hung Co., Ltd organizes free health checks for employees during Workers Month.
To warm the hearts of workers
This year, along with a series of meaningful activities worth more than 30 billion VND to take care of employees in the Workers' Month carried out by Trade Union at all levels, with the attention and care of provincial leaders, many trade unions in the province have create many heartwarming activities for employees. Tran Thi Hoa, a worker at Chi Hung Company Limited (Tan Uyen City), whose husband died during the peak of the Covid-19 pandemic in 2021, said: "During the Workers' Month, I continuously received support with many gifts from trade unions as well as business leaders. I have come to Chi Hung Co., Ltd. and worked for a few months, I did not expect to be taken care of so much."
After her husband's death, Ms. Hoa left Ho Chi Minh City, brought her two young children to Binh Duong to apply for a job. Due to being a newcomer, her salary is not high, just over 5 million VND/month. Trade Union of the company knew about the pitiful situation of Ms. Hoa and provided support. "Thanks to the company, my two children are exempt from tuition fees. The company's trade union often gives gifts and money, so my family have enough money to cover living expenses. Previously, when I worked in another place, my family didn't get that much care," said Ms. Hoa.
During Workers' Month, Chi Hung Co., Ltd. organized free medical examination for more than 7,500 employees, and gave more than 500 gifts to employees having extremely difficult circumstances. Nguyen Thi Thu Ha, Vice President of the company's Trade Union, shared that the company organizes periodical free medical examination twice a year for all employees at the company. For workers having extremely difficult circumstances, sickness, the company makes a list of support. Depending on each case, the company visits, gives gifts, necessities, and supports money. If a worker has a common illness, he will receive support of 1 to 3 million VND, and if he has a serious illness, he will receive more support.
"In response to Workers' Month, our company not only gives gifts and money to employees but also organizes medical examination, organizes physical and sports activities, goes to many lodging houses to visit workers living in harsh circumstances. In general, employees are very happy when their legitimate proposals to take care of employees are always supported by the company's leaders," said Nguyen Thi Thu Ha.
In the last few days of May, Nguyen Thi Dinh, born in Bac Ninh province, and many other workers at Hai My Company (Thuan An City) continuously received support from trade unions in the province. Ms. Dinh said that she is suffering from stomach cancer, if in 2022 she did not get help from the company's trade union, it will be difficult for her to overcome. "I am seriously sick, my salary is small, my husband works as a bricklayer. We have to raise two children, the oldest of whom is in college. Therefore, when I got sick, it was very difficult. At that time, I was supported by the company's trade union with more than 20 million VND from the "Golden Heart Fund", the rest was donated by friends and colleagues. Now my health condition is better, I can work again, and I want to thank the company", Ms. Dinh said.
In May days, the "Golden Heart Fund" of Hai My Co., Ltd continued to share difficulties with unfortunate workers suffering from illness, accidents. Quach Thi Lieu, Vice President of the company's Trade Union, said that in the past six years, this fund has helped many families and sick workers during their difficult times. In case of death, the fund will support 40 million VND, other diseases from 10 to 30 million VND/case. In the past few days, Trade Union of Hai My Co., Ltd. also gave gifts to 500 workers and union members in the Labor Month; visited sick workers, give 800 scholarships to their children. Additionally, the company created football, badminton, and volleyball playgrounds for union members and workers...
Spread good practices
Many businesses in the province also organized tours and trips for workers to relax. Earth Corporation Vietnam Co., Ltd (Nam Tan Uyen Industrial Park), put into operation a quality kitchen with a construction cost of about VND1 billion. In addition to investing in a modern kitchen to serve workers, the company also sent chefs to professional training courses to improve cooking skills to meet restaurant standards, increases the serving meal size from 30,000 VND to 40,000 VND/serving. The kitchen is not only designed and built according to high-class and modern restaurant standards, but when employees come to eat, they are also served according to restaurant standards. Phan Thi Phuong Linh, HR Director of the company, said: "In Workers Month 2023, the company also really wants to spread the movement to take care of workers' lives. Our company will continue to have new models, take care of workers better in the coming time."
At Pungkook Saigon II Co., Ltd., this year the company's trade union organized a program "Ring the golden bell" that attracted hundreds of employees. Le Van Toai, Vice Chairman of the Company's Trade Union, said: "This is a new game and company employees feel the meaning of Workers Month. Teams and workshops select some ones having good knowledge to participate in the contest. Questions about social security and order, how to deal with difficulties in life, knowledge of Labor Law etc. attracted many employees' attention. During Workers' Month, our company also organizes visits to excellent workers and poor workers.
It can be said that the Workers' Month 2023 has passed, but it has left many beautiful memories in the hearts of workers in the province. Many difficult circumstances have been cared for, supported, and encouraged in a timely manner to overcome difficulties and continue to stay and work with their company.
Reported by Quang Tam - Translated by Ngoc Huynh