When the disease situation is under control, enterprises in industrial clusters have resumed production activities. Many businesses have changed their working methods, flexibly adapted to current conditions, while ensuring disease prevention, maintaining production and business, and creating jobs for workers.
Non-stop effort
While the economy is badly affected by the Covid-19, businesses are facing many difficulties, industrial production in Binh Duong still achieved good growth. The index of industrial production in 2021 (IIP) is estimated to increase by 4.5% over the same period last year.
According to Department of Industry and Trade, in the Covid-19 context, difficulties of businesses, such as lack of capital for production and business, the consumption market is narrowed, the number of signed orders is limited during the year, shortage of raw materials due to high import prices of raw materials, difficulties in transportation, export and labor... However, when the pandemic is under control, enterprises have tried to recover production.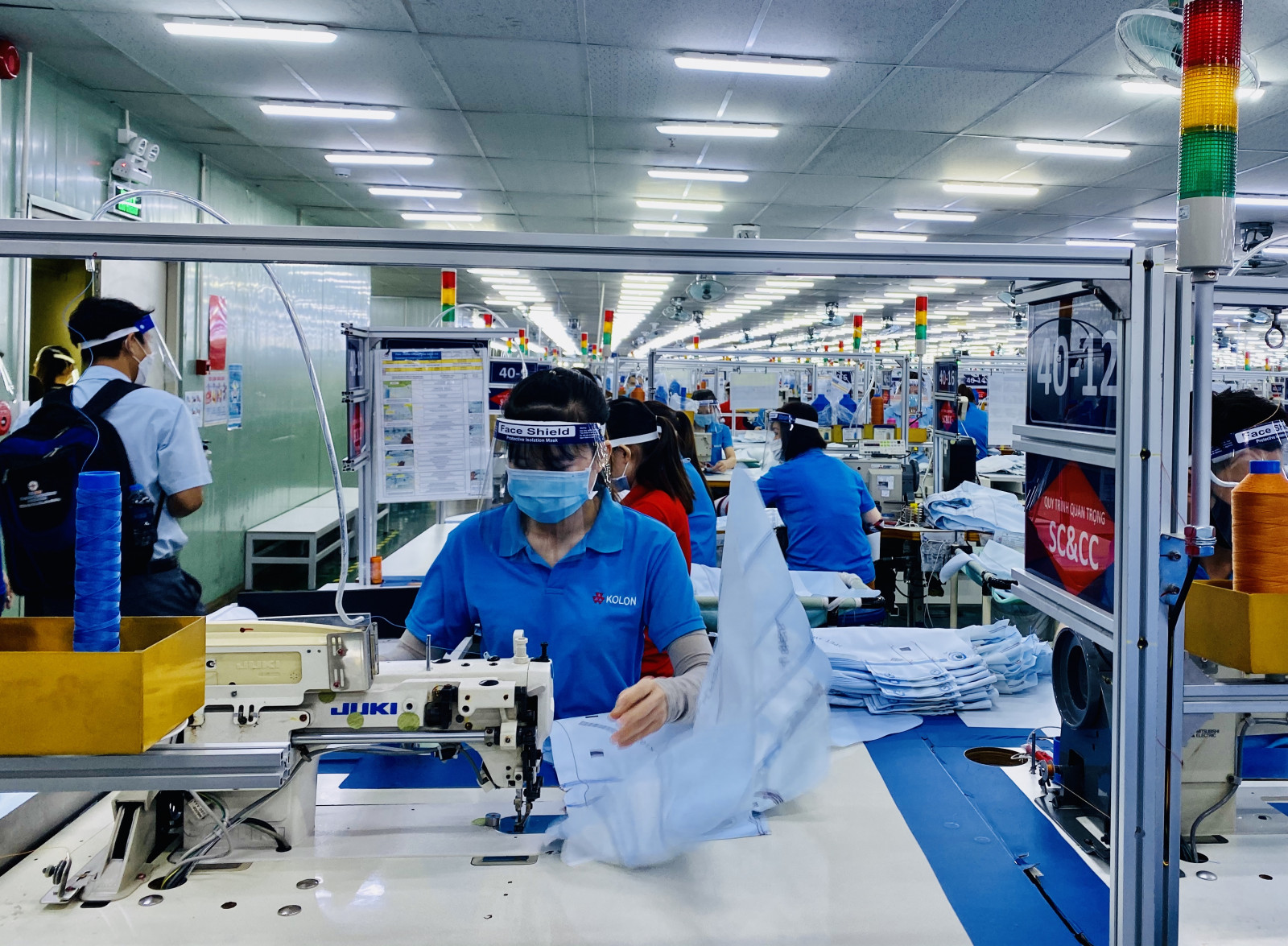 Enterprises in industrial zones in the province quickly return after a period of strict social distancing. In photo: Manufacture at an enterprise in Uyen Hung Industrial Park, Tan Uyen Town.
Len Ching Chao, General Director of Phu Chanh Industrial Park (Tan Uyen Town), said that due to the raging Covid-19, Department of Industry and Trade asked investors, businesses in industrial clusters and industry associations continue to strengthen measures of disease prevention control at workplaces, dormitories, and houses of workers; assess infection risks at production and business establishments and instruct the handling of suspected cases. The Department of Industry and Trade also asked industrial parks to ensure safe production and business conditions for organizations and individuals in the form of registration of "three-on-site", "one-road, two-locations" and "three-green" plans, establishment of Covid safety groups. All support has created good conditions for enterprises to resume production.
According to Nguyen Truong Thi, Deputy Director of Department of Industry and Trade, in order to create favorable conditions for companies in industrial zones, Department of Industry and Trade has also developed a draft Regulation on management of industrial zones in the province. The Department of Industry and Trade has coordinated with relevant departments and agencies to survey, monitor the progress and results of remedy shortcomings after inspecting the acceptance of infrastructure at Thanh An, Uyen Hung, Tam Lap, Tan Thanh industrial zones; collaborate with relevant departments and branches to advise the Provincial People's Committee to carry out procedures for establishing industrial clusters according to regulations.
In addition, the department responded to the request for planning policy and to be the investor to build An Binh 1 and An Binh 2 industrial zones in An Binh commune, Phu Giao district. The Department informed Provincial Tax Department about industrial clusters that are not eligible to receive incentives under Decree No. 68/2017/ND-CP of the Government.
To guarantee safe production
In the new normal state, the Department of Industry and Trade requested Management Board of industrial parks, industrial zones and industry associations to ensure safety, proactively implement solutions to stabilize industrial production when the outbreak may occur.
After reopening, post-inspection on disease prevention and production applying "three-on-site" or "one-road, two-locations" plans of enterprises in industrial clusters have been performed. The Department of Industry and Trade has assisted and given counsel to businesses about the suspension of operations and handling ways when a case of Covid-19 infection or suspected infection appears. The department regularly checks the operation of Covid safety teams at enterprises. There are 824 Covid Safety Teams established.
Accumulated to November 15, there were 1,152 F0 cases at industrial clusters. However, businesses have had flexible and effective ways to handle these cases. The Department of Industry and Trade instructed and urged investors of industrial parks to carry out the process and procedures for requesting District People's Committees to establish mobile medical stations. Up to now, 5 medical stations have been established in industrial zones: Phu Chanh 1, Uyen Hung, Tan Thanh, Dep city, Tam Lap; Thanh An industrial cluster alone established one mobile medical group, which is operating effectively. 100% enterprises of "three-on-site" set up QR codes of locations to manage people entering and leaving at the enterprise. The Department of Industry and Trade is coordinating with investors and People's Committees of districts, towns and cities to give instructions, check and remind businesses to register QR codes of locations to manage employees.
In order to continue facilitating the recovery of production activities of enterprises in industrial zones, the industry and trade authority regularly follow up and directly visit establishments to instruct enterprises to complete production arrangement plan (quick test, controlling sources of infection from outside, arranging isolation areas, 5K, etc.) Currently, 83/83 enterprises (reaching 100%) under the "three-green" production model with a total number of 17,713 employees, of which 60 "three-on-site" enterprises have switched to "three-green".
Reported by Tieu My - Translated by Ngoc Huynh