The Canada – ASEAN Initiatives Association at the York Centre for Asian Research held a seminar entitled "Canada and ASEAN: Trade Diversification in the Indo-Pacific" in Ontario, Canada on November 26.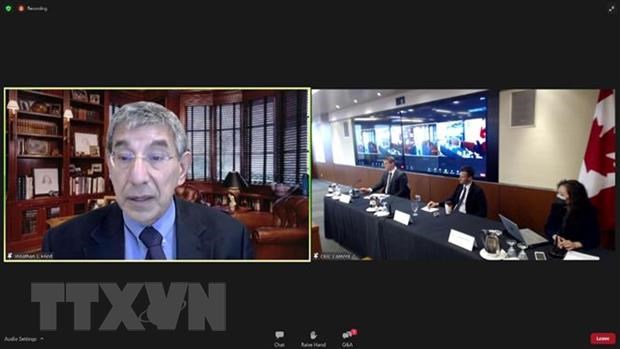 Former Canadian Ambassador to the WTO and Japan Jonathan Fried (L) at the event
The event, held both online and offline, focused on the need for Canada and Ontario in particular to diversify trade with Southeast Asian nations where the middle-class population keeps growing. Participants also shared their interest in ensuring free trade flows in the Indo-Pacific.
Senior Manager of the Export Development Canada Kevin Sullivan presented trade and investment opportunities that Canadian firms could explore in Southeast Asia.
With a 673 million population and a gross domestic product of over 3.1 trillion USD, Southeast Asia plays a crucial role in the global economic growth, he said, adding that infrastructure in Southeast Asia – with an annual demand of nearly 200-300 billion USD, are opening up great opportunities for Canadian firms. Other fields such as information and communications technology, outer space, oil and gas, and processed food are also promising.
According to him, ASEAN – the third populous market behind China and India – is now the sixth largest trade partner of Canada. Trade in goods between ASEAN and Canada hit 26.7 billion CAD (20.8 billion USD) last year while their value of commerce and services reached 5.8 billion CAD. These figures are forecast to keep increasing as Canada already established standing representative agencies in 10 ASEAN member states.
Former Canadian Ambassador to the World Trade Organisation (WTO) and Japan Jonathan Fried, who is heading a special Secretariat at the Global Affairs Canada on the design of Ottawa's first strategy covering the Indo-Pacific, said the recent developments in the Indo-Pacific will determine the success of the global economic recovery following COVID-19 pandemic.
Director of the Council on International Policy in Ottawa Jonathan Berkshire Miller expressed his delight at the recent launch of negotiations on the Free Trade Agreement between Canada and ASEAN. He suggested that Canada should build an Indo-Pacific Strategy alongside strengthening engagement with ASEAN./.
VNA