In the past time, the organizations of Youth Union and Children Pioneer in the areas of ​​Tan Uyen town have always made great efforts to care for and organize activities for children; thereby, contributing to the care and education of the country's future owners.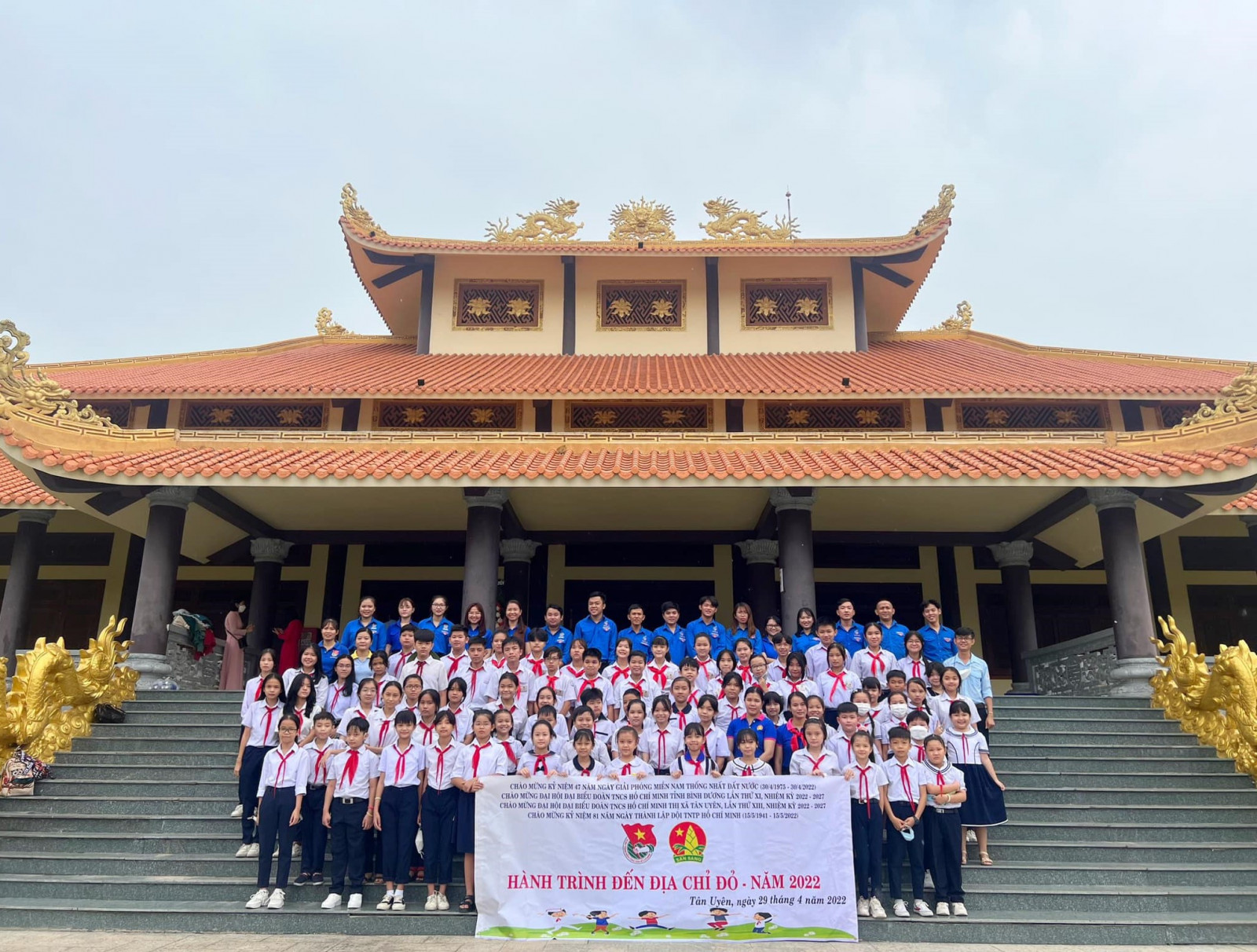 Tan Uyen town took the students to visit the Vinh Loi War Zone remain
Ideal education
Children's activities in Tan Uyen Town have been organized in various forms and contents according to the program of team work and youth movements such as propaganda on prevention and control of abuse, accidents and injuries, drowning, learning, educating about love for the fatherland, preserving and promoting historical values. Activities have been organized in clubs, documentary screenings, trips to the red address for union members, Children Pioneer members, and students.
Nguyen Thanh Truc, a student at Tan Phuoc Khanh High School, said that on April 30, the teachers in charge of the Children Pioneer took him and his classmates to Vinh Loi War Zone remain. Thanh Truc was very happy to offer incense and flowers at the memorial temple, visit and listen to the heroic history of Vinh Loi War Zone, see an exhibition of documentary images on the 47th anniversary of the Liberation of the South and the reunification of the country, the 47th anniversary of the Liberation of Tan Uyen town, traditional documentaries about the life, background and career of President Ho Chi Minh. The visit has helped many members to be more proud of the history of their homeland and set themselves many goals to strive to become good children, students, and useful citizens for society in the future, contributing to the development of society and to make the nation more and more beautiful.
In order to improve the effectiveness of the caring and education activities for students, all levels of Youth Union and Children Pioneer in Tan Uyen town have focused on implementing projects associated with the "small plan" movements by how to innovate the form of implementation to bring practical effects, and attract a large number of children. In addition, supporting activities for students with difficult circumstances such as "Lighting up the dreams of Tan Uyen children", "Sending white paper to give dreams and words", "Lanterns lighting up dreams", "Strengthening to school" have also been effective.
During the Month of Action for Children and Summer Activities 2022, the Steering Committee for Youth Activities and the Steering Committee for Action Programs for Children in Tan Uyen town organized a training program on knowledge and survival skills for children, including drowning prevention and control skills.
Multiple playgrounds created
Clearly identifying the practical needs of teenagers and children and the operational resources of the town's Children's House, Tan Uyen town has been proactive in creating, coordinating and organizing cultural and artistic programs, a variety of sports to create playgrounds and promote the talents of the students. A series of innovative and creative activities have attracted a large number of teenagers and young adults. Typically, summer camp festival, singing contest of "Flamboyant", "Learning about Tet customs" contest, drum - trumpet training, aerobic, and festivals with fun games, enjoy art and magic shows.
Up to now, Children's House in Tan Uyen Town has maintained kindergarten aerobic classes, primary school aerobics, modern dance, lute, belly dance, singing, drum-trumpet ritual team. Thereby, children and students can promote their own talents to actively contribute to the town's Youth Union and Children Pioneer in provincial and regional activities. The aerobic contest, cheerleading and the provincial drawing contest, festival of trumpet and "Pink Lotus" in the South etc.
In the summer of 2022, in the common spirit of the whole Union towards children and children of workers, Tan Uyen town has just coordinated with the coalition of unions and town agencies to carry out the construction of a children's play area in Khanh Binh and Tan Phuoc Khanh wards. Each amusement park project is worth VND 50 million with slides, swings, trampolines etc. placed in the park to serve and meet the entertainment needs of many children of workers living near the park.
Mr. Nguyen Le Huu Bao, Secretary of Tan Uyen town, said that in order for children to develop comprehensively, physically, intellectually and spiritually, the cooperation of all levels, branches and socio-political organizations is needed so that more disadvantaged children in the area could be cared for and lived in the love and care of the whole society. Attractive summer activities hopefully will bring you a fun, rewarding and safe summer; at the same time, helping them to form and practice life skills, confidently communicate and protect themselves from possible dangers.
Reported by Minh Hieu – Van Dung – Translated by Vi Bao