Over the past time, departments and unions in Ben Cat town have always taken care of children. Therefore, the work of child protection and care-taking in the town has made positive changes, creating the best conditions for children to safely and healthily live, study and play.
Timely attention and support
We went to a small motel in Quarter 2 of My Phuoc ward to meet Trieu Anh Duy, a student at Tran Quoc Tuan Primary School. The small motel room is where Duy's grandparents have lived during the past few months. Duy's family has is in a difficult situation. Duy's parents left when Duy was only a baby. All expenses in the family depend on the income of a working grandfather. During the recent COVID-19 epidemic, unfortunately, Duy's grandfather died due to COVID-19 infection, and his grandmother's health was poor, so the already harsh family life is now even harder.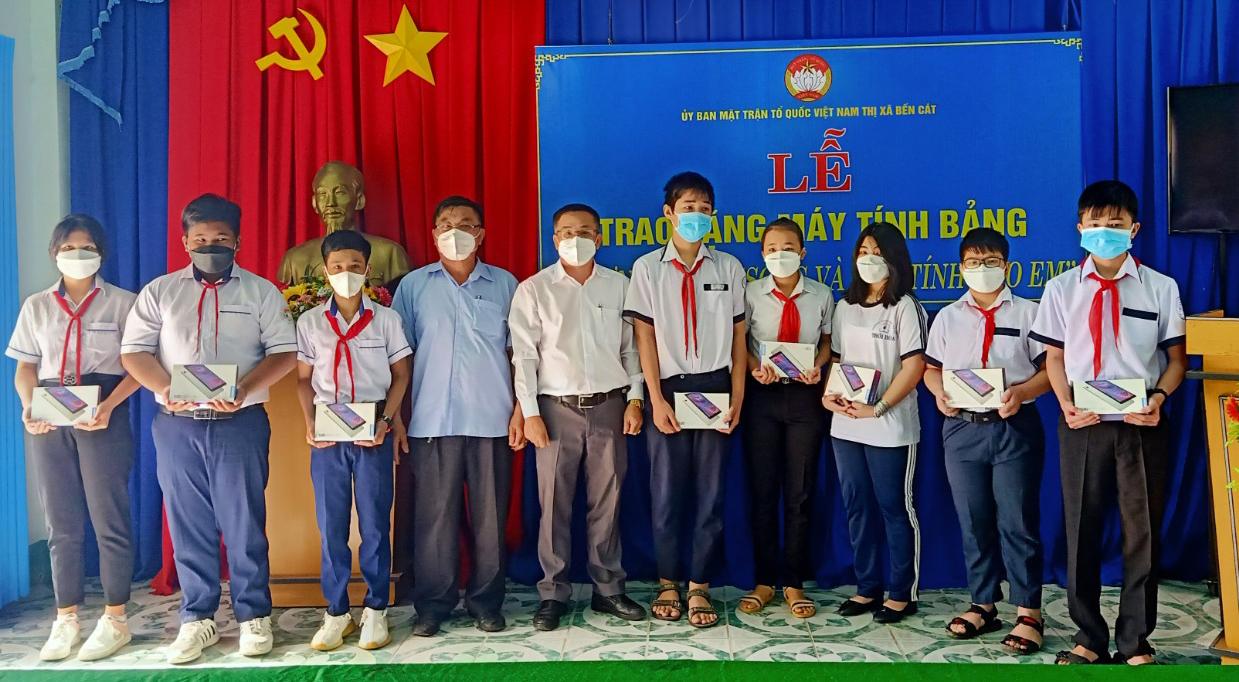 Departments and unions of Ben Cat Town regularly organize activities to take care of children. In the photo: Tablets donated to disadvantaged children
The situation of Nguyen Hoang Phuc in An Tay commune is also very loomy when his father died; his mother left the two Phuc brothers orphans. Despite such a harsh situation, the two brothers always encouraged each other to get over in life. During the past time, the two brothers of Hoang Phuc have always maintained the title of good and exemplary students to be always loved by teachers and friends.
Sympathizing with the children's plight, the local authorities have offered them all conditions to fully enjoy the social allowances as well as gifts on holidays and Tet. Mrs. Le Thi Ve, Anh Duy's grandmother said: "We, the grandparents often receive the attention and encouragement from all levels in the locality, and are fully entitled to social allowances as well as gifts on holidays and Tet. This is a great source of encouragement, a motivation for the children to try harder to study and become good children and good people useful to society."
In addition, all levels, branches and localities of Ben Cat town have mobilized benefactors to carry out many practical activities such as supporting the construction of loving homes, giving gifts and scholarships to students overcoming difficulties and studying well; to support heart surgery, and to donate tablets and especially to offer timely support for children who are children of pregnant women infected with COVID-19 and orphans and whose fathers or mothers died because of COVID-19.
Comprehensive care-taking
According to Mr. Truong Minh Tri, Deputy Head of the Division of Labor, Invalids and Social Affairs of Ben Cat town, there are nearly 35,000 children under 16 years old in the town, accounting for 15% of the town's population including more than 200 children with special circumstances. Over the years, Ben Cat town has actively implemented many synchronous solutions to take care and protect the children. Children in special circumstances are always paid special attention by Party committees, authorities and mass organizations through social assistance policies from the State budget and funding and mobilization from the society to help them have a more stable life.
The mobilization and use of resources to realize the goals for children of Ben Cat Town is increasingly effective. Health care and nutrition assurance for children have been significantly improved. The protection and building of a safe and healthy living environment for children are focused; cultural and spiritual life, entertainment, social welfare and children's rights are increasingly guaranteed. Thereby, every year the rate of malnourished children decreases; 100% of children under 6 years old are granted health insurance cards and carry out expanded vaccinations as prescribed.
"With the concrete and practical solutions of the Party committees and local authorities, we hope to contribute to well perform the tasks of protecting and taking care of children; thereby, helping them live in a safe, healthy environment and develop more comprehensively," said Mr. Tri.
Reported by Hong Phuong – Translated by Vi Bao