Together with other localities, in Lac An commune, the preparation for deputy election to the 15th National Assembly and all-level People's Councils tenure 2021-2026 was carried out on schedule. A large number of local Catholics were also eager and look forward to election day to select worthy delegates to represent the people's voice.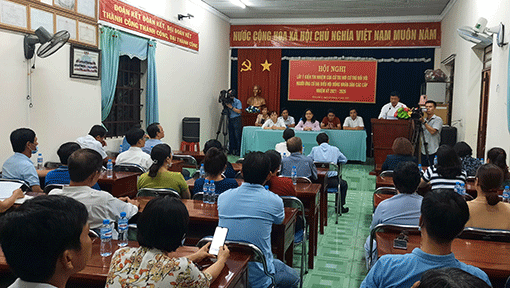 Visual propaganda about the deputy election in Lac An commune.
Looking forward to the big day
Lac An commune has nearly 7,000 voters, most of them are Catholics. In order for Catholics here have a better understanding of the election, wisely select qualified and talented candidates for State's bodies, Steering Committee and Election Commission of Lac An commune strengthened propaganda about the election at each hamlet and household.
Nguyen Van Can, a parishioner in Hamlet 2, said: "Every day I hear loudspeakers of the hamlet and the commune propagating the election; there were also banners and slogans hanging all over main roads to each hamlet. In particular, at every church service, there was propaganda about the election, we are very eagerly and looking forward to May 23, when we can hold ballots in hand to elect the right delegates, who care for the people, develop further this locality". Nguyen Van Thanh, Head of Hamlet 2's Executive Board, said that 98% residents of the hamlet are Catholics. In addition to communicate election information on loudspeakers, management board of the hamlet cooperated with 3 priests of 3 parishes located in this area to carry out propaganda among parishioners. "In order for Catholics to better understand the election, we integrated propaganda about the law, purpose and meaning of the election into church services", Father Nguyen Hong Anh of Canh Lam parish said.
To direct closely
Lac An commune's government clearly defined the deputy election of 15th National Assembly and all-level People's Councils 2021-2026 is an important political task; thus put more effort into directing closely, comprehensively, and timely issued documents guiding the organization and preparation for election. The establishment of electoral organizations, such as electoral committee, election committee, consultation, voters' conferences, fixing and approving voting venues etc. was carried out on time and according to regulations. According to report of electoral committee of Lac An commune, the preparation for of election had been done seriously, ensured the correct process and progress according to the law.
In order for the election to truly become a big festival for the entire people, Lac An commune issued a plan for extensive propaganda. The communal People's Committee radioed 18 times about the reception of candidate dossiers for commune People's Council 2021-2026; announced 42 times of electoral units, the number of delegates elected in each constituency... to all voters and people in the area; live broadcast radio programs of superior stations about the election. In addition, the commune also decorated and installed 90m2 of strategic panels, 48 flyers along the commune People's Committee, 2 banners; wrote 16 news, 2 articles about the election, such as conference to disseminate the election, consultative conferences, conferences to gather voters' opinions, meetings with voters at hamlet offices…
Nguyen Phi Phong, Vice Chairman of People's Committee of Lac An commune, said: "As a commune with 87% population to be Catholics, commune Party Committee and authorities met and discussed with priests to coordinate well the propaganda, helping parishioners understand and practice voters' rights and responsibilities well, vote on time, ensure on-schedule progress".
Reported by Huynh Thuy - Translated by Ngoc Huynh