On April 14, Mr. Vo Van Minh, Deputy Secretary of the Provincial Party Committee, Chairman of the provincial People's Committee, received the delegation of Saigon Stec Co. Ltd. led by Mr. Wada Kazuhito, the company's General Director who had just finished his term as the leader of the delegation on their social greetings. Joining the delegation was Mr. Morimoto Hideaki, the new General Director of Saigon Stec and Mr. Nagata Kazuhito, General Director of Sharp Manufacturing Vietnam.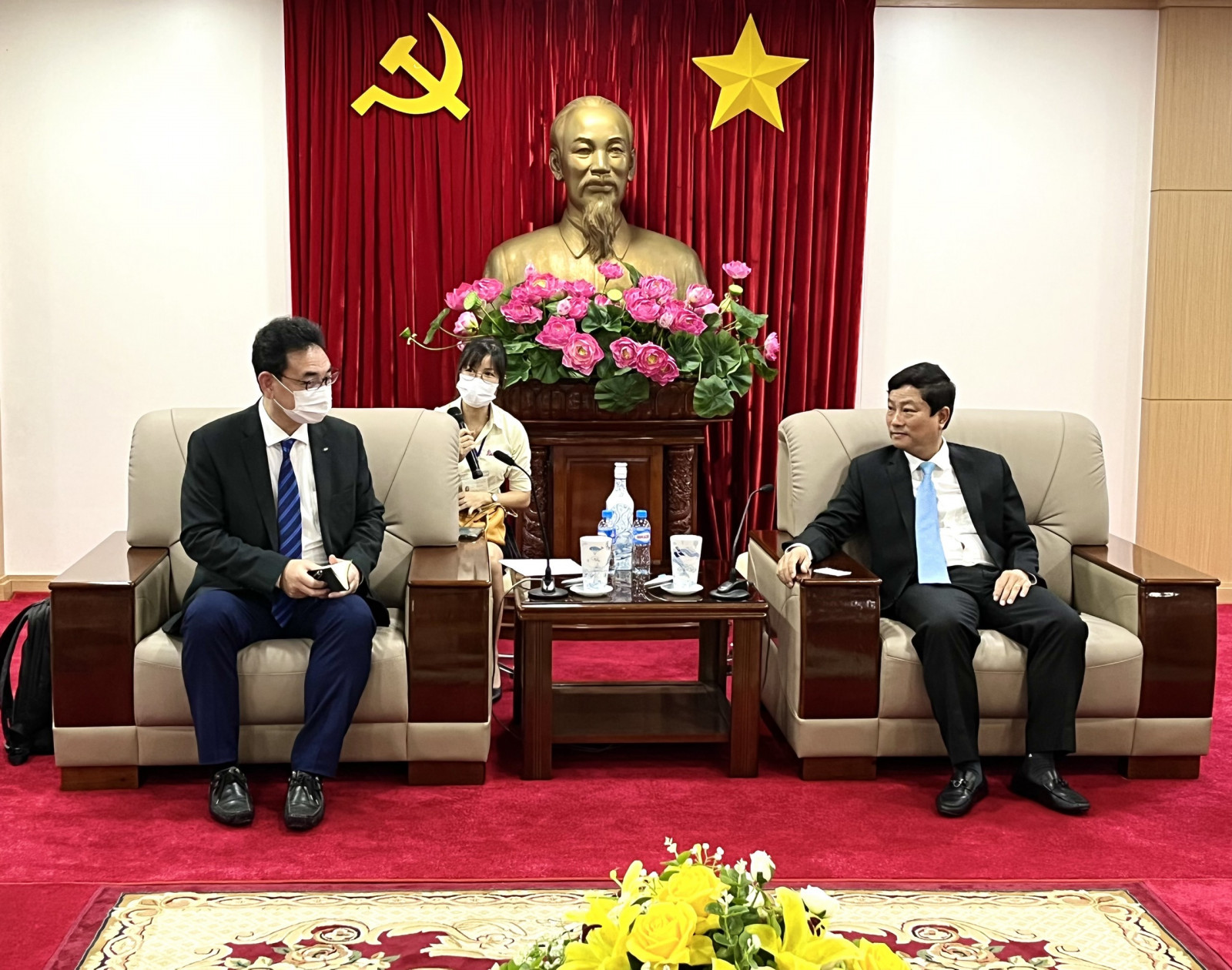 Chairman of Binh Duong provincial People's Committee, Mr. Vo Van Minh (right) receives Mr. Wada Kazuhito, General Director of Saigon Stec Co. Ltd.
At the meeting, Mr. Vo Van Minh highly appreciated the production and business results of Saigon Stec Co. Ltd. in recent years, especially the time when Mr. Wada Kazuhito was the CEO; he respectfully acknowledged the contribution of the company and Mr. Wada Kazuhito in the development process of Binh Duong. The chairman of the Provincial People's Committee affirmed that Binh Duong always offer an open investment environment and is with the businesses to overcome any drawbacks. He hoped that the company would continue to efficiently produce and expand investments in Binh Duong. The province has been creating favorable conditions for businesses in terms of mechanisms, policies, infrastructure, and traffic in the direction of connectivity and with a vision of regional linkage.
Mr. Wada Kazuhito thanked the Binh Duong provincial authority for offering the most favorable conditions for the company's development in recent years. He informed that Saigon Stec is a subsidiary of Sharp Corporation (Japan). The company was established in 2007, operating in the field of manufacturing electronic components and high-tech camera modules. In 2015, Saigon Stec officially started construction of the factory Phase 4 in Vietnam - Singapore Industrial Park II. He hoped that in the next term, his successor would continue to receive support from the provincial authority and join Binh Duong in implementing the development orientations in the coming time.
At the meeting, Mr. Nagata Kazuhito expressed his wish that the industries would provide adequate power supply for the company to quickly stabilize and catch up with production in Binh Duong. In this regard, functional sector leaders said they would work with Binh Duong Power Company to help the company to operate effectively.
Reported by Tieu My – Translated by Vi Bao