Binh Duong pottery and Tet orchids appeared brilliantly at the market connecting Vietnamese goods with the theme of "Pottery and flowers" organized by Department of Industry and Trade at Aeon Mall Binh Duong Cannary. This is an opportunity for manufacturers to promote and display products and capture customers' tastes to improve quality and designs to conquer and affirm their brands and pride of Vietnamese products.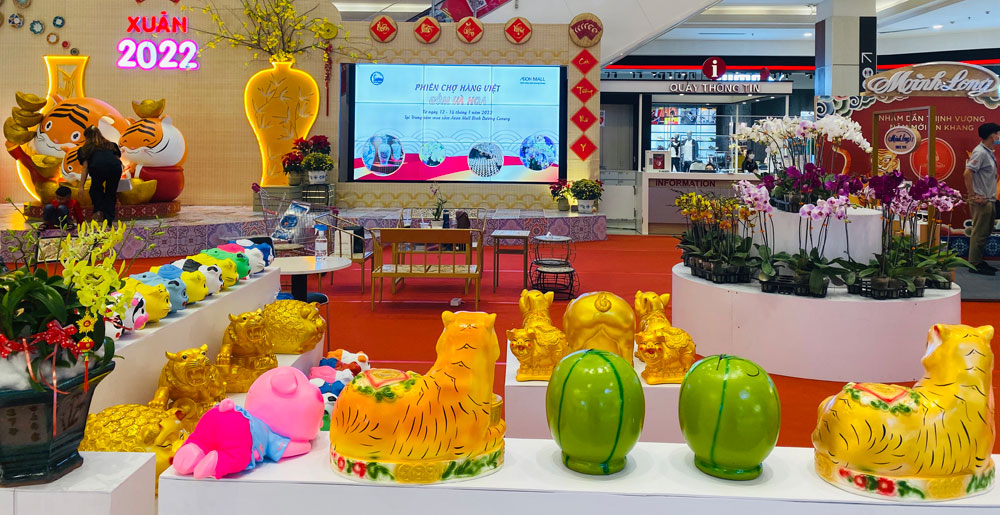 The products are on display at the market fair of connecting Vietnamese goods under the theme of "Pottery and flowers"
To win the hearts of consumers
Mr. Truong Tu, Director of Nhu Ngoc Private Enterprise in Thuan An city, said that the unit is a fine art pottery unit specializing in the production of ceramics, interior decoration products, garden products, mosaic products, and other products. The enterprise has been accepted by European customers and certified for quality. Recently, it has promoted the development of the domestic market and attracted a large number of Vietnamese consumers. In 2021, Nhu Ngoc's ceramic sofa set was one of 7 products recognized as typical national industrial products of Binh Duong. Over time, it continues to improve designs to meet consumer needs.
"The organization of a Vietnamese goods market with the theme of "Pottery and flowers" by Department of Industry and Trade this time is very practical for businesses and consumers. Coming to the market, children will be relived in the traditional local space and adults can buy home decoration items during the Lunar New Year. The colorful space gives many people a feeling of joy in spring to welcome the New Year with a new spirit after a difficult year due to the COVID-19 epidemic," said Mr. Truong Tu emotionally. As for Binh Duong's traditional pottery, each product on display has its own value and unique features associated with each artisan, family, and the enterprise. Nhu Ngoc, besides using machines to improve productivity and control the quality of pottery, has maintained some stages by hand to create unique product to attract many customers in the nation and abroad.
Not only the participation of large enterprises, the fair also attracted many small production establishments in the countryside. Ms. Le Thi Kieu Diem of Tien Cuong orchid facility in Thuan An city said that she is very happy to attend the exhibition at Aeon supermarket while expecting that the gardener's products would be known to more people. By the fair, she will try to grasp the needs of customers to perfect products, consolidate designs, quality and widely promote in the market. "Participating in this fair, we bring dendro orchid products, a common flower with many different designs and colors suitable for display during the Lunar New Year. We have been consulted, supported and familiarized by the authorities in promoting trade. It is expected that Tien Cuong's products will be known by many people and production will be more developed and income will increase," said Ms. Kieu Diem.
In fact, over the past time, local products have had many changes in quality, packaging, brand identity, and production scale. The market is also expanded, if previously products were mainly consumed locally, now they are present in many provinces and cities across the nation and exported to many countries and territories.
To enhance product promotion
Ms. Nguyen Thanh My, Head of Trade and Investment Promotion under Center for Investment Promotion, Trade and Industrial Development of Department of Industry and Trade said that the Vietnamese goods market under the theme of "Pottery and flowers", this time, attracted a large number of interested consumers by creating a beautiful space during the Lunar New Year and raising the level of local products. Not only entering consumers' minds about quality, the products also contain Binh Duong's identity, arousing national pride in Vietnamese products and goods. The product's appearance, conquering the trust of consumers not only shows the attraction of Vietnamese products but also affirms the effectiveness that the program brings to the community.
Determining to improve quality and ensuring standards, professionalism of products is a goal and a solution; however, some subjects are still concerned about the consumer market and want to be associated with them. Cooperation with enterprises is made so that the production is always stable. Mr. Truong Tu wished the authorities would continue to have policies to support the communication of ceramic products so that more people can understand the meaning; thereby, choosing to use and introduce to international friends. On the other hand, Mr. Truong Tu also wished that the province would continue to facilitate support in terms of capital, science and technology to improve management capacity and production development to meet the needs of the market.
Ms. Nguyen Thanh My added that the organization of many markets connecting supply and demand, exhibition fairs, product introduction and communication programs about Binh Duong's products in order to strengthen trade promotion activities, promote the introduction of products into supermarket systems. The center will continue to create a favorable environment for handicraft products in particular and local products to have points of advice and introduction and sale of products to bringing practical effects in development of rural economy so that each product of enterprises and establishments is truly the pride of Vietnamese goods.
Reported by Tieu My – Cong Thuong – Translated by Vi Bao