May is associated with the Humanitarian Month of the Red Cross at all levels. Promoting the achievements of Humanitarian Month in previous years, this year's Humanitarian Month was soon widely deployed by the Red Cross at all levels in the province in the association system to propagate and mobilize resources to support the vulnerable objects in the community and to unite the community in acts of kindness.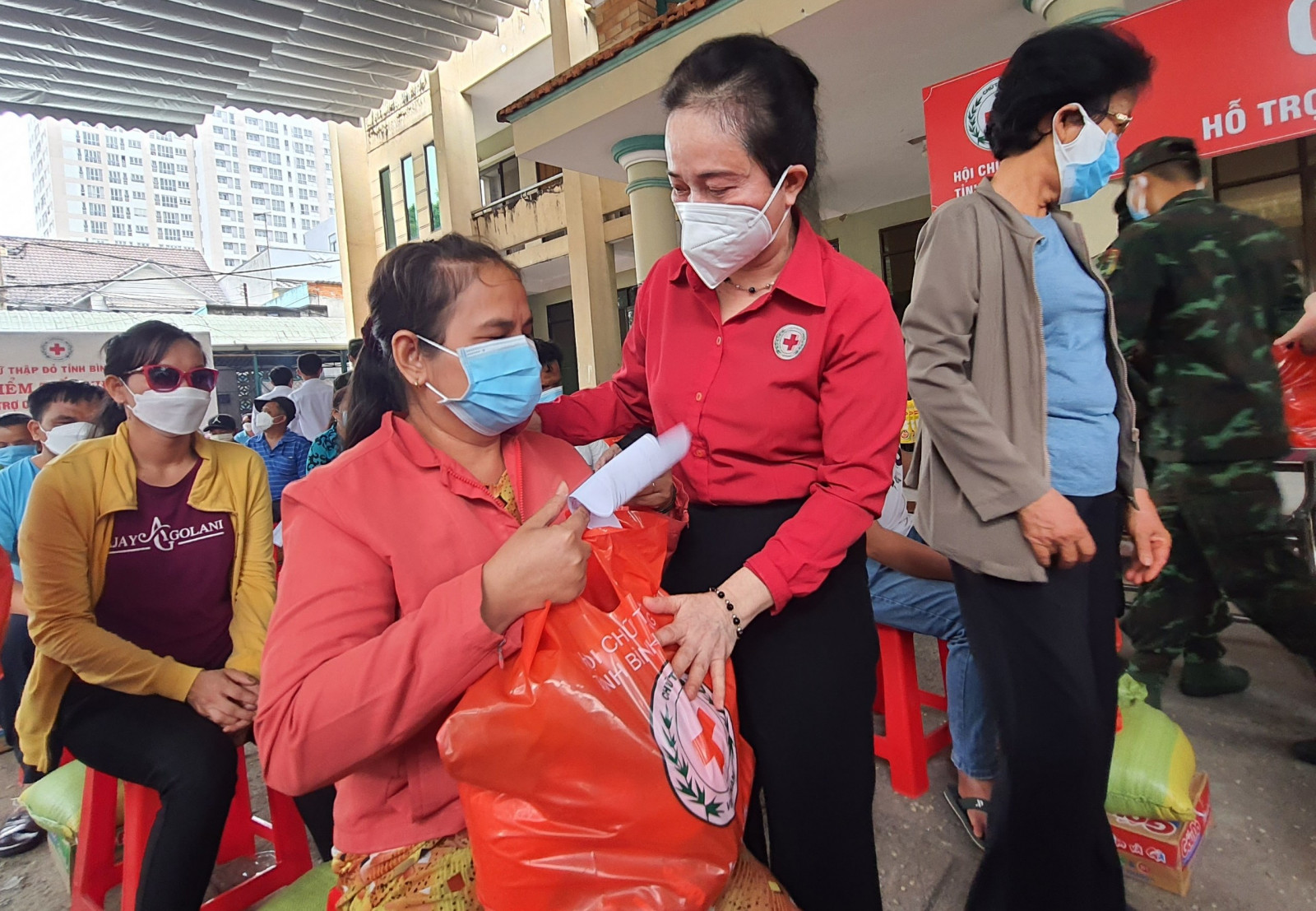 The Red Cross at all levels are actively mobilizing resources to share with people in need. In the photo: "Humanitarian market" activity is organized by the provincial Red Cross
Connecting the community
The theme of this year's Humanitarian Month is "Community Engagement - Spreading Kindness" to call on people to bond by doing kind deeds no matter how small they are. From each small act of kindness, there will be a strong and widespread spillover effect multiplying into many beautiful actions, and contributing to the construction of a united and compassionate community.
Ms. Nguyen Thi Le Trinh, Chairwoman of the provincial Red Cross, said that in 2021, the total value of Humanitarian Month activities gained VND 9 billion 356 million to help 33,827 people in need. Promoting the results achieved in the past year, Humanitarian Month 2022 was soon deployed by the provincial Red Cross to all levels to propagate widely among Red Cross officers, members and people in the provincial areas. Up to now, 100% of district, town and city councils have advised the district Party Committees, town Party Committees, city Party Committees, People's Committees of districts, towns and cities to issue documents directing the implementation of Humanitarian Month in association with the implementation of congress resolutions at all levels.
As planned, in this year's Humanitarian Month, the whole association strives to mobilize resources to support 100% of humanitarian sites. Each district, town, and city association can organize at least 1 humanitarian project or program with the direct support of leaders of the Party Committee, local authorities and departments.
Many meaningful activities to be
Humanitarian Month in the province this year takes place with many activities to spread meaningful acts of kindness. In the past few days, many humanitarian activities to share love and support disadvantaged people to have more conditions to rise up in life as carried out by the Red Cross at all levels.
Ms. Ngo Kim Xuyen, Chairwoman of the Red Cross of Dau Tieng district, said that in implementing Humanitarian Month 2022, most recently, the association has mobilized a volunteer group of lawyers in Thu Dau Mot city to support resources to Dinh Thanh High School so that the school can serve students. They donated 10 bicycles to disadvantaged children and 100 gifts to the poor and disadvantaged people affected by COVID-19 in Dinh Thanh and Dinh An communes at total value of VND 47.7 million.
In other district, town, city associations and the commune-level Red Cross are also actively mobilizing resources and implementing many meaningful activities. Localities focus on launching a peak campaign to mobilize resources for humanitarian purposes, in which focus is on specific and practical goals such as supporting humanitarian sites, building Red Cross and charitable houses, humanitarian works, and supporting livelihoods for people in need.
Particularly at the provincial level, it is expected that on May 9, the provincial Red Cross will hold a ceremony to launch Humanitarian Month 2022. In this program, along with gift-giving activities for people with disabilities, the association will sign a cooperation program and donate a humanitarian "Golden Heart" board to organizations, units, businesses, and benefactors who have actively supported resources for the association to organize humanitarian activities to share with people in need.
Along with that, the association will inaugurate and award 20 humanitarian works, totaling at VND 2 billion. Visits were organized to give 1,200 gifts to the poor, street lottery ticket sellers, disabled people, and children at classes of compassion and disadvantaged workers. The campaign "Red drops of blood in the summer of 2022" was organized to propagate and mobilize cadres, civil servants, public employees and people of all classes to participate in voluntary donation of blood and organ. It is expected that on this occasion, voluntary blood donation was organized to receive 2,000 blood units.
Humanitarian Month is the peak month for all people to do humanitarian work to emulate movement of doing good works in agencies, organizations and people of all walks of life. With the spirit of "mutual solidarity, mutual love", during Humanitarian Month, philanthropic organizations, units, businesses and individuals will actively participate in contributing resources to humanitarian activities of the Red Cross so that the humanitarian values ​​and the love shared among people will forever be widely in the community.
Reported by Hong Thuan – Translated by Vi Bao