At Ho Lang revolutionary and eco-tourism relic site (Tan Phuoc quarter, Tan Binh ward, Di An city), Di An Youth Union, Bau Bang District Youth Union and Ben Cat Town Youth Union held a training camp for youth officials in 2023 with the theme "Connecting Strength - Connecting Youth". The camp created an environment for exchange, learning experience in youth works and educate young people about revolutionary traditions.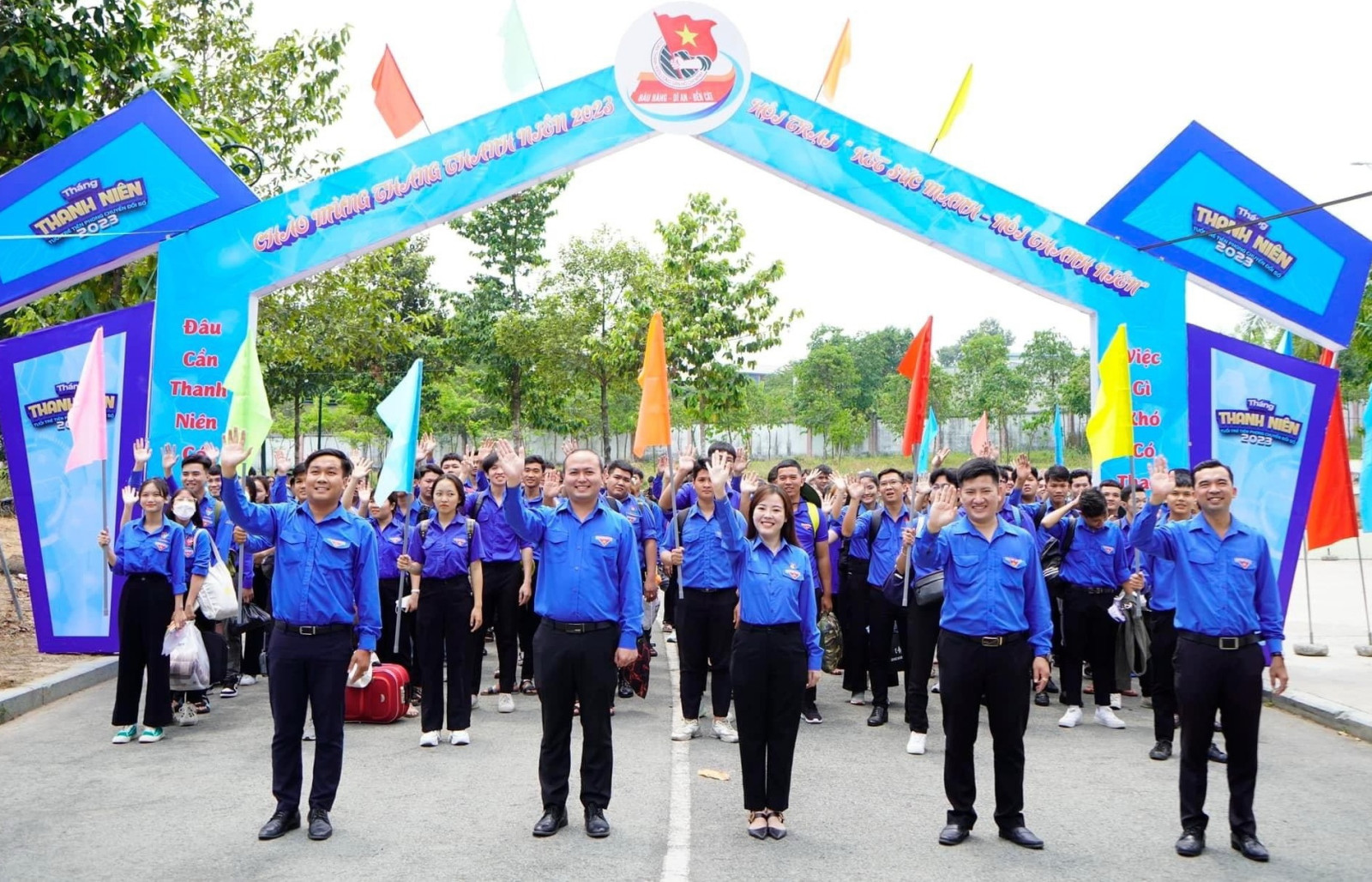 Camp "Connecting Strength - Connecting Youth" was held at Ho Lang revolutionary relic and ecotourism site.
Solidarity, determination
The camp took place in the lively emulation atmosphere of young people nationwide who are trying to make achievements to celebrate the 92nd anniversary of Ho Chi Minh Communist Youth Union (March 26, 1931 - March 26, 2023) and to respond to Youth Month 2023. Therefore, the camp demonstrated the spirit of the three Youth Unions in order to successfully implement Resolutions of Youth Union Congress at all levels. The camp created a lively and united playground among youth union members of three units, and expanded exchanges and promoted learning to build a healthy and dynamic environment for young people.
Youth members participating in the camp were creative, came up with solutions and initiatives through competitions, took part in a series of games, competed in talent competitions, and did their best in campfire activities. Therefore, they could feel the vitality of youth with good health, intelligence, efforts to overcome difficulties, study and work to build a civilized, modern, and compassionate homeland.
Team activities at the camp formed a connection between union members and motivated youth movements of the three units to continue to have new successes. Accordingly, three Youth Unions of Di An - Ben Cat - Bau Bang will coordinate to organize revolutionary activities and movements, volunteer for the community, and learn from work experience to create and improve the quality of movements in the near future. On the night of the camp, the campfire moment in each young man was an expression of the fire of enthusiasm that encourages living to the fullest of his youth, being worthy of the title of Ho Chi Minh Communist Youth Union.
Education and propagation
In this camp, the three Youth Union units also focused on traditional educational activities. Ho Lang revolutionary relic and eco-tourism area was the residence and activity of the local revolutionary forces during the years of resistance war. The base area with advantages of a terrain created favorable conditions for revolutionary forces to fight against the enemies. The camp site at this relic itself has brought revolutionary historical values and national pride to young ones at the camp. Along with Ho Lang revolutionary base, Tan Binh ward has other relics, like Mach Mang stream, a mass grave of 35 people... Those are the glorious and heroic history pages of the local army and people; that will be forever engrave by today's youth.
In Tan Binh ward, the three Youth Unions also made a visit to Vietnamese heroic mother Phan Thi Cai. At the mother's house, Youth Union staff and members expressed their gratitude to the mother for her dedication to the cause of national liberation and reunification. Next, these young people also came to offer incense at Di An train depot's monument and together reviewed the formation and development process of this place, where is the birthplace of one of the first branches of the Southern Party Committee.
Within this program, young volunteers from three units also participated in a talk entitled "External information on the global situation, regional relations between Vietnam and other countries" given by Senior Lieutenant Colonel Mai Van Thoa, Politician of Military Command of Di An City. Thereby, the participants acquired information about Vietnam's foreign activities in recent years; be aware of the role and responsibility of the youth in the process of international integration of the country.
Lam Hoang Thuy Trang, Secretary of Di An City Youth Union, said: "The camp was successfully organized, has practical meaning in educating young members of the three units about revolutionary tradition, national morals of "Drink water, remember the source", "Repay the gratitude". Besides, this was also an opportunity to expand the solidarity front, gather youth, create a healthy and useful playground through activities, training programs, and strengthen the relationship of solidarity and exchange of work experience. In the coming time, the three Youth Union units will continue to coordinate to organize activities to contribute to the development of youth work".
Reported by K.Tuyen - Translated by Ngoc Huynh