On May 11, provincial Red Cross Society held a ceremony to launch the Humanitarian Month 2022 with the theme of "Connecting community - Spreading charitable actions". The event was attended by Nguyen Van Loi, member of the Party Central Committee, Secretary of provincial Party Committee, Head of provincial National Assembly Deputy Delegation; Nguyen Hoang Thao, Permanent Vice-Secretary of provincial Party Committee; Vo Van Minh, Vice-Secretary of provincial Party Committee, Chairman of provincial People's Committee; Nguyen Van Loc, member of provincial Party Standing Committee, Head of provincial Party Committee's Mass Mobilization Commission, Chairman of provincial Fatherland Front Committee together with leaders of provincial departments, agencies, organizations, leaders of Thu Dau Mot city and nearly 400 disadvantaged people in the province.
Connecting the community
The Humanitarian Month is organized to strengthen the responsibility of all-level Party committees, authorities and social forces in humanitarian work and Red Cross activities, raising awareness and promoting compassionate behavior among people from all strata. Talking to us, Nguyen Thi Le Trinh, Chairwoman of provincial Red Cross Society said that Humanitarian Month is the peak month for Red Cross Societies at all levels to simultaneously deploy activities to mobilize support resources for vulnerable groups in the community, contributing to building up a safe community.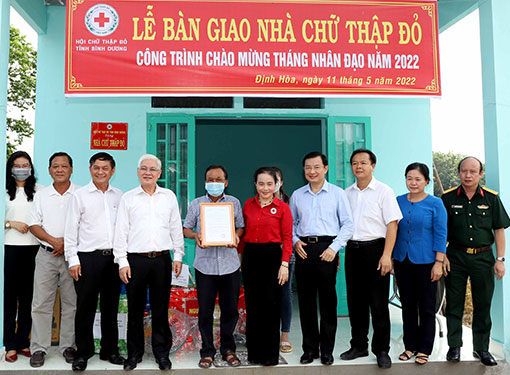 After the launching ceremony of the Humanitarian Month 2022, leaders of the province and Thu Dau Mot city conduct a ceremony handing over a "Red Cross" house to Nguyen Van Khanh in Dinh Hoa ward's quarter 5
After more than 4 years of implementing the Humanitarian Month, provincial Red Cross Societies at all levels have mobilized over VND 50 billion, helping more than 150,000 poor people, contributing to raising awareness of the whole society, promoting, arousing and spreading the spirit of mutual affection in the community. Charity and humanitarian activities have become a regular job, the beauty of many agencies, units, organizations and every citizen.
Humanity is one of Vietnamese people's precious traditions for generations. Promoting the results achieved in previous years, the Humanitarian Month 2022 in the province was launched with the message that everyone should stand shoulder to shoulder, side by side with kind and meaningful deeds, contributing to taking care of the lives of those with difficult circumstances. With the significance, through propaganda and mobilization, many units, organizations and individuals have actively responded and contributed resources to provincial Red Cross Society to organize activities to support difficult people during the Humanitarian Month as well as organizing other humanitarian activities in the coming time. Particularly at the launching ceremony of this year's Humanitarian Month, provincial Red Cross Society received support resources from units, organizations, businesses and individuals with a total value of VND 25 billion.
Spreading kind deeds
From support resources, during Humanitarian Month 2022, provincial Red Cross Society will carry out many practical and meaningful activities, including organizing 60 "Zero dong" market-days, building 20 Red Cross houses and humanitarian works, providing free heart surgery for the poor, giving 5,000 gifts for the poor, lottery ticket sellers, people with disabilities, children at charity classes, freelancers, workers with difficult circumstances... with a total value of more than VND10 billion.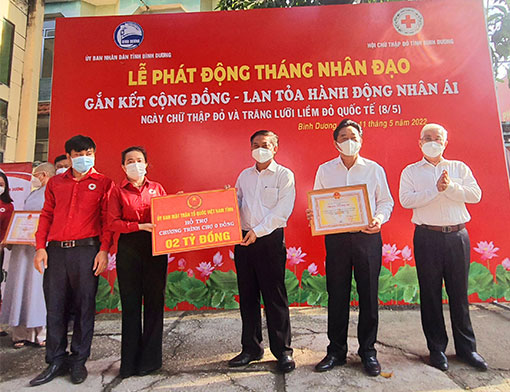 Leaders of the province and provincial Red Cross Society receive, present the gratitude board for the Golden Heart of Humanity to organizations and businesses supporting resources for the local humanitarian activities
Right after the launching ceremony, provincial Red Cross Society held a "Zero dong" market-day to support food, foodstuff and necessities for nearly 400 disadvantaged people and visually impaired people in Thuan An city, Thu Dau Mot city and Tan Uyen town. Each voucher was worth about VND 600,000. Seeing those who were supported with vouchers to go to the market came home with a lot of goods and necessities in hand, everyone participating in the market-day felt heart-warming. Ho Thanh Tung, a visually impaired man in Thuan An city, who was supported with a voucher to go to "Zero dong" market-day this time shared: "The gifts from provincial Red Cross Society will contribute to helping the blind like me to alleviate some difficulties in life, giving us more energy to try to integrate into the community."
As one of households with extremely difficult circumstances received a house during the Humanitarian Month, Ngo Thi Ngoc Nga in Thu Dau Mot city's Tan An ward could not hide her happiness when she held a decision of handing over the new house in her hand. Due to poverty, her family was able to build a small house for many years. Being interested by the locality, provincial Red Cross Society and donors supported the cost of building a new house for her. He expressed: "From now on, my family has a spacious, warm and comfortable place to live and have more motivation to rise up in life".
In addition to the above activities, there are many meaningful humanitarian activities that will continue being implemented by provincial Red Cross Societies at all levels in the coming time. In order to implement the Humanitarian Month with high results, at the launching ceremony, Mr. Minh asked for all-levels Party committees, authorities, departments, agencies, mass organizations and localities to pay attention to leading, directing, creating favorable conditions for the humanitarian work and Red Cross activities, improving the quality and efficiency of assistance activities for the local people with difficult circumstances and those in the vulnerable group. He called on businesses, organizations and individuals in and out of the province, and people from all strata to continue supporting provincial Red Cross Society, joining hands with the province to well perform public healthcare and social welfare policies, thereby offering more and more effective help to the local disadvantaged people, building a united, compassionate, healthy, safe community.
"Humanitarian activities must come from the heart, from real love, without form, without taking advantage of the name of humanity to achieve personal purposes. The Humanitarian Month is an opportunity for all organizations and people to do humanitarian work for the poor and vulnerable in society, for the goal of "rich people, strong country, democracy, justice and civilization society". I believe that under the leadership of all-level Party committees, authorities and support of the whole society, the Humanitarian Month 2022 will achieve the highest results." (Vo Van Minh, Vice-Secretary of provincial Party Committee, Chairman of provincial People's Committee)
Reported by Hong Thuan-Translated by Kim Tin