With his efforts in labor, production, rising to get rich, contributing to homeland construction, Le Minh Sang, a member of the Farmers' Association branch of hamlet 2 in North Tan district's Tan My commune, was honored to be commended at the 6th national conference honoring good farmers in production and business in the period of 2017-2022.
Building brand name
In 2015, with support policies plus experience from training classes, seminars and visits organized by the local Farmers' Association, Le Minh Sang applied science-technology advancements in planting green-skinned pomelos, sweet pomelos with orange leaf, developing his family's economy. As the Director of Tan My Fruit Cooperative, Mr. Sang has always learnt from experience, applied science-technology advancements into production to build a brand name of fruit trees and received great results. The cooperative's products have achieved the certification of VietGAP standard. The cooperative has also signed a contract with Co.opMart supermarket system to consume green skin pomelos, sweet pomelos with orange leaf and sweet tangerines…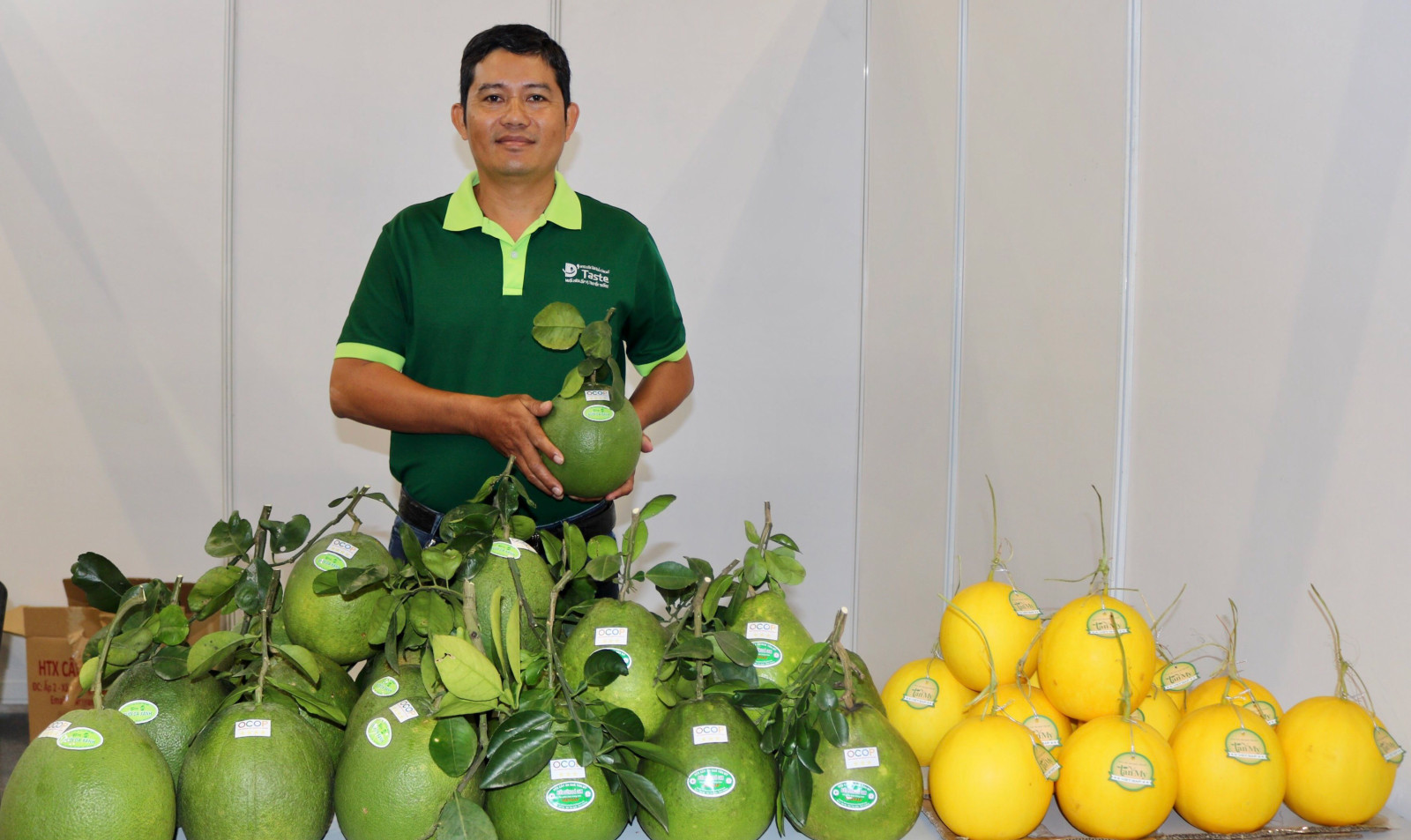 Thanks to applying science and technology advancements into production, Le Minh Sang and Tan My Fruit Cooperative has built a brand name for his agricultural products
In activities of the cooperative, Mr. Sang has focused on improving management capacity, capital capacity and business skills. He also has a sense of responsibility at work, always seeking to learn experience to meet the needs of production and business, bringing high economic efficiency. On the other hand, he has set out a goal to strive for higher profits next year than the previous year to gradually improve the lives of members and employees in the cooperative, contributing to promoting the local socio-economic development. Since then, he has actively mobilized idle capital from members, personal capital, and economic sectors to expand production and business, and create more regular jobs for the local workers. In addition, he has regularly send officials and employees of the cooperative to training courses on improving management capacity, professional qualifications and skills in accordance with the development of the market.
Towards organic products, ensuring safety for consumers, the cooperative has researched to make organic fertilizer products and pesticides to replace chemical ones. So far, the cooperative has successfully experimented with growing green-skinned pomelos, sweet pomelos with orange leaf on an organic basis without the use of chemical fertilizers and pesticides, and achieved high yield and quality. Mr. Sang said: "In the coming time, the cooperative will continue replicating this model to bring consumers better products while disseminating experience to many farmers who have the intention of growing pomelos".
Participating in new-style rural construction
Over the past time, Mr. Sang made efforts in implementing and disseminating the Law on Cooperatives, the Party's resolutions, guidelines and the State's policies, laws on collective economic development for officials and employees. He shared: "In social work, the cooperative has upheld the spirit of "mutual affection, mutual love", helping each other overcome difficulties to rise from poverty to having enough to eat, being well off and getting rich righteously towards building up a collective with sustainable development".
Along with developing his family's economy, activities of the local Farmers' Association, Mr. Sang has actively mobilized members of the cooperative to make contributions to the local new-style rural construction...
In addition to focusing on developing the cooperative, Mr. Sang is also interested in the lives of the local people by such practical activities as regularly supporting scholarships for disadvantaged students at Tan My Primary School, Thuong Tan High School; supporting the local Farmers' Support Fund and participating in the local programs and movements.
He has also helped the local people in production as well as in business; guided them about investment ways, care techniques, awareness of responding to climate change to jointly develop the economy and improve living standards. Besides, he has attached special importance to propagandizing the local people to practise food hygiene and safety, ensure environmental hygiene in production and business in rural areas and regularly mobilized farmers to realize the targets of the association, contributing to the local economic, cultural and social development.
As the Director of Tan My Fruit Cooperative, Mr. Sang has always learnt from experience, applied science-technology advancements into production to build a brand name of fruit trees and has received great results. The cooperative's products have achieved the certification of VietGAP standard. The cooperative has also signed a contract with Co.opMart supermarket system to consume green skin pomelo, sweet pomelo with orange leaf and sweet tangerine…
Reported by Kim Tuyen-Thao Nguyen-Translated by Kim Tin