As of the morning of June 15, the Covid-19 outbreak in Tan Uyen town was related to patient 10584, who is the owner of a milk tea shop at residence address of Khanh Hoi quarter in Tan Phuoc Khanh ward of Tan Uyen town and was found positive on June 12, incurring a totally 14 related cases. Previously, right from June 12, after detecting patient 10584 positive for Covid-19, the provincial health sector mobilized a quick force to track down F1 and F2 and practice zoning, medical quarantine and quick sampling for testing.
The series of infection in Tan Uyen town is related
The outbreak in Tan Uyen town was discovered when patient 10584 had symptoms of fever and cough before going to the doctor and was found positive soon after. By investigating the epidemiological milestones of the patients, it was found that these 14 patients were all in families with a brotherly relationship, the patients' houses were located close to on another. In 14 patients, there are 13 people in a family in Khanh Hoi ward and Tan Phuoc Khanh ward of Tan Uyen town. One F1 of the patient 10584 was residing in Tan Vinh Hiep ward due to close contact. In particular, the important epidemiological milestone was that these 14 patients the family's birthday party on June 8.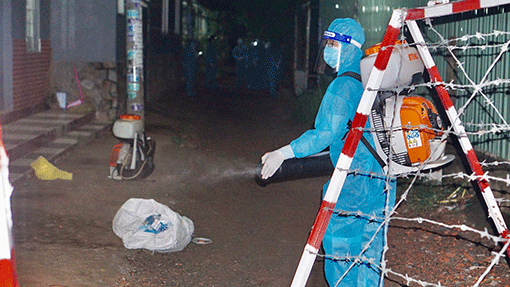 Medical staff and doctors of Tan Uyen town is disinfecting the areas where the infected couple live
h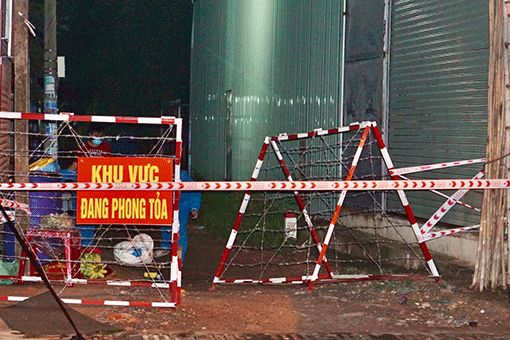 Functional forces are locking down the quarter of Khanh Hoi at Tan Phuoc Khanh ward in Tan Uyen town
Right from June 12, after detecting that patient 10584 was positive for Covid-19, the health sector mobilized forces to quickly track down the F1 and F2, to localize and quickly take samples for testing. During the past few days, the medical force has worked days and nights, getting down to the hamlets and into people's families to track down the related F1 and F2 exposure. For a series of 11 infection cases in a family in Khanh Hoi quarter of Tan Phuoc Khanh ward, the sector has initially verified 65 F1 cases. For the case in Tan Vinh Hiep ward, the sector has initially identified 200 related cases at Binh Duong Private General Hospital and 25 F1 cases in Tan Vinh Hiep ward.
Dr. Nguyen Hong Chuong, Director of Department of Health, said: "During the implementation process, the health sector has also encountered many difficulties, especially the people's low awareness of the prevention and control of Covid-19 for not cooperating in investigation and tracing, making it very difficult to trace the related cases. Therefore, in order to contribute to the fight against the epidemic, people in the province need to be more serious in implementing the "5K" message of Ministry of Health, keeping a daily diary of visited places and people for true medical declarations to make investigation and tracing easier.
Quarantine and treatment facilities ready
To prepare for epidemic levels, before that, the province has prepared concentrated quarantine areas for about 10,000 people at Becamex social housing apartments, health centers of districts, towns, cities, and other facilities of educational institutions, cultural houses of physical training and sports in the localities. In case an epidemic in industrial parks, dormitories and housing areas for experts and workers will be used to conduct concentrated quarantine.
The province is also expanding new concentrated quarantine areas such as the dormitory of the Vietnam National University of Ho Chi Minh city, lending 1,800 isolation beds. Regarding the treatment capacity of the province, it is possible to treat about 600 patients at the same time with human resources, ventilators, equipment, and facilities ready and even for a field hospital. The provincial Center for Disease Control and the provincial General Hospital has been allowed to test for confirmation of Covid-19 infection. The total number of PCR testing machines in the province is currently 6.
"Currently, the health sector is promoting rapid tracing of F1 and F2 cases related to 14 cases in the outbreak in Tan Uyen town. The provincial Steering Committee for Covid-19 Prevention and Control is strongly directing the companies, enterprises and industrial parks to ensure the realization of the dual goal of disease prevention and economic development by taking people and businesses as the core and by ensuring good social security to minimize the impact of the epidemic on people's lives," said Dr. Nguyen Hong Chuong.
Reported by Kim Ha – Translated by Vi Bao