To ensure safety for COVID-19 prevention and control during the 2022 Lunar New Year, the province's health sector has proactively implemented comprehensive and effective solutions to ensure that all emergency patients entering medical facilities during Tet are examined and treated in a timely manner.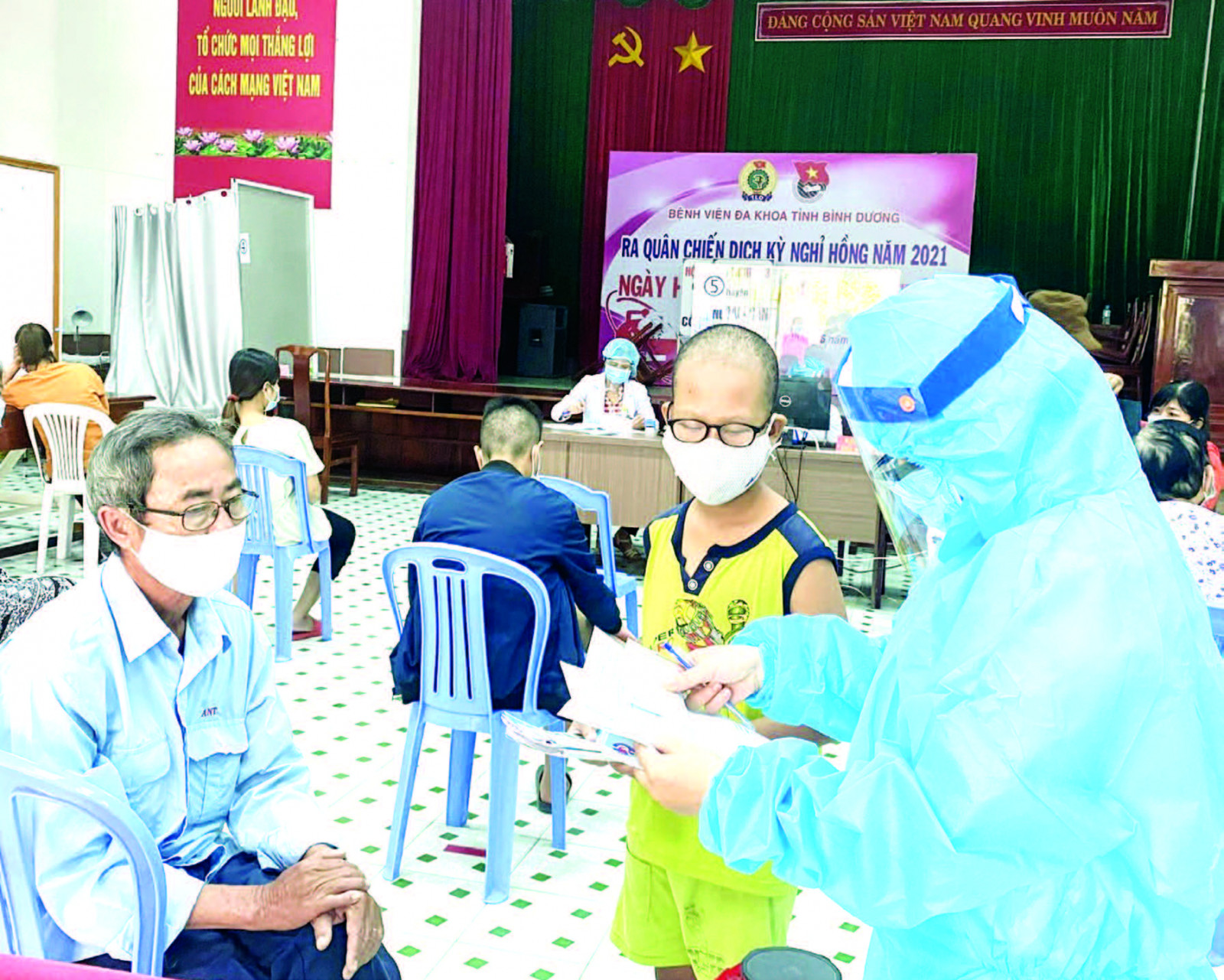 Binh Duong provincial General Hospital has helped to classify treatment zones for people of suspected infection of COVID-19
The focal epidemic prevention and control
In the days approaching Tet, shopping malls, commercial centers and supermarkets attract a large number of people touring and shopping including Aeon Maill Binh Duong Canary, Big C, Co.opmart Binh Duong, Becamex Tower etc. where the measures to prevent and control the COVID-19 epidemic have been deployed by units. At all entries and exits, staff to measure body temperature and disinfect hands are designated. Disinfection has also been enhanced at public places in the aisles and check-in counters. To ensure safety, 100% of employees are also required to wear masks and take their temperature before working.
As noted by us, at the chain of Co.opmart Binh Duong, epidemic prevention and control has been seriously implemented. When customers come to shop, they actively scan the QR codes and make medical declarations. In front of the shopping centers, guards are on constant duty to measure body temperature, and at the same time, ask people to strictly wash their hands and wear masks. Similarly, at Big C Binh Duong Supermarket, Aeon Mall Binh Duong Canary, all people who come to shop will have their temperature taken from the area outside the doors and are always guided by the shopping center staff to declare health status by QR codes and observation of "5K" message of Ministry of Health.
Ms. Nguyen Nam Hang, a resident of Thu Dau Mot City, said: "When I go shopping on Tet holiday, I was very afraid of the conditions for COVID-19 epidemic prevention and control. However, when I go to shopping centers, I am very reassured because shopping places have strictly implemented measures to prevent and control the COVID-19 epidemic. Our people also strictly abide by the wearing of masks, hand sanitation and medical declarations to prevent and control the COVID-19 epidemic."
People's markets are crowded places making the risk of infection with COVID-19 greater. To be proactive in COVID-19 prevention and control in local markets, localities have actively implemented many measures with focus on raising the awareness and responsibility of small businesses and people in their activities to proactively prevent and control COVID-19 epidemic as recommended by Ministry of Health. Mr. Pham Van Bay, Deputy Chairman of Di An city People's Committee, said: "For markets in the area, the city has directed them to implement measures to prevent and control the COVID-19 epidemic. The Wards' Steering Committees for COVID-19 Prevention and Control have strengthened their inspection, supervision, and reminded people and small traders at market places to comply with effective epidemic prevention and control measures. In addition, the city also mobilizes local youth union members to volunteer in supporting the control and medical declarations of people going to the markets in the area.
Medical tasks ensured during Lunar New Year
Currently, the situation of the COVID-19 epidemic is still complicated as the risk of the Omicron variant into the province is very high. Currently, preventive medicine units in the province are strengthening surveillance and early detection of suspected infection cases in the community. Dr. Nguyen Hong Chuong, Director of Department of Health, said: "At the end of the year, the department directed the provincial Center for Disease Control to step up the immigration management process and medical quarantine by requiring all people to practice compulsory medical declarations on entries to ensure the surveillance and early detection of suspected cases. In particular, the center focuses on organizing the classification of quarantine cases by regularly updating the health status of people entering the nation every day during the quarantine and medical supervision, strengthening the team to take samples for testing, improving monitoring and testing capacity, and responding quickly when an epidemic situation incurs. In particular, the units have also closely checked the certificates of negative tests and of having had enough doses of COVID-19 vaccines for all cases of people entering the nation from abroad.
Dr. Nguyen Hong Chuong also added that currently, medical units ensure 24/7 shifts before, during and after Tet, not to make professional mistakes and arrange 4-level professional duties of leadership, expertise-handling hotlines, self-defense, and servicing duties. In addition, the Department also directs the units to have enough stock of drugs, blood, intravenous fluids, and other necessary means and equipment for emergency, medical examination and treatment, especially for traffic accidents and food poisoning emergencies. All emergency patients entering medical facilities must be examined and treated promptly, absolutely not to refuse or handle the cases late. In case the patient goes to the wrong line of treatments, the medical facility should provide stable initial first aid treatment and fully explain to the patient and the patient's family before transferring him/her to another medical facility.
Meanwhile, the provincial General Hospital has also issued a notice asking patients and family members to strictly follow the mask wearing rules, otherwise medical staff will refuse to serve. The hospital continues to stream, screen, and treat patients. All people who have symptoms of fever, cough, and difficulty breathing are immediately taken to the screening clinic on their own way. Previously, the hospital also strengthened infection control, updated treatment regimens, stocked drugs, supplies and medical equipment to be ready to receive and treat patients infected with COVID-19.
Reported by Hoang Linh – Translated by Vi Bao