After a period of active treatment, more and more Covid-19 patients at treatment facilities and field hospitals in the province have been recovered and discharged. This is a positive and encouraging sign in the province's collection and treatment of Covid-19 patients. It is expected that by the end of October, many treatment facilities and field hospitals in the province will no longer have Covid-19 patients.
Positive numbers
On the afternoon of October 7, as noted by reporters at Thoi Hoa field hospital in Ben Cat town, unlike the crowded image of a month ago, now this treatment facility is very quite when the number of patients hospitalized here are almost nonexistent. The treatment facility's area D is now no longer patients. The forces have also cleaned up hospital beds, sprayed disinfection in the entire area of tens of thousands of square meters.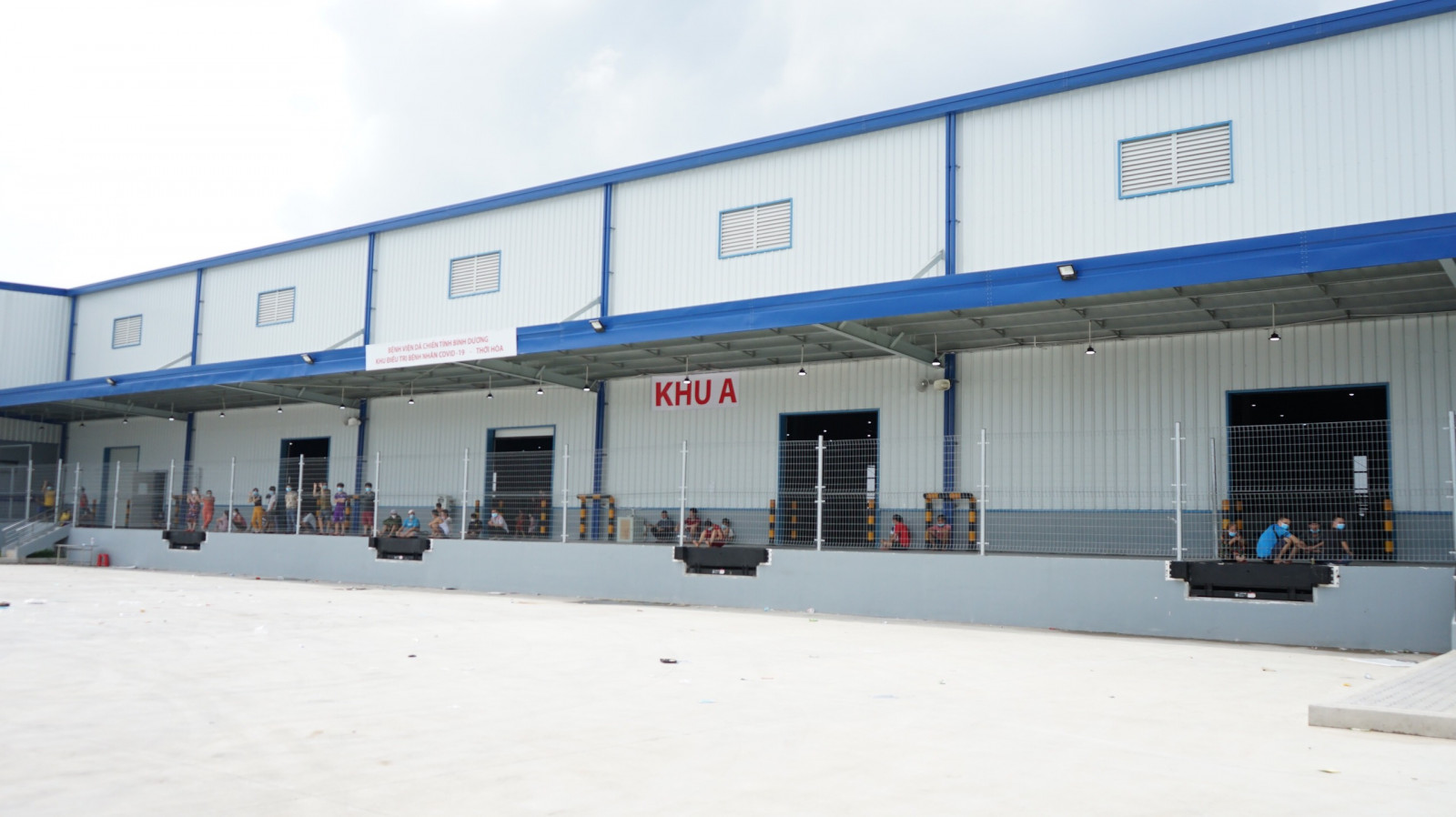 The number of Covid-19 patients being treated at Thoi Hoa field hospital in Ben Cat town has decreased a lot compared to the peak period of August and September
Doctor Nguyen Binh Minh from Bac Giang province's medical delegation that has supported Binh Duong in the Covid-19 fight since the end of August said that as of October 7, many patients being treated at the facility were discharged. For example, the area D had 11,000 F0 cases at the peak of collection. As of October 5, all these patients in this area were cured and returned to home for self-isolation.
Like the area D, the area C previously received about 10,000 patients, but as of October 7 afternoon, there were only 622 patients. It is expected that on October 9, the hospital will also release all patients in the area C. Only 1,459 patients remain in the area A and there are 2,589 patients in the area B. The hospital is striving to release all patients being treated by October 20 and send them back to home for self-isolation.
In the spirit of standing side by side with Binh Duong to fight the pandemic and treat Covid-19 patients, as of October 7 afternoon, 35 doctors in Bac Giang province were still on duty with delegations from Hanoi, Ninh Binh, Nam Dinh, Nghe An. "With the spirit of the whole country for Bac Giang, now the province will also be for the whole country to devote all its abilities and efforts together with other provinces and cities, including Binh Duong, to be determined to win against the pandemic," said doctor Minh.
Talking to reporters, Do Van Sang, a patient in Thuan An city's Thuan Giao ward said that he and some people near his home were hospitalized here for treatment from September 16. During the treatment process, he has got good care from medical staff, volunteers so his health has been stabilized so far. He and many people have got negative results after being tested twice. "Seeing so many people who have recovered from Covid-19 and discharged, we are also very confident that we will recover from the illness to return home and soon come back to companies to work."
Field hospital with mission fulfilled
At the beginning of July 2021 when the Covid-19 pandemic situation in the province was tense with the number of infections and suspected cases continuously increasing in localities. In order not to fall into a passive situation, especially to reduce overload on the emergency floor of provincial General Hospital, the province quickly implemented construction of field hospitals to collect and treat patients with Covid-19. With great efforts and determination, after 5 days of rapid construction, on July 18, Binh Duong No. 1 field hospital with a scale of 1,500 beds at the International Exhibition Center in Binh Duong New City in Thu Dau Mot city's Hoa Phu ward was completed and put into operation. Not only investing in material facilities, the province mobilized medical workers, doctors from some hospitals together with support forces from the Ministry of Health for the first field hospital to be able to bring effective treatment to patients.
After that, the province quickly set up field hospitals and treatment facilities for Covid-19 patients in the northern districts. Possibly speaking, with the rapid construction of field hospitals and treatment facilities for Covid-19 patients over the past time, along with early applying appropriate treatment regimens, the province has achieved positive results in limiting severe cases, reducing mortality and curing patients. As of now, the province's treatment facilities and field hospitals have almost completed their mission and are being rearranged accordingly.
Doctor Mai Thi Kim Dung, Deputy Director of Bau Bang district's Health Center said that after a period of rearranging Covid-19 treatment facilities, the district has so far had 2 field hospitals No. 4, No. 6 and Phong Thanh treatment facility in Lai Hung commune. The district is continuing arranging and moving F0 cases being treated at Phong Thanh treatment facility to 2 field hospitals in order to return the factory to the business.
Meanwhile, talking to reporters, doctor Huynh Minh Chin, Director of Tan Uyen town's Health Center said that up to now, the town has completed the arrangement of Covid-19 treatment areas and completely removed 100 temporary isolation areas at schools and some other locations in accordance with the direction of the province. With the number of F0 cases discharged from hospitals increasing and the number of new infection cases decreasing deeply, the town's 3 large-scale treatment areas with more than 11,000 beds now have only 4,000 F0 cases under treatment.
Since the 4th wave of Covid-19 pandemic, Binh Duong province has recorded more than 218,000 cases of Covid-19, including nearly 10,000 cases detected at medical facilities, more than 26,000 cases in temporary isolation areas, more than 144,000 cases in blockade areas and more than 38,000 cases in the community. As of October 7, the province logged nearly 219,000 cases of Covid-19 and more than 200,000 recoveries. Currently, the whole province is treating more than 24,000 Covid-19 patients, comprising of more than 21,000 being treated at medical facilities and more than 2,800 for treatment at home.
Reported by Minh Duy-Translated by Kim Tin