With development potential and advantages, Binh Duong has been an attractive destination for potential investors and partners with advanced technology and modern management level.
Solid foundation
Over the past years, Binh Duong was one of the country's top localities in terms of socio-economic development and FDI attraction. Besides promoting socio-economic development, the province also actively expanded bilateral and multilateral cooperation. The province has so far established bilateral cooperation relations with 11 foreign provinces and cities and now is an official member and reliable partner of 3 international organizations, including the International Community (ICF), the Asian Economic Cooperation Forum (Horasis) and the World Trade Center Association (WTCA).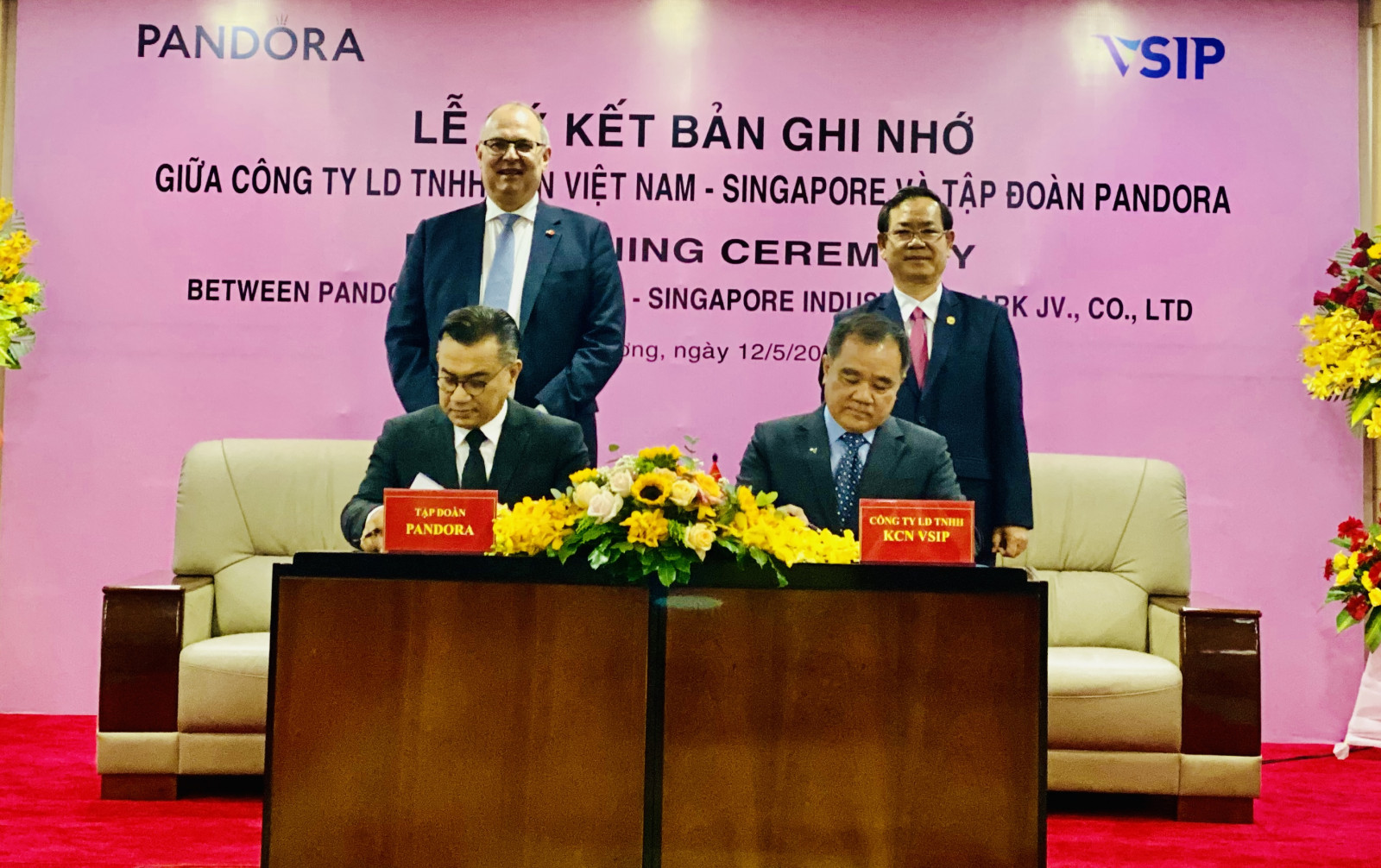 Pandora Group signs a memorandum of understanding with VSIP Joint Venture Co.Ltd. to invest in a project of nearly US$ 100 million
In recent years, Binh Duong has actively cooperated with foreign partners to build and implement the Smart City and Innovation Region project with the vision of becoming an innovation center of the Southern Key Economic Zone. With appropriate development orientations, by its own efforts, Binh Duong has achieved some very encouraging results and is Vietnam's first locality officially becoming a member of the ICF. For 4 consecutive years from 2019 to 2022, Binh Duong has been honored by the ICF as one of 21 cities with the world's typical smart city development strategies - SMART 21. Especially, Binh Duong has been honored by ICF in TOP 7 typical smart communities for 2 consecutive years from 2021 and 2022.
Not being satisfied with achievements done, the province has always made efforts in improving the local investment environment, reforming administrative procedures and enhancing competitiveness. In 2021, Binh Duong continued leading the Southeastern region, ranked 6th nationwide in terms of the Provincial Competitiveness Index (PCI) and ranked 2nd in the Provincial Governance and Public Administration Performance Index (PAPI).
In 2021, despite facing many difficulties due to Covid-19 pandemic, Binh Duong still attracted more than US$2.6 billion in FDI. In the first 6 months of 2022, the province attracted US$ 2.52 billion, including 27 new projects, 11 projects increasing capital and 82 projects contributing capital to buy shares. The whole province currently has 4,053 investment projects from 65 countries and territories with a total registered capital of US$ 39.55 billion. Binh Duong is currently ranked second nationwide in terms of FDI attraction after Ho Chi Minh city.
Nguyen Van Danh, Vice-Chairman of provincial People's Committee affirmed that the province has diversified investment attraction from potential markets and partners, paid special importance to the world's top developed countries and transnational corporations with advanced technology and modern management level; given priority to attracting investment in high-tech, advanced, environmentally friendly, low-labor-intensive industries, creating high added values, financial-logistics services and other modern services, auxiliary industries, high-tech agriculture and especially attracted investment projects in the Science and Technology Industrial Park on the basis of industry 4.0.
Greening industrial manufacture
According to Erwin Debarea, General Secretary of the European Chamber of Commerce in Vietnam (EuroCham), Binh Duong is considered by the European Union (EU) partners as an attractive destination for "green" industry. The province's investment attraction directions on high technology, digital transformation, response to climate change, environmental protection, green growth and sustainable development coincide with the priority fields of EU investors. Concrete evidence is that after the pandemic, many investors from Europe have continuously built factories in Binh Duong.
Mr. Danh said that in order to create favorable conditions for businesses to invest and develop in the province, along with proactively implementing economic activities and promoting investment attraction, Binh Duong has also always actively expanded friendly cooperation relations with foreign localities and partners. Up to now, Binh Duong has signed cooperation agreements with 11 foreign localities, including 4 provinces/cities of European countries, namely Italy's Emilia - Romagna region, Brussel's East Flanders province, Holland's Eindhoven city and Emmen city. Binh Duong has actively promoted cooperation with European partners by organizing online conferences with localities, diplomatic missions and international organizations.
Over the past time, Binh Duong was also proactive to coordinate with EuroCham to organize online conferences to grasp enterprises' opinions and suggestions for timely support, creating favorable conditions for them to gradually recover production and business activities, contributing to the local socio-economic development in the "new normal" context.
European partners have chosen Binh Duong to invest with a large amount of capital. Up to now, the province has lured 403 investment projects from 24 countries and territories of Europe with total registered capital of more than US$ 6.8 billion. Among them, the British Virgin Islands is at the top with 178 projects and total investment capital of US$ 2.42 billion, following by Denmark with 15 projects and total investment capital of US$1.4 billion; Netherlands with 43 projects with total investment capital of US$ 1.1 billion; Cayman Islands in British with 18 projects with total investment capital of US$ 926 million and then Luxembourg, Switzerland, United Kingdom, France, Austria...
Reported by Tieu My-Cam Tu-Translated by Kim Tin