With the active support of the Government and Binh Duong province, the determination of Lego Group, a toy factory with total investment of up to US$1.36 billion has completed its phase 1, preparing to recruit workers and go into operation in 2024.
For common development
At Vietnam - Singapore Industrial Park III (VSIP III) these days, Lego Group is trying to speed up the progress of its factory construction. On the construction site, the group has put modern technological machinery systems into operation, speeding up the construction of energy center, 110kV transformer station, production buildings on an area of ​​44 hectares.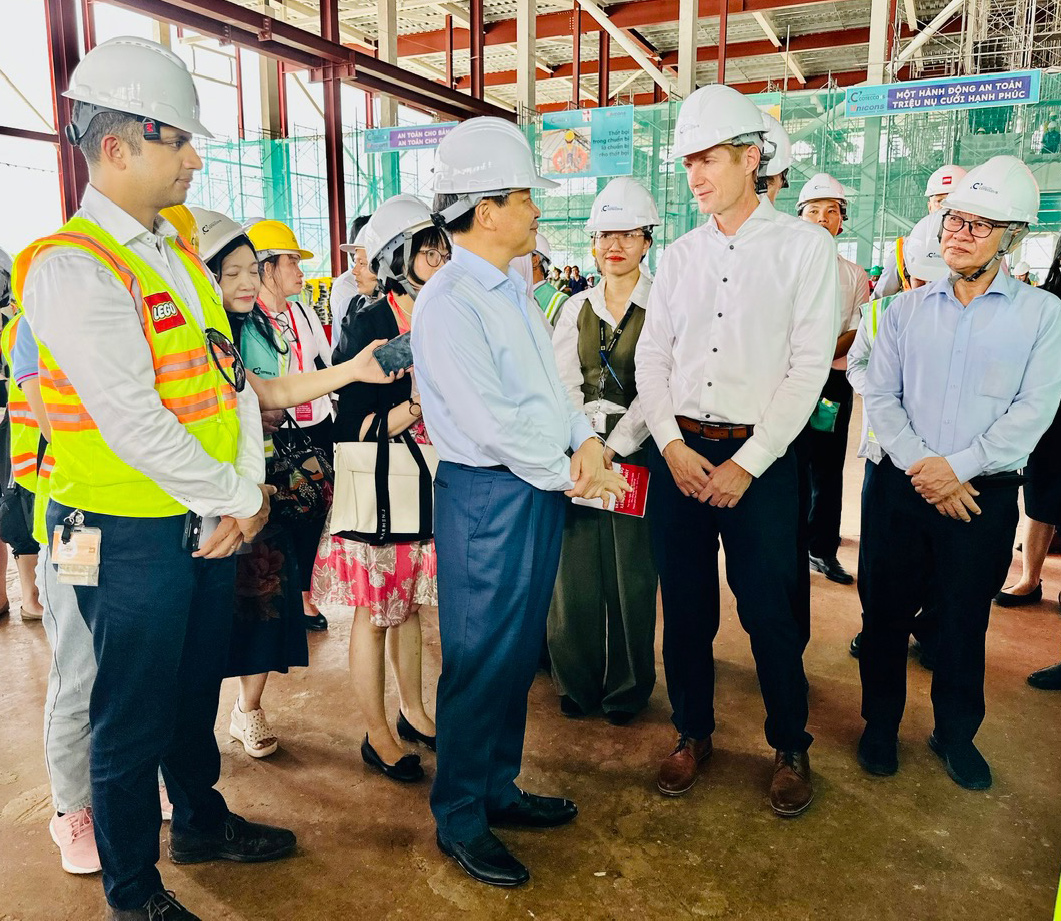 Deputy Prime Minister Le Minh Khai (second left), provincial Party Secretary Nguyen Van Loi (right) hear a report on the progress of construction of the factory in VSIP III from representative of Lego Group
Sharing with us about the progress of the project, Mr. Preben Elnef, Vice-Chairman of Lego Group, General Director of Lego Manufacturing Vietnam Company said: "The progress of the construction here and bringing the factory into operation are going very smoothly. We are proceeding as planned, on schedule to open the factory in the second half of 2024. As you can see here, there are more than 2,000 construction workers at work. It is expected that next year, this number will double. We have obtained necessary licenses and are promoting items. The progress is on smooth".
Mr. Preben Elnef added that the group has come up with many preparation plans to be able to carry out construction work during the rainy season and has ensured progress. "In the partnership, all-level authorities and sectors have granted some licenses to us before we can officially open the factory. We currently need a land use license and a factory operating license. This is part of the process of close cooperation to ensure construction on schedule", he said.
According to Deputy Prime Minister Le Minh Khai, along with the use of renewable energy in production, opening up the green investment trend in Vietnam, Lego Group's strategy in Binh Duong is a convincing demonstration of sustainable development thinking and social responsibility of a leading Danish enterprise. Lego Group has completed its commitment to plant 50,000 trees, which is of practical meaning, creating a lively landscape and a clean working environment for industrial parks, contributing to protecting the ecosystem and health of the local people. "Lego's dedication and spirit will further spread, inspiring other businesses to participate in protecting and developing a sustainable natural environment", Deputy Prime Minister Le Minh Khai said.
Deputy Prime Minister Le Minh Khai believes that Danish businesses, including Lego, will take advantage of the opportunities that the Vietnam - Denmark partnership will bring in investment and business in Vietnam. With the motto of "Your success is our success", the Government of Vietnam and Binh Duong province will always accompany and create favorable conditions for Lego to implement its projects effectively and achieve its goals set out.
Nguyen Van Danh, Vice-Chairman of provincial People's Committee said that the Party Committee, government and people of Binh Duong are very happy that Lego Group - one of the global brands has chosen Binh Duong as an investment destination. With total investment capital of US$ 1.36 billion, Lego Manufacturing Vietnam Company is one of the leading units in local FDI capital. The appearance of Lego Manufacturing Vietnam Company promises not only creates many jobs for workers, significantly contributing to State budget revenue, but also makes an important contribution to promoting the local industrial development in a green, clean and sustainable direction.
Promoting formation of supply chains
The factory has set a goal of recruiting 100 local employees by the end of 2023 and by the end of 2024, this number will be 500. Mr. Preben Elnef said: "We are grateful for the support and companionship from agencies and departments and many partners during the factory construction phase. Upon this, we can start production in the second half of 2024, bringing products to more children, letting them learn through playing, thereby creating long-term sustainable development in the Asia-Pacific region".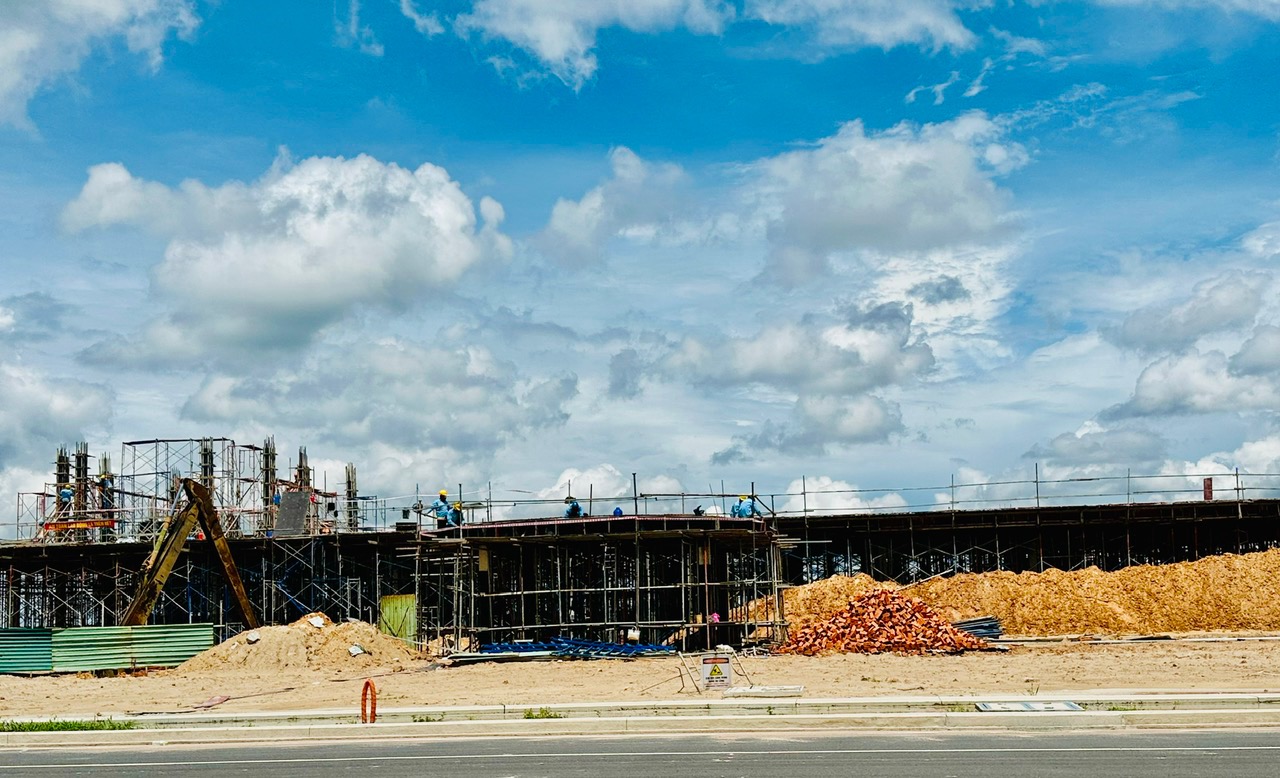 Lego factory at VSIP III is being urgently built to be put into operation by the end of 2024
In terms of promoting green and sustainable production, Mr. Preben Elnef said that the company has attached great importance to establishing partnerships with the local suppliers. This brings many benefits, not only in terms of sustainable development for the environment, but also in terms of faster delivery of goods from partners to factories. "To become our partners, they need to carefully consider the core values ​​they care about. Partners need to care about the world, about children. Then, of course, there must be the products we need at reasonable prices", Mr. Preben Elnef added.
How to participate in the supply chain facilitated by Lego is an issue that businesses are very interested in. Representative of Lego Group affirmed to be very open about necessary conditions to become a supplier for the company. If there is a potential supplier that does not meet standards set out by Lego right now, Lego is happy to share them as well as how to approach in order to meet them.
Nguyen Van Danh, Vice Chairman of provincial People's Committee: With its very specific actions, Lego has conveyed a very important message so that everyone understands the responsibility to join hands to protect the environment and protect natural resources in the process of socio-economic development. We can live in a fresh atmosphere and more importantly, future generations will have a better and more sustainable living and working environment.
Deputy Prime Minister Le Minh Khai: Vietnam and Denmark have established a strategic partnership on climate change, energy, environment and green growth since 2011, laying the foundation for effective cooperation between the two countries in these fields with many specific, practical programs and projects. On the basis of existing good cooperation, the Government of Vietnam and the Government of Denmark are aiming at establishing a green strategic partnership.
Reported by Tieu My-Translated by Kim Tin