After a year implementing the strategy on cultural diplomacy to 2030, issued by the Prime Minister in November 2021, Vietnam has achieved marked results in the field, helping promote its relations with other countries across all channels of the Party, Government, National Assembly, and people, affirmed Deputy Minister of Foreign Affairs Ha Kim Ngoc.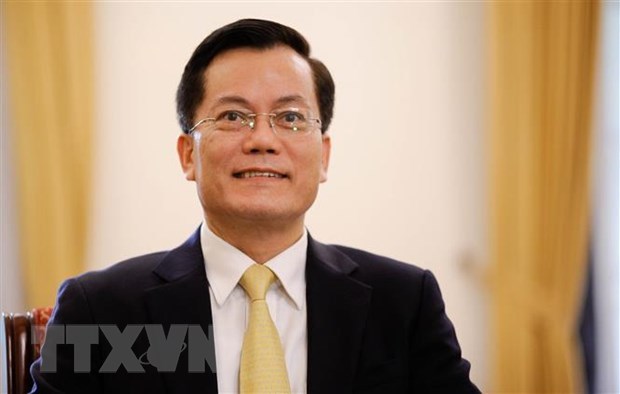 Deputy Minister of Foreign Affairs Ha Kim Ngoc
In an interview granted to the Vietnam News Agency, the official noted that Vietnam has focused on including the cultural content into the activities of high-ranking leaders during their overseas trips and the country's reception of foreign leaders; and on promoting deep and wide integration in the fields of culture, science and education at international forums.
According to him, Vietnam hosted significant regional and international conferences and events last year, including the 31st SEA Games and the Vietnam day programme in the Republic of Korea, Austria and India. The country was elected to the Intergovernmental Committee of the UNESCO Convention for the Safeguarding of Intangible Cultural Heritage for the 2022-2026 term with the highest number of votes.
The first official visit to Vietnam by UNESCO Director-General Audrey Azoulay was a highlight, putting the country, its culture and people on the radar of international media, Ngoc said.
The guest said she was impressed by Vietnam's achievements in the fields of culture, science and education, he added.
The diplomat highlighted that last year, Vietnam had four heritages and titles recognised by UNESCO; and that many localities successfully organised big cultural and diplomatic events serving the conservation and promotion of regional heritage and cultural values, attracting investment, and creating resources for sustainable development goals.
Ngoc said these achievements show the international community's appreciation for the heritage and cultural values of the nation, making Vietnam an attractive destination and putting it on the map of cultural and natural heritage and documents of the world.
Access to regulations and commitments set out by UNESCO has helped Vietnam raise the standard of management, conservation and promotion of heritage values, integrating heritage protection in local development strategy planning and striking a balance between conservation and development towards sustainable development.
He recommended that the country promote its national image, culture and people to the world; make cultural promotion activities part of its trade promotion programmes; and build national and local brands so that culture becomes an endogenous force attracting external resources, especially intellectual, technology and investment for socio-economic growth.
Furthermore, cultural diplomatic activities must be deployed more and more creatively with the smooth coordination of ministries, branches, localities and overseas Vietnamese, the official added.
In the fourth industrial revolution, cultural diplomacy needs to quickly access new knowledge to make the most of resources that serve the country's sustainable development, especially in the fields of cultural industry, creative industry and international cooperation in science and technology and education and training, Ngoc stated./.
VNA