On the afternoon of June 20, General To Lam, Politburo member, Minister of Public Security together with the ministry's delegation visited and directed the work at provincial Police Agency. Nguyen Van Loi, member of the Party Central Committee, Secretary of provincial Party Committee, Head of provincial National Assembly Deputy Delegation; Vo Van Minh, Vice- Secretary of provincial Party Committee, Chairman of provincial People's Committee received the delegation.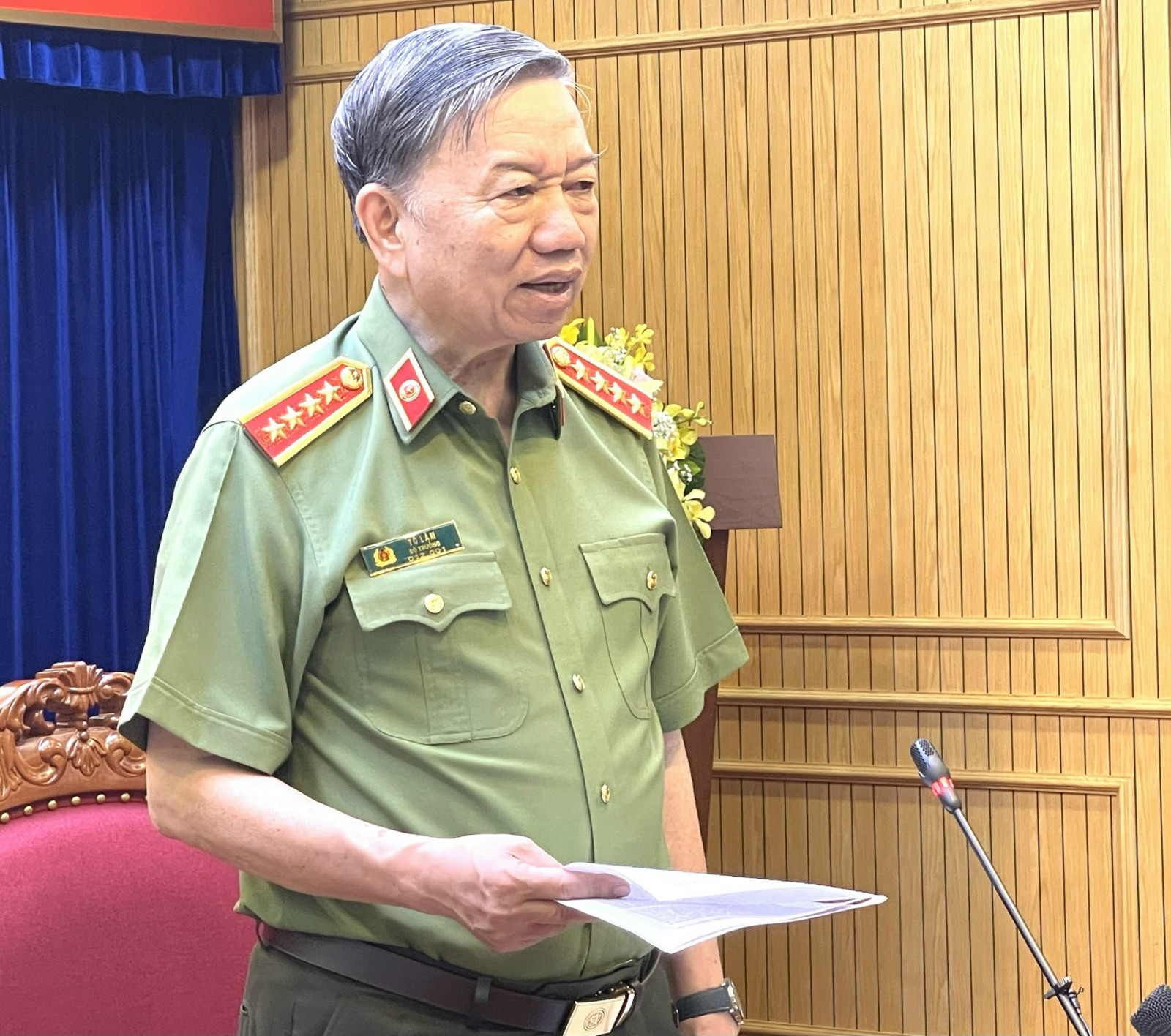 Minister of Public Security To Lam speaks at the meeting
Reportedly, Director of provincial Police Agency directed units and localities to focus on well doing the work of grasping and forecasting the situation, managing areas and subjects; effectively fighting against plots, activities of hostile forces, absolutely protecting security and safety of key targets, works, events, delegations of the Party and State leaders visiting and working in the locality in the first 6 months of 2022…
Over the past 6 months, crimes related to social order in the province decreased by 24.2% compared to 2019 - the time when there was no Covid-19 epidemic. The rate of investigation and discovery of cases reached 83.9%. The rate of investigation and discovery of serious and especially serious cases gained 96.2%. The investigation work ensured compliance with regulations.
Provincial Police Agency focused on drastically implementing the national database project on population, the project on citizen ID card production, issuance and management, and the Government's project No.06 on digital transformation. The agency also received more than 1.5 million documents on citizen ID card issuance.
Speaking at the meeting, Minister of Public Security To Lam pointed out 6 key issues that provincial Police Agency need to seriously implement in the coming time, including further advising and well implementing the 13th Politburo's Resolution No. 12-NQ /TW dated March 16, 2022; well realizing the task of ensuring political security in all fields, actively grasping the security and order situation, not to be passive or surprised; strengthening the fight against crime; improving the effectiveness and efficiency of administrative management; further building and promoting the effectiveness of the movement "All people taking part in protecting national security"; speeding up the construction of a regular, elite and modern communal police force at the requirements of maintaining security and order at the grassroots level in the current situation.
Especially, Minister of Public Security To Lam emphasized traffic safety as well as the goals of reducing criminal cases; preventing organized criminal gangs, especially "black credit" and criminal organizations hiding in the name of companies to carry out illegal acts.
Reported by Tam Trang-Translated by Kim Tin