On the morning of November 15, the delegation of Yamaguchi province (Japan) led by Governor Muraoka Tsugumasa visited and exchanged with students at Eastern International University (EIU), which is in Binh Duong New City.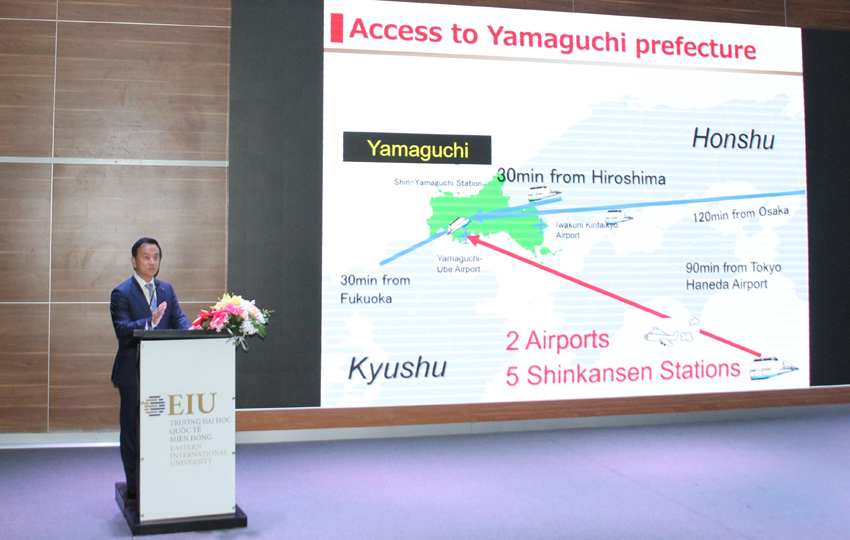 Accordingly, the Yamaguchi provincial delegation visited and learned about EIU's learning environment and innovation ecosystem; met students of the school; at the same time, obtained information about cooperation and association programs between Vietnam and Japan in many fields related to the study program as well as future career development of students.
Speaking at the visit, Muraoka Tsugumasa expressed his hope that in the future the school and educational institutions of Yamaguchi prefecture would have more opportunities to connect, cooperate, and create more practical values to develop culture, economy, education, healthcare etc. of Binh Duong province and Yamaguchi province.
Dr. Ngo Minh Duc, Rector of EIU, said that in 2020 - 2025 period, one of the university's sustainable development strategies is to expand and strengthen international cooperation. Regarding partners from Japan, school leaders always identify as reliable partners; look forward to connecting and strengthening cooperation in the future, including with Yamaguchi University in Yamaguchi Prefecture.
These activities not only have great meaning for the training and research work of universities, but also contribute to consolidating the good and in-depth friendship and cooperation relationship between Binh Duong province and Yamaguchi province.
Reported by Hong Phuong - Translated by Ngoc Huynh