Deputy Minister of Construction Nguyen Tuong Van has just chaired a meeting of the Appraisal Council for the proposal to recognize Di An urban area of Binh Duong province as a type-2 city. At the meeting, the Appraisal Council agreed to propose the Prime Minister to recognize Di An city as a type-2 city. The meeting was attended by members of the Appraisal Council and leaders of the People's Committee, departments and branches of Binh Duong province and Di An city.
The basic standards
Speaking at the meeting, Deputy Minister Nguyen Tuong Van highly appreciated the efforts in investment and development of the urban system of Binh Duong province on the basis of a long process of methodical development. The investment and development of Di An urban area from type-3 in 2017 to type-2 urban area in the context of only 22 type-1 and 33 type-2 cities nationwide is a great local effort. Deputy Minister Nguyen Tuong Van said that Di An city, up to this point, has reached the threshold of a type-2 urban area with sufficient legality to submit to the Appraisal Council and report to the Prime Minister for recognition.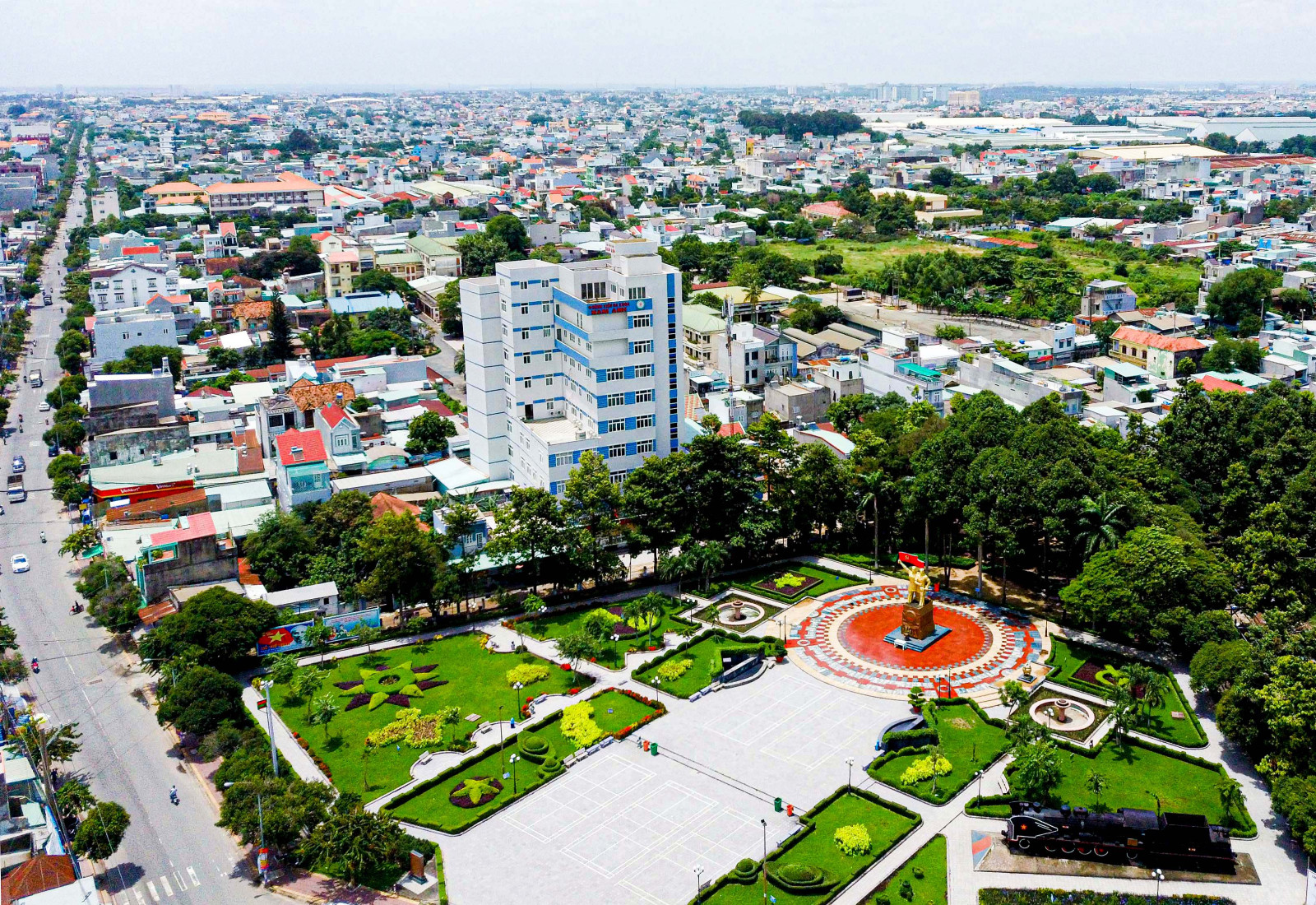 Di An urban area is proposed to be recognized as meeting type-2 urban standards. Photo: Quoc Chien
Di An city is located in Binh Duong province as a satellite town of the whole Ho Chi Minh city region, adjacent to many large cities and is a driving force for development in the whole region. In addition, under the investment attention of the government, Binh Duong province and Di An urban area have established a traffic system by roads, railway, sea, air, etc., continuing to create omentum for the city to grow now and in the future. Di An City is also located in the Vanh Dai 2 and Vanh Dai 3 routes, contributing to the development of urban areas in the region and Ho Chi Minh city.
In particular, Di An city is typical for the model of industrialization associated with urbanization with 6 industrial parks of Binh Duong, Song Than 1, Song Than 2, Tan Dong Hiep A, Tan Dong Hiep B and Binh An Textile and Garment. The budget revenue of Di An city in 2022 was more than VND 3,800 billion, surpassing many localities across the country. The average income was about VND 94 million a person, nearly twice the average income of the whole country.
"In Di An urban area, the rate of industrial transformation is very high that few cities can achieve with the rate of industry over 70%, service 29%, agriculture 0.2%, and USD marketed 82%. The population size as well as population density is also close to the maximum point with 497,000 while the criteria for type-2 cities are from 200,000 to 500,000," emphasized Deputy Minister Nguyen Tuong Van.
The criteria to be upgraded constantly
According to the evaluation of the Appraisal Council, out of 59 criteria in Di An urban area, 44 criteria are maximum scored, 8 are with average to minimum scores, and only 7 criteria failed. At the appraisal session, Deputy Minister Nguyen Tuong Van suggested that Di An city should continue to focus on reviewing, evaluating and investing into weak and unsatisfactory criteria to improve people's living quality, which is an important factor to attract local labor forces. In addition, the locality needs to have an assessment of the vision and development orientation after becoming a type-2 city, aiming to reach a type-1 city, and then a specially graded city.
Nguyen Thanh Huy – Deputy Chairman of Di An city People's Committee, said that the city will focus on construction investment, overcoming unsatisfactory and weak standards. In particular, the standard annual population growth rate, land for public construction, the advantage of concentrating 6 industrial parks, the city's large labor demand shall be enhanced in order to attract labor to the city with continual investments in the development of high-rise apartments with full utilities, social housing for workers, and formation of many new urban and urban complexes in to 2030 with vision to 2050, focusing on renovating, upgrading and expanding preschools, kindergartens, primary schools and junior high schools to ensure national standards, upgrading traditional markets, headquarters of People's Committees of wards and neighborhoods, socializing cports facilities, supermarkets, commercial centers among others.
Di An city spends more than 20 hectares of land to develop the medical field, to upgrade the city's medical center and become a type-1 hospital, to invest in building a 500-bed general hospital serving about 500,000 visits a year. In order to ensure the standard of the ratio of illuminated housing areas and alleys, Di An city has developed a program and has a plan to renovate, embellish and build synchronous infrastructure, ensuring by 2025 to enjoy 100% of city roads be asphalted or concreted, of which 80% will be illuminated; and by 2030, 100% of roads will be illuminated.
Regarding the standard rate of urban wastewater treated to meet technical standards, the provincial People's Committee will continue to expand the domestic wastewater collection network in the wards and neighborhoods to increase the capacity of the water treatment plant at the existing 80,000m3 a day to 100,000m3 a day. Di An wastewater branch mobilizes people to participate in connecting to the wastewater collection and treatment system, creating conditions for people to access and use the city's wastewater collection and treatment system.
Reported by Phuong Le – Translated by Vi Bao