Many wards in Di An City has piloted the on-site waste classification practice right at its source, and has initially gained some remarkable results. This practice is being spread throughout the city to benefit each household and contribute to building a greener, cleaner and more beautiful living environment in residential areas.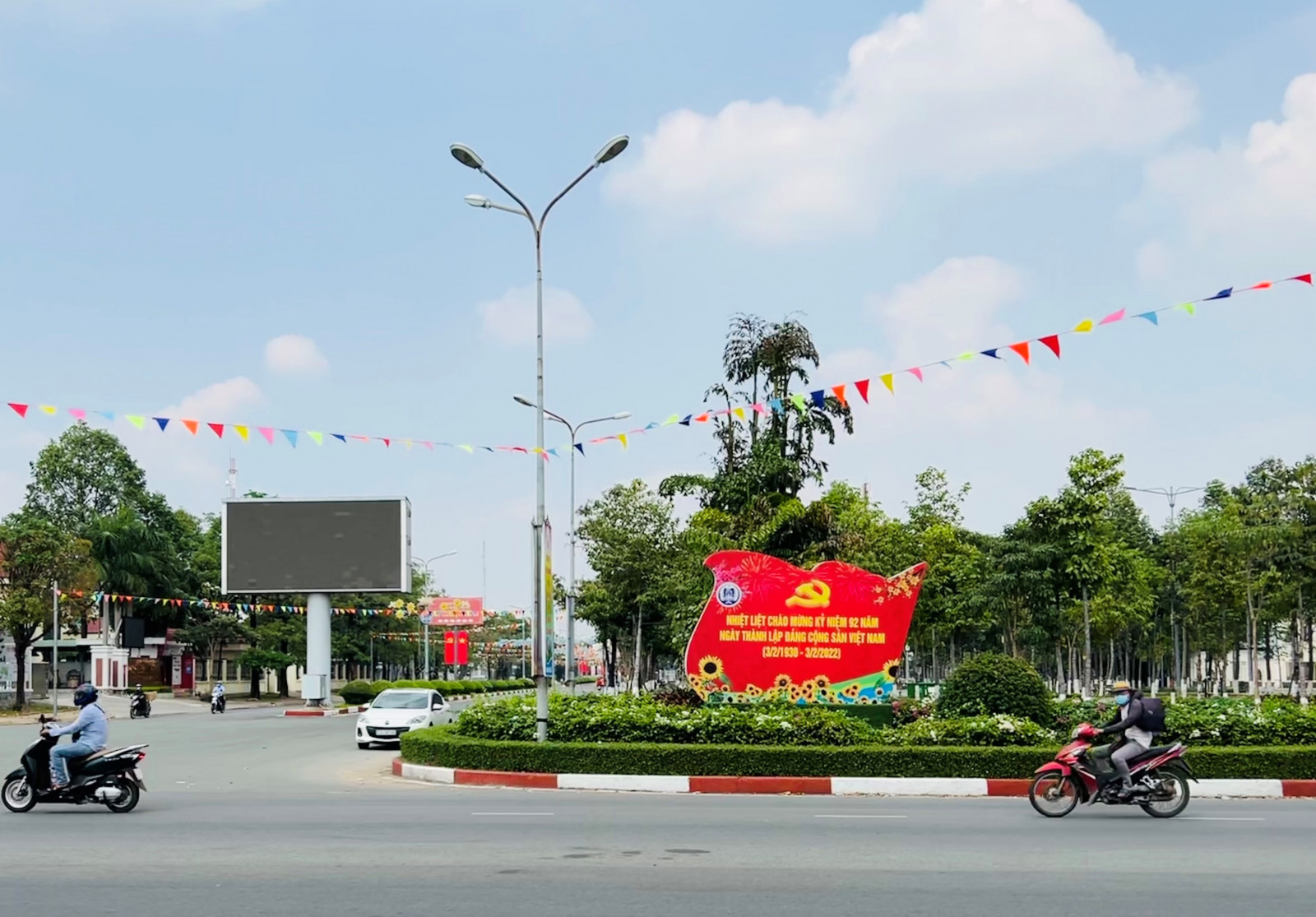 Di An City is determined to build a green, clean, beautiful city.
In response to The World Environment Day (June 5) with the theme "Only one Earth", recently, People's Committee and Fatherland Front Committee of Binh An ward have carried out an event to propagate plastic waste harms. People watched clips about harmful effects of plastic waste on the environment and informed about how to reduce the consumption of single-use plastics, increase the use of environmentally friendly products, reusable plastic products, limit the use of plastic products that are difficult to decompose; encouraged the community participation in the collection, classification and recycling of used products made from plastic, packages, nylon bags... In particular, there was a program "Exchanging waste for trees" that was enthusiastically responded by the people and has created a good effect on the community, contributing to environmental protection.
Nguyen Thi Be Hai, a resident of Binh An ward, said that as learning about the program "Exchanging waste for trees", women in her neighborhood were all eager to collect bottles, beer cans etc. and brought it here in exchange for some beautiful flower pots.
Nguyen Hong Gam, President of Women's Union of Di An City, said the program "Exchanging waste for trees" was one of many programs and activities to spread the green lifestyle of all levels in the city. "Exchanging waste for trees" is not a new idea but has a very high effect on the community. Instead of throwing plastic waste into the environment, people feel more meaningful when bringing these garbage items in exchange for plant pots. The program "Exchanging waste for trees" has been spreading a message of environmental protection, limiting the use of plastic waste in the community, and encourages people to well do the collection of hazardous wastes to limit the risk of environmental pollution; facilitate the spreading, thereby contributing to improving the quality of environmental criteria in urban construction.
The involvement of the whole community is in need
In 2020, Binh Duong Environmental Protection Fund and Global Environmental Protection Fund (GEF) co-funded the project to assemble social resources for waste reduction in Di An City. The project was assigned by the Provincial People's Committee to the Provincial Women's Union with a total project budget of US$120,000. Two years after the launching, Di An City has created a broad mass movement, with the participation of many people and businesses in the area.
Currently, many "black spots" of waste causing irritation in the city have been removed and replaced with flower gardens and green miniatures, contributing to the beauty of streets. Having such green, fresh and airy spaces is the efforts of the whole community. According to the plan, Women's Union of Di An City is in charge of and collaborates with People's Committee of the wards to implement a model of turning landfills into flower gardens in three wards. Women's Union completed three flower gardens in three wards of Dong Hoa, Di An, Tan Binh. Up to now, the construction and completion of flower gardens is guaranteed. The wards also regularly clean, take care of trees, plant more trees, flowers to create clean and beautiful landscapes, playgrounds for children and people of surrounding areas.
Nguyen Van Tam, a resident of Dong Hoa ward, said that many years ago, there was a dumping point for waste polluting the environment, affecting the urban landscape. Administration of the ward repeatedly cleaned up the environment but still failed to wipe out this point, because the illegal dumping of litter, construction materials reoccurred. However, after the ward performed the general cleaning, planted flowers and trees, this area has become cleaner and more beautiful.
Besides, other practices, such as circular economy, plastic waste reduction, garbage collector..., are getting more and more effective. Vo Anh Tuan, Vice Chairman of Di An City People's Committee, said the project of assembling social resources for waste reduction in the city has brought "double effect". After two years, Di An City has minimized domest solid waste from households, industrial waste, waste of commercial services, schools, entertainment service centers; raised awareness, changed behavior and habits of sorting garbage, limit the use of disposable plastic products, plastic bags that are difficult to decompose.
However, the on-site classification of garbage in the city faces some difficulties, such as this habit has not been really formed, small living area of many households, so it is difficult to carry out the classification of garbage... Even with some successful models, garbage collection and treatment has not yet formed a closed chain."
In order for the good implementation of on-site classification and treatment of waste, it is necessary to have the cooperation of each citizen and the whole society. Every citizen needs to raise the responsibility spirit, actively participates in, organizes activities to combat plastic waste with specific and practical actions, use environmentally friendly products; actively takes part in environmental protection activities in their residence place even with the smallest actions, such as classifying waste at its source; to change habits, say no to single-use plastic products, nylon bags; recycling, reusing waste, using economically raw materials and fuel; to timely report acts of polluting the environment, join hands to build a green, clean and beautiful city in the direction of circulation and sustainability.
Reported by N.Thanh, P.An – Translated by Ngoc Huynh