At a working session with Di An city's Party Standing Committee on the local implementation of socio-economic development tasks in the first months of 2023 and infrastructure development investment projects yesterday morning (March 14), Nguyen Van Loi, member of the Party Central Committee, Secretary of provincial Party Committee, Head of provincial National Assembly Deputy Delegation asked for the city's leaders to coordinate with provincial departments and agencies, being proactive to mobilize all resources, tapping revenue sources to increase investment spending, building up a worthy Di An city...
Focusing on implementing key projects
Reporting to the province's delegation, leader of Di An city's People's Committee said that the city now has to implement many key projects of the province at the same time. As for the Song Than intersection project in An Binh ward, this is a project assigned by provincial People's Committee to provincial Traffic Construction Investment Project Management Board to make a project proposal under the Notice No.248/TBUBND dated September 6, 2021 with the investment plan of underpass combined with overpass approved by provincial People's Committee. Currently, provincial Department of Planning and Investment (DoPI) is collecting opinions from relevant agencies about the project's pre-feasibility study report.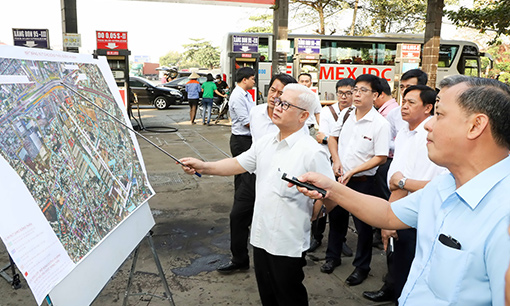 Nguyen Van Loi, Member of the Party Central Committee, Secretary of provincial Party Committee, Head of provincial National Assembly Deputy Delegation inspects, surveys the Song Than intersection project
Along with the Song Than intersection project, there is also a project on upgrading and expanding An Binh road in the city. The route has the first point of intersection with the parallel road of Song Than overpass and the end point with Pham Van Dong street in Ho Chi Minh city's Thu Duc city. The route has a total length of 1.36km, including a section of 1.08km in Binh Duong province and a section of 0.28km in Ho Chi Minh city. The total investment of the project is over VND 1.69trillion. Currently, provincial DoPI is collecting opinions on the pre-feasibility report of the project from relevant agencies.
Regarding the construction of the belt road 3, according to Di An city's People's Committee, there are about 421 affected cases, equivalent to 537 land plots. The scope of land acquisition belongs to Binh An and Binh Thang wards with an expected area of ​​over 222,000m2. Vo Van Hong, Chairman of Di An city's People's Committee said that as of now, the city's People's Committee has issued 537 notices of land recovery for 537 land plots. In terms of setting up compensation dossiers until March 11, 2023, there were 339 out of 421 cases, equivalent to 335 out of 537 land plots, or over 81% of total.
The city's People's Committee is also accelerating the completion of the infrastructure of Dong Hoa resettlement area. This is a project with total investment of nearly VND 26 billion, with a total construction area of ​​over 21,000m2 with 198 land lots. Currently, the project's construction units are implementing the construction of systems on water drainage, electricity- water supply, green trees... It is expected that the resettlement area will be completed in the fourth quarter of 2023.
At the working session, leaders of Di An city suggested the province's relevant sectors to urgently remove obstacles so that the city can well perform its roles and tasks in implementing the local key projects. After hearing leaders of the departments and sectors proposing solutions to remove difficulties, Mr. Loi asked for leaders of Di An city to implement many immediate and long-term solutions, with focus on actively tapping revenue sources to increase investment spending while increasing the attraction of resources from socialization, implementing the motto of "The State and the people work together", thereby speeding up the completion of the local infrastructure system, serving development goals as well as improving people's living standards.
Harmonious interests guaranteed
Meeting with representatives of people and organizations in Binh Thang ward affected by the local traffic projects, Mr. Loi emphasized that the investment in the traffic infrastructure system in the city has aimed at strengthening the connection between Binh Duong and localities, relieving traffic pressure, contributing to the socio-economic development of the city in particular and Binh Duong province in general. Therefore, Mr. Loi hopes that organizations, units and people will well abide by the policy and agree with authorities to accelerate the progress of implementation of the projects.
Chau Van Thanh, a building material business household said that his family has strongly agreed with the policy of building the belt road 3. He is also ready to hand over his site to the State and wishes to be compensated by the State at a reasonable price so that his family can further do business. Many hatchery owners in Tan Van have also expressed their agreement with the policy of land acquisition for the belt road 3 and Tan Van intersection. However, the local households want to be compensated satisfactorily and ask for relevant sectors of the province to assist in consulting locations to continue raising breeding fish after handing over their sites to the State...
Mr. Loi thanked the people for their high consensus on the investment policy of projects in the city. He requested provincial Department of Industry and Trade, Department of Agriculture and Rural Development and relevant departments and agencies to be proactive to meet with people and businesses to discuss solutions to overcome difficulties, helping businesses and households further maintain production and business. "We must create all possible conditions in accordance with the law to deal with the proposals of businesses and people...", he emphasized.
He also requested relevant units to openly and transparently announce policies on reasonable compensation, ensuring compliance with the provisions of law. The city, communes and wards need to take people to resettlement areas so that people can move to there for living in peace of mind; take advantage of people's comments when visiting resettlement areas for timely adjustments. He requested Di An city to continue propagandizing, mobilizing and persuading people to abide by the policy while being ready to pay compensation for people. The city must mobilize the whole political system to open the "campaign" of compensation and site clearance for absolute settlement. All compensation and site clearance projects must have policies publicly and transparently, reasonable compensation prices, ensuring compliance with legal regulations, harmonious interests of people and businesses.
Regarding a number of tasks in the coming time, Nguyen Van Loi, Member of the Party Central Committee, Secretary of provincial Party Committee, Head of provincial National Assembly Deputy Delegation asked for Di An City to continue implementing solutions for socio-economic development in 2023, maintaining national defense and security, building the Party, political system; further promote administrative reform, implement the Project No.06, digital transformation, build smart cities, digital government, digital citizens, digital society...
Provincial Party Committee Secretary suggests Di An city, communes and wards to organize visits to resettlement areas so that people feel secure to move there for living; take advantage of people's comments when visiting the resettlement areas for timely adjustments… In picture: The construction of Dong Hoa resettlement area is being sped up by Di An city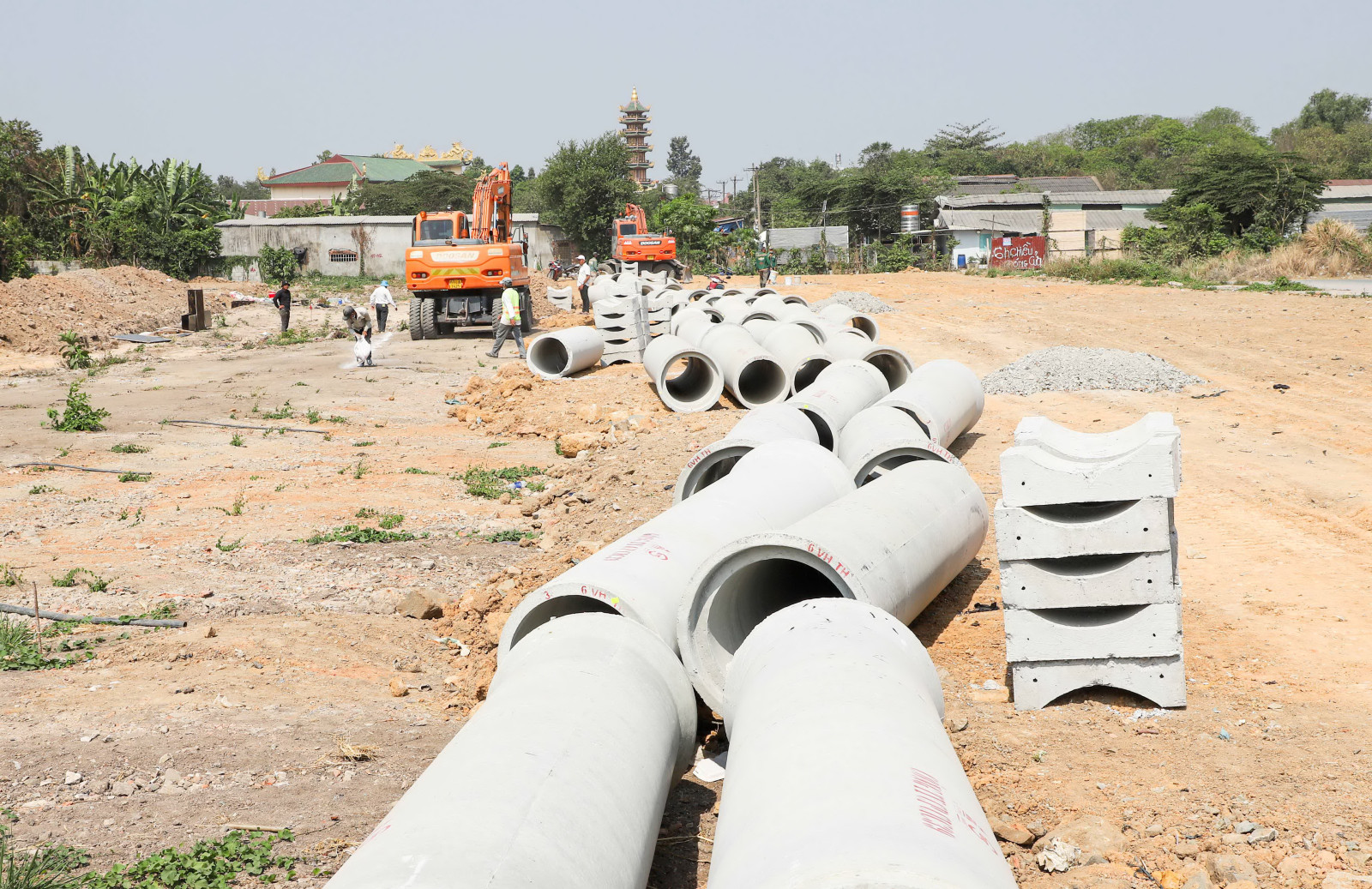 Reported by Tri Dung-Translated by Kim Tin