Binh Duong has a destination that is attracting tourists from everywhere with an interesting and attractive terrain that fronts on water and leans against mountain. That is the compound of Cau mountain - Dau Tieng reservoir- Truc stream landscapes in Dau Tieng district.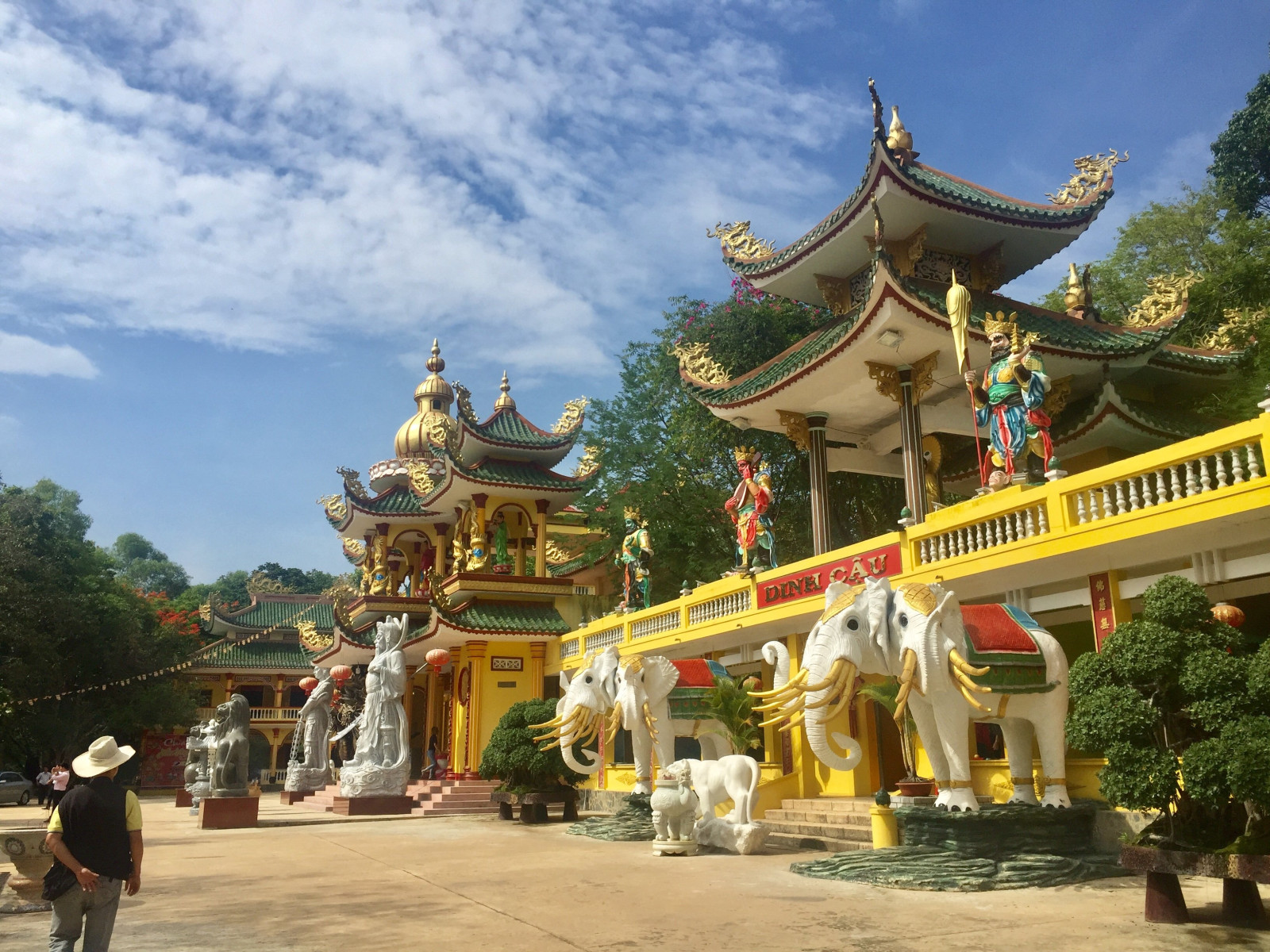 A work in the campus of Thai Son pagoda in Dau Tieng district's Cau mountain complex
This compound of landscapes is combined by rivers - mountains - hills, creating a picture of beautiful, peaceful landscapes, which is an interesting and attractive destination for tourists on their journey back to the roots, back to the quiet and primitive nature. This site is located in Dinh Thanh commune.
Cau Mountain complex with a total area of ​​more than 1,600 hectares, including 21 large and small mountains in the shape of the "U" letter. There is Thai Son pagoda in the middle of the mountain. On the annual Buddha's birthday festivals, big full moon days, the pagoda absorbs a large number of pilgrims. Cau mountain has a rich natural beauty with many kinds of precious woods such as: "go" (afzelia xylocarpa), "bang lang" (lagerstroemia calyculata Kurz), "cam xe" (xylia xylocarpa), "giang huong" (pterocarpus macrocarpus kurz)… and is home to many animals such as deer, wild boar...
At the foot of Cau mountain, in the south-southwest direction, there is a stream weaving through thousands of natural small bamboo trees, so it is named "Suoi Truc" ("small bamboo" stream). In this area, there is a relatively flat stone area with thousands of large and small stones arranged by nature as ideal picnic tables.
In the West - Northwest at the foot of the mountain, there is Dau Tieng reservoir. This is one of the largest artificial lakes in Vietnam and the most important irrigation project in the South. The reservoir is very clear and blue with surface that is relatively calm. It is surrounded by smooth green grass with fragrant flowers. Looking down from Cau mountain, the view of the reservoir is as beautiful as a charming landscape painting.
For more details about this compound of landscapes as well as answering questions about the names of famous places here such as: How are the beauty of Cau mountain and Truc stream? What are the landscapes of Thai Son pagoda to attract tourists? What kinds of entertainment does the tourist complex have?, please watch this content in the TV program "I love Binh Duong" conducted by Binh Duong Newspaper. The program will be broadcast at 6 am on Sunday (September 25) at website: www.baobinhduong.vn.
Reported by Thuc Van-Translated by Kim Tin