Despite the complicated development of the COVID-19, small and medium enterprises (SMEs) have been creative to find many ways to cope with this difficult period.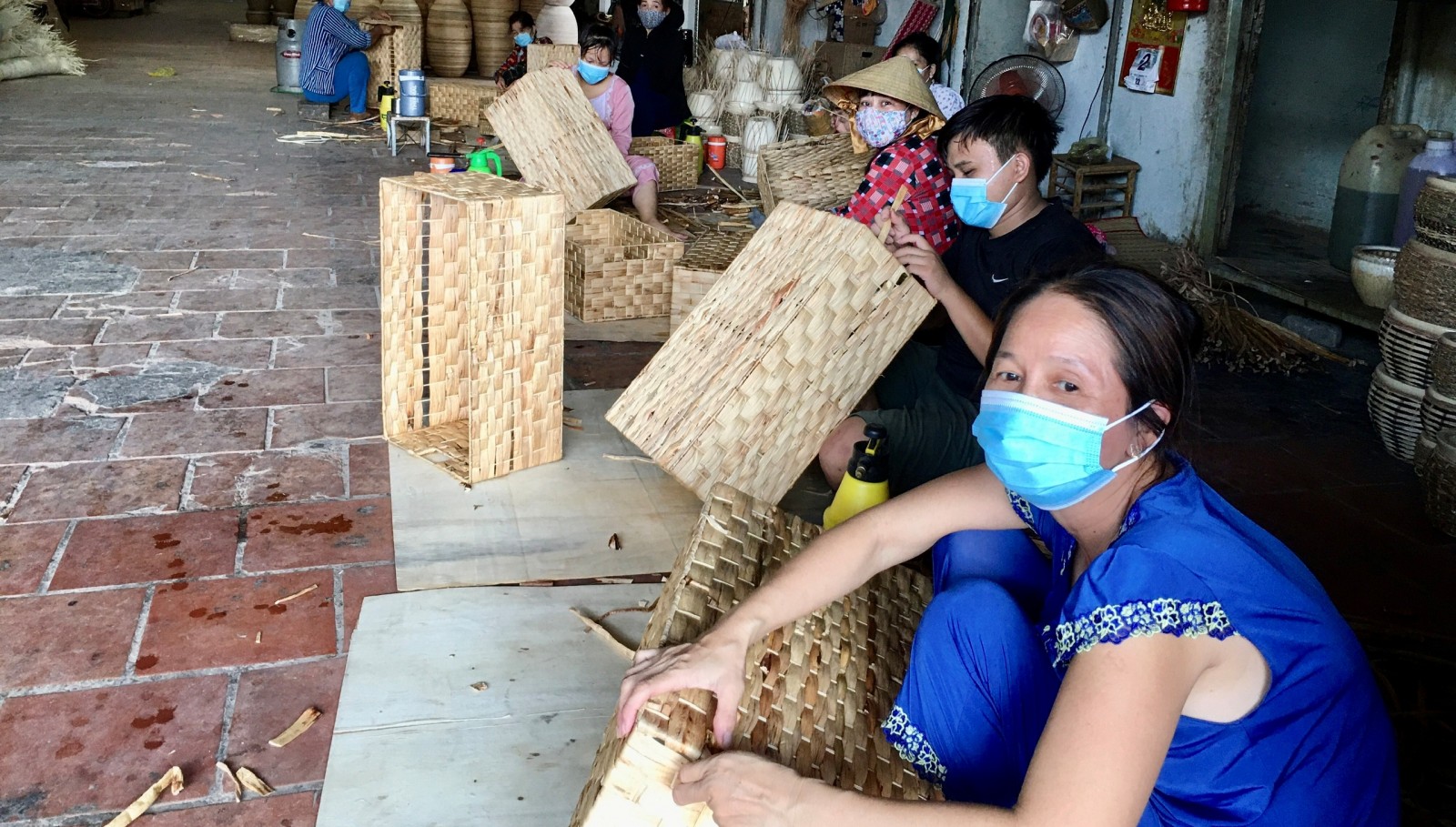 Vietnamese businesses attempt to exploit domestic market, sell through e-commerce platforms during the pandemic. In photo: Manufacture at Thanh Loc Bamboo and Rattan Company.
To proactively adapt to
Despite many difficulties, many businesses have figured out effective response plans. For example, Thanh Loc Rattan and Bamboo Company, during the COVID-19, experienced a decrease of POs by about 30%, especially of export markets. To maintain operations, the company developed online business and expanded their domestic market share. Huỳnh Thị Kim Tuyến, Director of the company, said: "Previously, we focused on export markets, but recently have focused on stimulating consumption in domestic market, increasing online sales on e-commerce sites to introduce beautiful and original products such as: handbags, wallets, sandals, fashion hats".
Huỳnh said that the way to overcome difficulties of rattan and bamboo handicraft industry was to create many beautiful, unique products to satisfy customers' tastes. The company has researched to change product appearance according to the needs, preferences, and especially income of domestic customers so that the products can reach more Vietnamese consumers. "The good thing is that these items are currently popular to domestic customers and are sold well despite the stressful epidemic situation," added Huỳnh.
Also seeking a rescue solution in the epidemic context, Lưu Văn Hải, Director of Long Hai Phat Viland Coffe Company, said that the epidemic was the reason that consumers are afraid going to crowded places, and shops are also empty, consumption is slow. On the other hand, the authorities' activities to sell Vietnamese goods in the province were interrupted, so this company mainly promoted on-site sales, online sales and e-commerce sites.
According to Hải, although the business situation is affected by the pandemic, this is also an opportunity for the company to develop its online sales channel through cooperation with reputable e-commerce sites. The company's main product is 100% clean coffee; they have a methodical marketing strategy; customers change their consumption habits, so they can attract customers from other provinces and cities, and their business activities are still quite stable. From now until the end of the year, the company continues to increase service quality and add new products to meet the increasing demands of customers.
To continue providing support
According to enterprises, the rapidly increases of population, income, and consumer demand are the factors that make domestic market more attractive to companies. According to Huỳnh Thị Kim Tuyến, the current time is quite favorable to focus on the domestic market. "About 10 years ago, Vietnamese consumers preferred foreign products, now many people choose Vietnamese products and look for better quality products. Therefore, in addition to the support from authorities, businesses need to have a methodical and long-term investment strategy. As for Thanh Loc, we focus on developing skills, improving product quality, technology, and creativity, which are appreciated by customers," said Tuyến.
Also according to Tuyến, the company will invest in design and marketing to develop new brands to keep pace with current general consumer trends. However, businesses need additional support from the State, such as market information, new policies, promotion and marketing of brand names to all regions of the country, in order to spread Vietnamese brand names in the domestic market.
It can be seen that, from 2020, although the COVID-19 situation has been quite complicated, departments and agencies in the province have carried out many activities to support businesses according to the guidelines and policies of the Government. As of May 2021, Provincial Tax Department collected 1,053 petitions for VAT payment extension of enterprises in the province with the tax amount of nearly 500 billion VND, corporate income tax of about 700 billion VND. According to Nguyễn Minh Tâm, Director of Provincial Tax Department, provincial department is urgently apply policies to all businesses and business households while reforming administrative and tax procedures to accelerate the implementation of tax payment extension.
Policy of reducing, extending and delaying the payment of taxes is necessary to remove difficulties for production and business, and facilitate economic development in the context of the COVID-19. We will work with other industries to continue creating favorable conditions for businesses to do business smoothly and fulfill their tax obligations," said Tâm.
Reported by Thanh Hong - Translated by Ngoc Huynh