Elevating the bilateral cooperation and expanding multilateral cooperation in economic diplomacy to create conditions for enterprises to expand development cooperation and breakthroughs in the process of international economy integration help Binh Duong overcome challenges, maintain development indicators in the face of difficulties and challenges.
The bold imprint
In the context of globalization and international integration, the expansion of external relations will be an important channel of access, helping Binh Duong to seek more opportunities to attract investment, create a driving force for rapid economic growth, and create a driving force for lasting economic growth. In conferences and seminars on trade and investment promotion and meetings with diplomatic missions and associations, Binh Duong has introduced and promoted the potential of the locality, and at the same time sought opportunities for the development of the region in association to promote cooperation with partners in economic and urban development.
In 2022, the socio-economic situation gained positive results with many positive and encouraging bright contents in the context of production and business being restored in the direction of safe and flexible adaptation. Kim Won Sik - Chairman of Kocham Binh Duong, said that in the past 3 years, the pandemic has caused Korean businesses in Binh Duong to face many problems. Fortunately, businesses have received the support of the authorities at all levels. That was why after the COVID-19 epidemic, businesses have increased investment capital, attracted labor, and expanded production scale.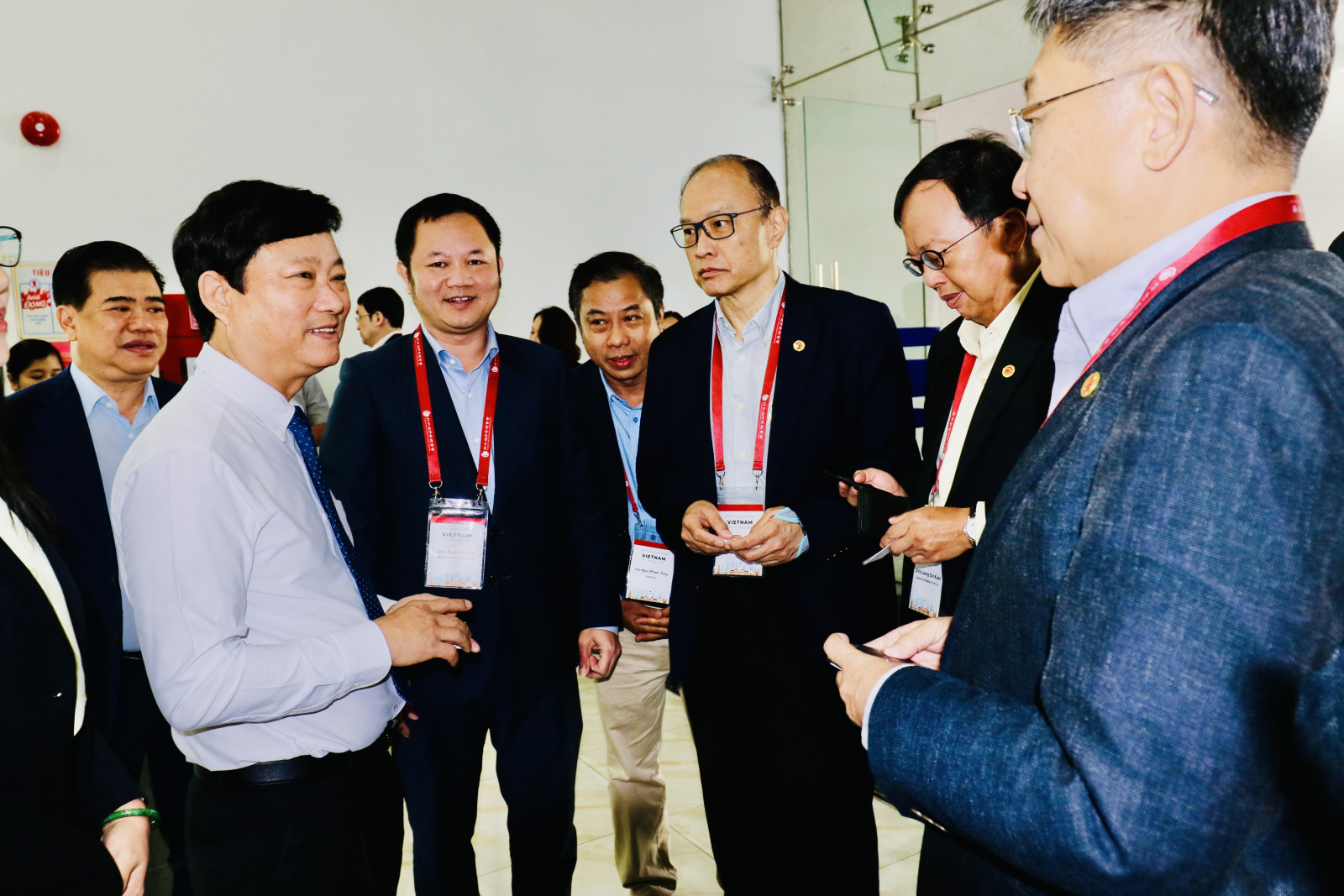 Chairman of Binh Duong provincial People's Committee Vo Van Minh is at the meeting with the Confederation of China-Singapore Industry and Commerce
In 2022, Binh Duong province has actively expanded friendship cooperation with localities, signed new agreements with Gangnam district from Seoul, Korea and is implementing and exchanging cooperation with other partners like India, Cuba, and Germany. Up to now, Binh Duong has had friendly cooperation relations with 11 foreign localities. On the basis of cooperation agreements, the province has actively implemented economic and cultural diplomacy, promoted cooperation activities, investment and trade.
In meetings and working with high-level delegations, diplomatic missions, economic groups, multinational companies and large foreign enterprises to visit, work and learn about cooperation investment opportunities in Binh Duong, provincial leaders have informed about the socio-economic development situation, the province's policies and determination in completing modern and synchronous infrastructure, improving training quality and human resource development, creating an increasingly open and attractive investment environment in order to continue to attract foreign direct investment capital.
To elevate development
According to Vo Van Minh - Chairman of the provincial People's Committee, with the quite comprehensive, rich and diverse successes in the province's foreign activities in recent years, Binh Duong, in the coming time, will continue to promote internal resources, improve the business environment and investment cooperation, continue to synchronously invest in socio-economic infrastructure, actively and proactively integrate into the world, strengthen bilateral and multilateral cooperation so that Binh Duong continues to be an attractive destination for domestic and foreign investors. Binh Duong continues to be a reliable place to organize national and international external events, strengthen connections, and contribute to the province's socio-economic development goals.
The province continues to carry out external activities as planned, flexibly adjust and supplement in a timely manner under the direction of the central government and the Prime Minister in accordance with local realities, continue to support and create favorable conditions for foreign investors and experts working in enterprises in the province. Along with that, the province will promote bilateral cooperation with localities of friendly cooperation relations in the past time.
Regarding multilateral diplomacy, research and expansion of network connections with international partners and organizations, Binh Duong continues to commit to being an active and responsible member in international organizations of which the locality is a member, actively carry out international cooperation activities, approach advanced science and technology in the context of the 4th industrial revolution in order to enhance the image and position of Binh Duong province with international partners and to successfully implement Binh Duong smart city project.
Reported by Tieu My – Translated by Vi Bao