Three years after the establishment, with the initial success in environmental friendly production, Dan Tien Cooperative of Agriculture - Trade - Tourism and Transport (Dan Tien Cooperative) in Tan Dinh commune, North Tan Uyen district, continues to develop ecotourism models to attract visitors to facilitate high-tech agricultural production, improve internal strength, adapt to market fluctuations.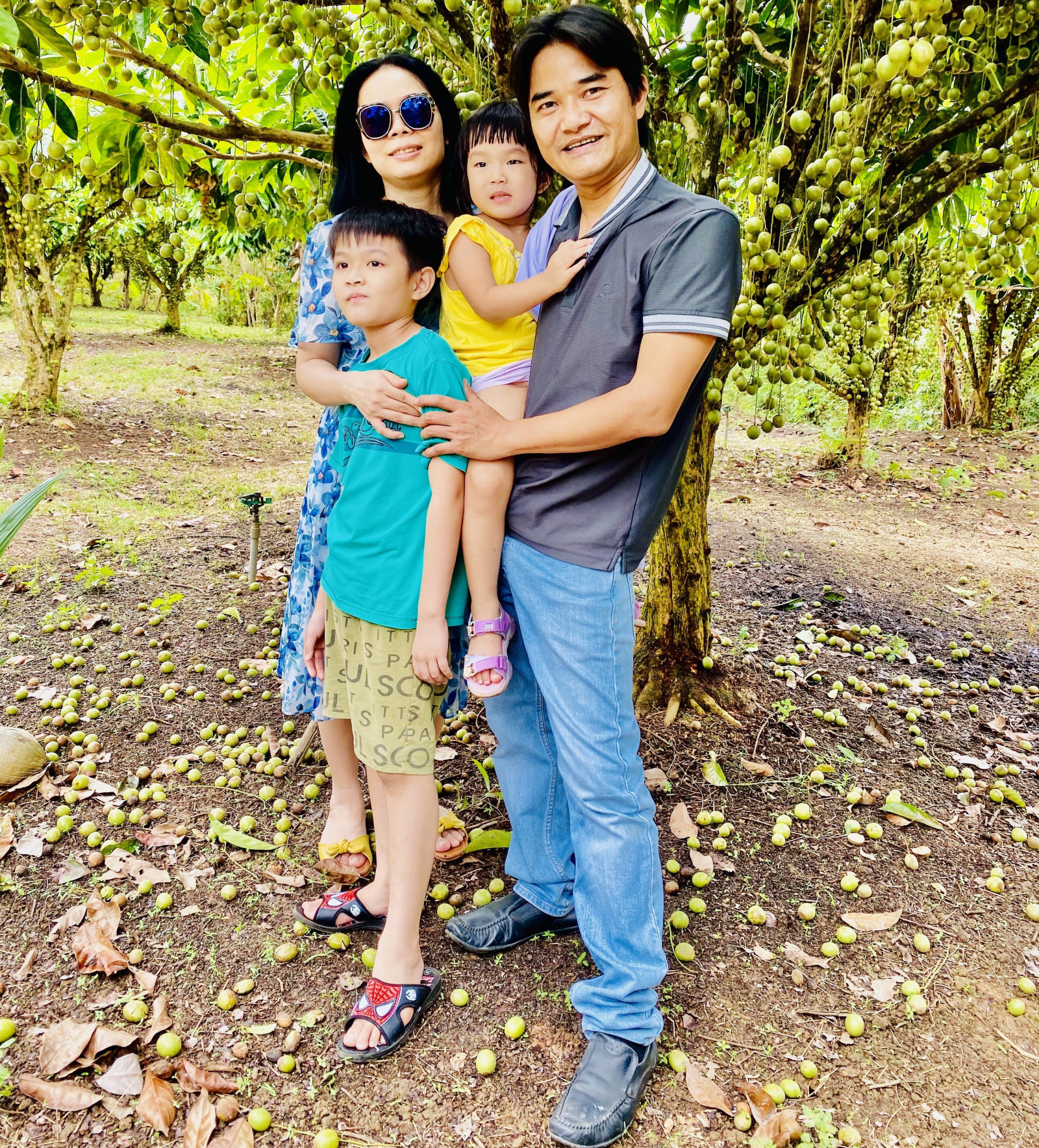 Tourists take photos at an orchard of Bui Thi Phuong farm of Dan Tien Cooperative.
Tourism reopens after the pandemic
Three years after its establishment, with 8 members, facilities of Dan Tien Cooperative now are quite large with a production area of approximately 50ha of fruit trees combined with animal breeding. Not only assisting the development of VietGAP production and environmental friendly production, the cooperative also actively helps members and farmers to connect with each other for product consumption. Some good initial results as building a closed and sustainable chain in cultivation help limit the risk of diseases, stabilize consumption market, make safe products, gain high economic efficiency. Along with branding for products, the cooperative aims to open eco tours, take advantages of local natural beauty combined with sightseeing and first-hand experience.
Bui Thi Phuong, Deputy Director of Dan Tien Cooperative, said that she has had 27 years of cherishing the dream of creating a cooperative combined with ecotourism. Over the years, when there was not enough capital to invest in fruit trees, in order for workers to still have jobs and satisfy her passion, she planted many kinds of flowers all over her farm. "In the beginning, I only planted flowers because of my passion. However, when the flowers bloomed around the farm, I wanted to plant more flowers to bring more beauty to everyone. Everyone who came to visit was very happy, I was also very happy. Now, I have 10 hectares of land to plant seasonal blooming flowers so that all year round on the farm there are always brilliant flowers..."
It is known that the idea to open the farm for flower lovers to visit was introduced by Phuong many years ago; but then stopped because of lack of capital, she was unable to invest in more miniature clusters, restaurants and accompanying services. Then she put aside her plan and continued to plant flowers with a hope that one day, nature enthusiasts, do not need to go to foreign countries, such as Europe, Korea, Japan..., but come to Tan Dinh to enjoy many types of flowers, many delicious fruits. Thus as the cooperative implemented the model of ecotourism development, she supported strongly this idea.
Also with the same desire as Phuong, Nguyen Van Tien, Director of Dan Tien Cooperative, said that the cooperative members, who have attached to this land, love this land as much as themselves. Therefore, when cultivating, the members are committed to environmental protection. "Therefore, after many years of cultivation, all farms of the cooperative have developed in a greener, cleaner and more beautiful way. That is also why we hope that visitors from far away could be immersed themselves in nature, fresh air, relax after busy working days; to become a real farmer with a great experience, enjoy clean fruits and meals from products of the cooperative."
A lot of works need to be done
In fact, currently, many visitors have come to ecotourism model of Dan Tien Cooperative to enjoy, take photos with, and enjoy garden and farms, creating a great potential for production development in combination with eco-agricultural tourism activities. The initial eco-agricultural tourism model also opened up great opportunities for urban agricultural areas, such as North Tan Uyen. However, there are still a lot of issues that need to be discussed and solved.
Tran Thanh Van in Thu Dau Mot City said, this is a realistic model helping visitors gain interesting experience of growing and harvesting fruits. However, in order to attract more tourists, it is necessary to have restaurants, food service area, and accommodation. Tourist destinations need to be inter-connected for guests to have good time, more entertainment activities.
Phuong added that she also made a planning for the riverside area along her farm, with investment in restaurants, hotel accommodation as well as completing miniatures on different hill clusters to meet the demand of visitors and hotel guests. However, all ideas have not yet been implemented because the fund is limited. She also hopes that all administration levels and branches create favorable conditions, solve difficulties in order for farmers like her to take out secured loans or transfer a part of their land to have investment capital.
According to Phuong, although at first, this model has made good effects on tourism development, this is only a spontaneous trend, there is no specific road map and detailed tasks. Therefore, cooperatives need to cooperate with agencies and functional sectors to provide trainings on developing tours, tour guide's professional skills, how to diversify tourism products to make ecological models develop properly, effectively, sustainably, avoid failures as developing spontaneously.
Reported by T.My, C.Tu – Translated by Ngoc Huynh