Although Binh Duong's import-export turnover in April 2023 showed signs of improvement and the export value of April was estimated at over USD 3,258 million, increasing by 19.8% over the previous month, the business community is still in the harshest situation ever. In addition to practical support from the government, businesses are also stretching themselves in the face of increasingly fierce competition.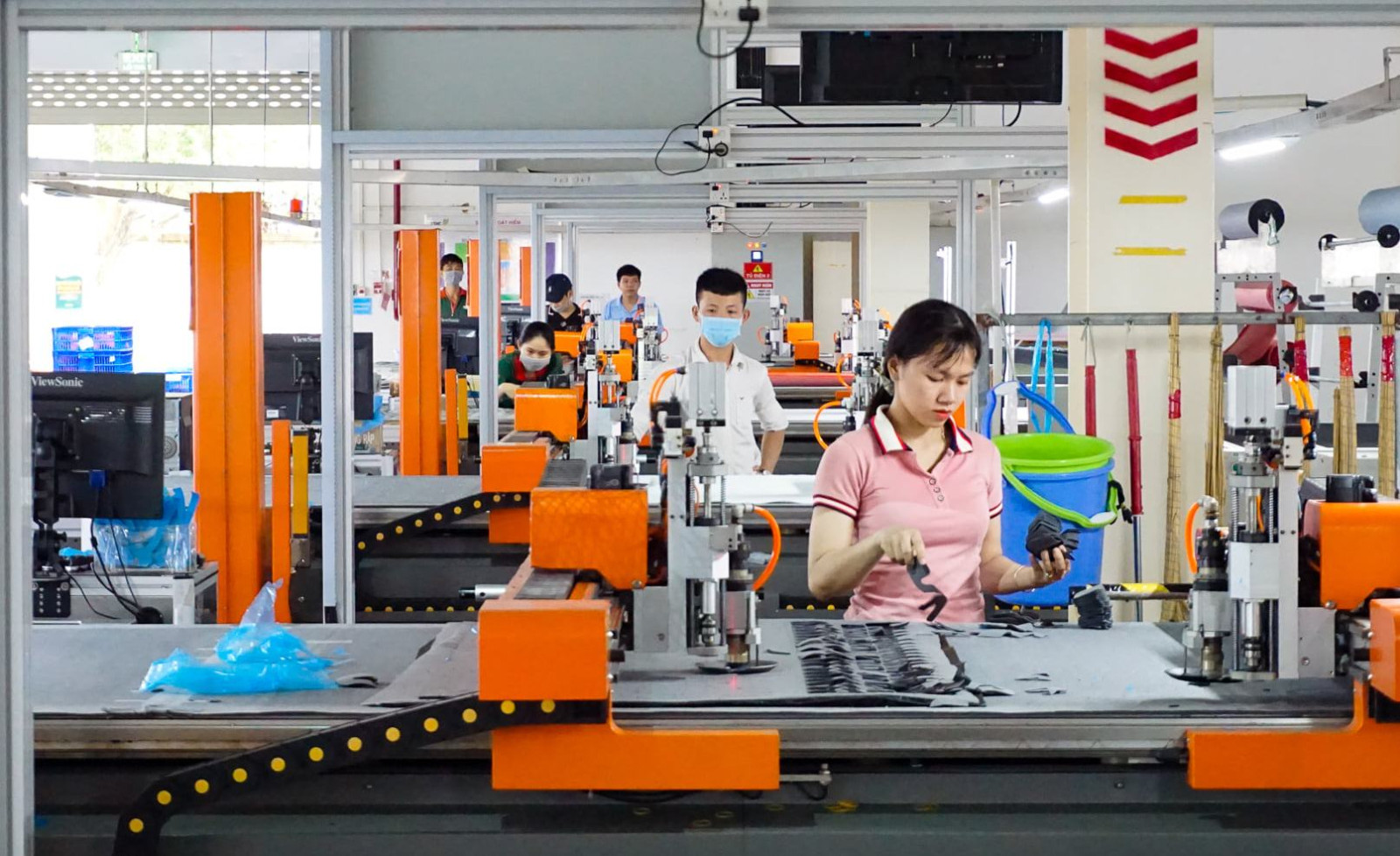 In order to improve revenue and profit, export enterprises in the province are trying to find purchase orders in adverse conditions. In the photo: Production activities are on-going at Thai Binh Investment Joint Stock Company
Purchase orders drop
In the first four months of 2023, Binh Duong's merchandise trade balance was estimated to gain a trade surplus of USD 2.8284 billion. In which, the economic sector with domestic investment had a trade surplus of USD 850.6 million; the economic sector with foreign direct investment had a trade surplus of USD 1.9778 billion. It is predicted that in the coming time, the province's import and export will still face many obstacles. Not only that, fierce competition and a more negative decline in global goods trade than expected are requiring businesses to better adapt to the situations.
According to Binh Duong Customs Department, the revenue of 7 out of 8 affiliated customs branches in the first quarter of 2023 decreased sharply over the same period. The reason was that the situation of capital construction investment was stuck as factories and industrial parks are basically filled and the situation of production and business development in 2023 tends to expand, requiring major capital. Iron and steel products (the key commodities) had the first price hike in 2023 but still decreased significantly compared to the same period last year and the number of imports decreased due to large inventories. For example, in Song Than Industrial Park, the revenue from steel enterprises decreased by nearly VND 200 billion in the first quarter of the year.
Enterprises in the province in most commodity lines also reported that import and export activities in 2023 would face tremendous drawbacks compared to 2022. Regarding market opportunities, purchase orders for 2023 with many main export industries all declined seriously, even no purchase orders were available especially in the industries of textile and garment, footwear, furniture, industrial aluminum, iron and steel, cement etc. Many businesses had to cut back working force and reduce production scale in the last months of 2022 and they have so far not shown any signs of improvement.
Nguyen Liem, Chairman of Binh Duong Furniture Association (BIFA), shared that wood product production continued to face the thorns as global purchasing power dropped sharply, causing the world economy to trauma and challenges, leading to a decrease in industry orders compared to the same period last year. The US market accounts for nearly 80% of the province's total wood export turnover. When the purchasing power of this market decreases immediately affecting the operation of the whole furniture industry, many businesses are forced to reduce working hours to maintain and retain employees.
Multiple supportive solutions
Amidst many drawbacks, foreign-invested enterprises (FDI) in the province are still growing stably with revenue and export turnover on the increase. The FDI sector continues to play a leading role with the total import and export value of goods in April 2023 gaining over USD 2.642 billion, increasing by 19.7%.
Currently, the US is still the province's largest export market with a total export turnover of USD 3.9426 billion, accounting for 38.9% of export turnover, decreasing by 14.9% over the same period. The EU market gained USD 1.2776 billion, accounting for 12.6% and decreasing by 8.3% respectively. Japan market gained USD 906.7 million, accounting for 8.9% and decreasing by 24.7% comparing to Korea of USD 789.7 million, accounting for 7.8% and decreasing by 32.5%.
In order to promote the export activities of enterprises in the province, the functional branches of the province are implementing many solutions to create favorable conditions for enterprises by speeding up reform and modernization, shortening the time and cost when doing customs clearance procedures, supporting enterprises to promote e-commerce and access to export information channels in order to find new markets, closely monitoring the situation of each market to review and identify the types of goods that countries are in demand to exploit.
Pham Trong Nhan, Director of the Department of Planning and Investment, said: "The Department of Planning and Investment seriously implements the directive of the provincial People's Committee on public investment, and directs the investor to promptly construct and disburse funds of public investment capital in 2023 contributing to creating a driving force for growth. In order to improve the business investment environment, the department will promote programs and policies to support small and medium-sized enterprises in the province, especially supporting businesses to adapt to the new situation and stabilize production and business operations quickly recover while create a premise for breakthroughs to improve competitiveness and the average lifespan of enterprises."
Reported by Ngoc Thanh – Translated by Vi Bao