Although the COVID-19 pandemic has caused many difficulties to production and business for more than a year, enterprises believe in the development potential and disease prevention control of the province. Besides, many companies also find opportunities from the difficult circumstance to continue expanding production and export.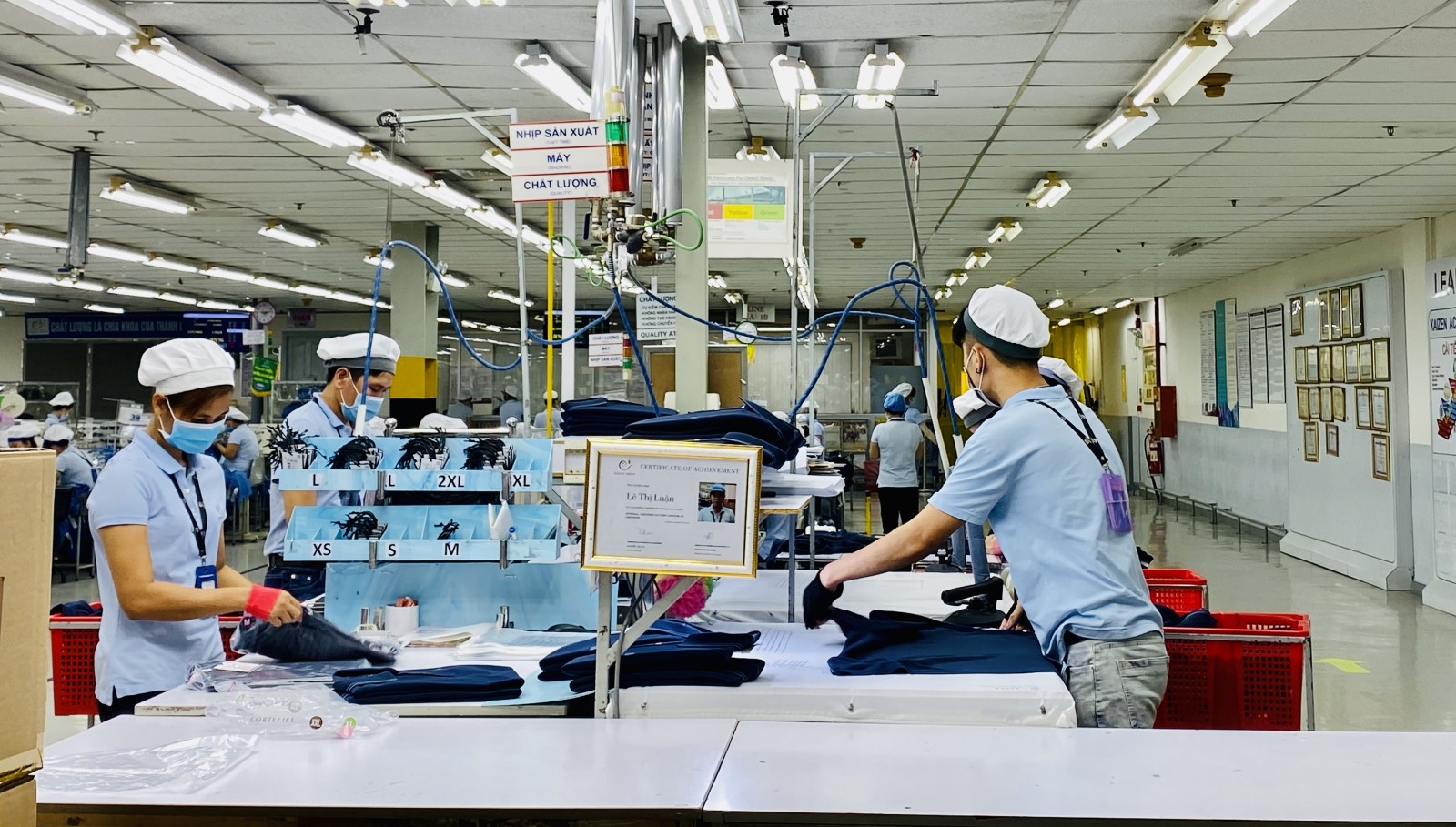 Manufacture at Esquel Garment Manufacturing Vietnam Company (VSIP 1).
Opportunities opened
Over first 4 months of the year, the province's export turnover reached nearly 11.2 billion USD, up 46.8% y/o/y, retained a trade surplus of nearly 3 billion USD. The above results show that enterprises are investing and developing in the right direction, gradually expanding manufacturing and business, and participating in the global supply chain. Besides, it also shows that appropriate development policies and effective disease prevention control have created a solid foundation for the province's industry.
Tran Thi Tra, Director of HTC Company (An Tay Industrial Park, Ben Cat Town) said: "In 2021, the company invests in an additional production line of gloves to meet the demands of domestic and foreign customers. HTC's products have now been exported to Europe and Asia and are highly evaluated by partners for their quality and designs. Despite focusing on export market, the company has supplied domestic market with many product models and reasonable prices, contributing to the prevention and control of Covid-19.
Notably, recently, domestic-invested enterprises have made great efforts for technology transformation, human resource training, productivity and product quality improvement to be able to cooperate with FDI companies to take part in the global production and supply chain. Some Vietnamese enterprises signed contracts with foreign customers and increasingly expand production and export. For example, in the manufacturing industry of machinery, equipment, tools and spare parts, domestic enterprises are able to produce details such as wires, screws, molds, and other ones in machinery. Although the details are still simple, Vietnamese companies keep trying to apply modern technologies to upgrade their products, so that they could participate deeply in the supply chain.
Dao Minh Ngoc, Director of Phuong Vy Company (Thuan An City), said that Phuong Vy Company operates in supporting industries, products are mainly sold to Japan and Korea. To participate in the supply chain for Japanese and Korean clients, the company is forced to invest in machinery, factories, and human resource training according to requirements of partners. However, as gaining the trust from partners, the output is quite favorable.
According to Nguyen Thanh Toan, Director of provincial Department of Industry and Trade, in recent years, the province has regularly held conferences to meet domestic and foreign investors. Thereby, enterprises with domestic and foreign investment can meet to exchange knowledge and experience, or sign cooperation agreements to supply products to each other. To be able to participate deeply in the global product supply chain and become an important partner of many multinational corporations, Vietnamese enterprises need to put more efforts to meet the requirements of product quantity and quality.
Price pressure of raw materials
From beginning of 2021, price of input materials for industrial production has increased by 20-200%, causing many companies to face difficulties. Over the first 4 months of 2021, Binh Duong companies spent more than 8.1 billion USD to import raw materials and accessories for industrial production, up 30.6% over the same period last year. Over more than a year facing the COVID-19 pandemic and increasing raw material prices, companies still strived to develop. Particularly, several companies even negotiated with their purchasing partners to increase product price, while some companies only slightly increased their profits, or were able to preserved capital.
According to Provincial Textile and Apparel Association, during first four months of this year, enterprises in the textile and garment industry were under large pressure from input materials, because the prices of cotton, yarn, fabric and other materials have increased rapidly. It is forecasted that in 2021, the world would be short of 1 million tons of cotton due to high demand. Cotton is the main raw material for textile industry, so it is difficult for this industry to reduce this material in the coming time. Thus, the domestic textile and garment industry is likely to face difficulties until the end of the year.
Currently, input materials for industrial production have not shown any signs of price decrease, continues to create great pressure on enterprises. In key product groups of Vietnam as well as Binh Duong are textiles, footwear, wood products, computers, electronic components, processing and manufacturing, more than half of raw materials must be imported, so manufacture will depend largely on raw material prices. Companies that are negotiating to sign contracts with clients are also worried because they do not know how the price of raw materials would fluctuate. Enterprises that have adequate capital to buy material reserves for production of 4-6 months will face less risks.
Currently, 40 to 70% raw materials for industrial production in Binh Duong must be imported. The main sources of imports are from China, Korea, Taiwan, Japan, the United States, India, the Middle East, and ASEAN. In addition, domestic raw materials also increased, because input materials for production have been overpriced.
Reported by Tieu My - Translated by Ngoc Huynh