Tan Uyen has changed with a new image. More spacious roads, bigger and more beautiful buildings are growing day by day in this young city. The belief and desire for change are once again lit on the journey to reach when Tan Uyen strives to achieve a second-class city before 2025.
Implementing many specific plans
According to Huynh Van Loi, Vice- Chairman of Tan Uyen city's People's Committee, after Tan Uyen has become a city, the city's Party Committee, People's Council and People's Committee are still fierce in directing the development of urban infrastructure, architecture and landscape so that Tan Uyen will become a second-class city before 2025. The city's People's Committee has regularly monitored and directed functional sectors, the People's Committees of communes and wards based on the plan, functions and tasks of each agency and unit to set up specific and detailed plans and implement them to ensure that the set criteria and targets are met; mobilized and propagandized to raise people's awareness in urban rejuvenation. The construction management in the area has complied with the approved planning. And now, the city's plans are in the review and adjustment period to suit the local actual development situation.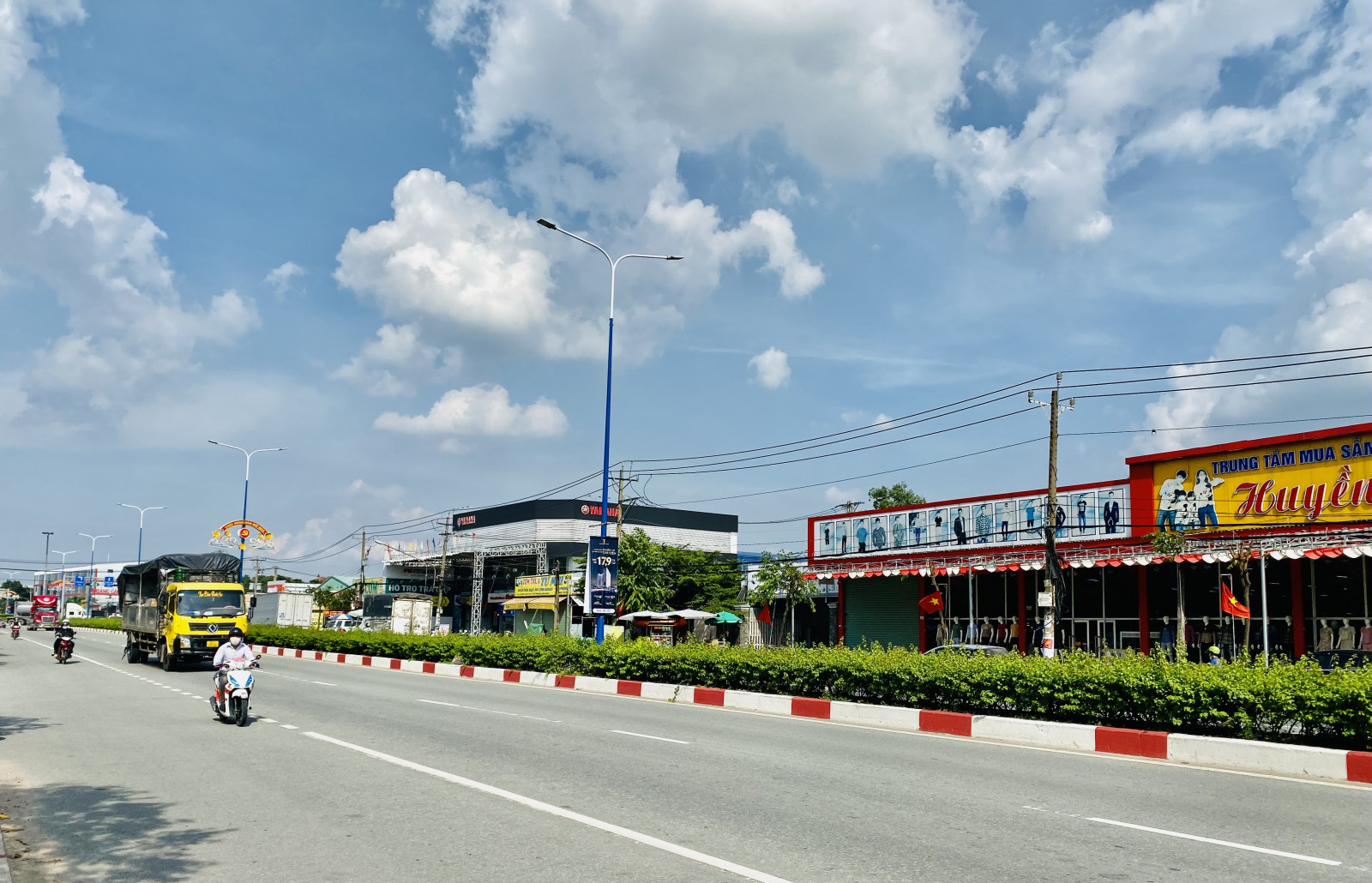 Tan Uyen city's infrastructure system is invested and built more and more synchronously and modernly
"According to the assessment of the urban status, the total score of the urban criteria of second-class city of Tan Uyen city has reached 83.26 out of 100 points, basically meeting the standards of a second-class city as prescribed. Through reviewing, analyzing, evaluating and comparing with 5 criteria, 63 standards, Tan Uyen has achieved 57 out of 63 standards", said Mr. Loi.
On the basis of programs and guiding documents, the city's People's Committee has issued plans to concretize in implementation, including a plan to improve the quality of development criteria towards a smart city; developed hi-tech and urban agriculture, built model new-style rural communes; attracted and developed trade and services; focused on developing transport infrastructure towards urbanization, building a smart city in the 2021-2025 period...
Strengthening urban planning management
The urban planning, construction planning in Tan Uyen city has been approved since 2012. The construction management in the area has complied with the approved planning and it is now in the period of reviewing and adjusting to suit the actual development situation of the locality. Up to now, Tan Uyen city's People's Committee is preparing the overall adjustment of the general planning to 2040 and the overall adjustment project of the general planning of the city to 2040, which has been approved by the city's People's Council. Provincial Department of Construction has appraised the adjusted project and is submitting it to provincial People's Committee for consideration and approval.
Tan Uyen city's People's Committee has approved 6 zoning planning projects of 1/2000 scale. The city now has 59 housing projects that have been approved with detailed planning at the scale of 1/500 with a total area of ​​​​about 702 hectares and about 25,555 houses. Among them, there are 22 housing projects fully invested in infrastructure and allowed to transfer land use rights for people to build their own houses. Along with that, there are 11 housing projects fully invested in infrastructure and allowed to transfer houses to people, 26 housing projects in the stage of completing legal procedures and infrastructure investment.
In the city, a number of traffic works are being implemented, playing an important role in promoting the local socio-economic development. Especially, the city's People's Committee is implementing a project on reinforcing and dredging Cai stream from Tho Ut bridge to Dong Nai river; focusing on directing localities to step by step dredge streams and canals, namely Tay Trang dam, Ba Kien canal, Ba To canal... in their management areas in order to better serve water drainage; building embankments to prevent landslides on Dong Nai River at the section from Rach Tre Bridge to Tan Uyen city's Party Committee.
Tan Uyen city has reviewed and planned to remove cemeteries from urban areas to create a clean land fund for the construction of public works. The city has also studied and planned urban development areas in Uyen Hung ward with about 300 hectares and in Tan Hiep ward with about 125 hectares; researched and planned an area of about 4 hectares that is adjacent to DT747 street and next to the city's hospital to invest in the construction of a high-rise commercial-service complex combined with high-class apartments.
Reported by Khai Anh-Van Dung-Translated by Kim Tin