In a very difficult context, due to the sudden increase in input fuel prices for electricity production, the Electricity of Vietnam (EVN) has drastically implemented many solutions to save costs. Accordingly, Binh Duong's electricity sector is trying to cut production costs to overcome difficulties and meet electricity demand for the local production and daily life.
Production costs on increase
Le Hong Khanh, Deputy Director of Binh Duong Power Company said that as calculated, EVN is trying to implement solutions to reduce losses. Despite having efforts to reduce costs, with current solutions, EVN is not possible to compensate for the huge increase in input power purchase costs. Over the past 10 months, EVN faced losses at more than VND 15.75 trillion. The figure in the whole year 2022 is estimated at about VND 31.36 trillion.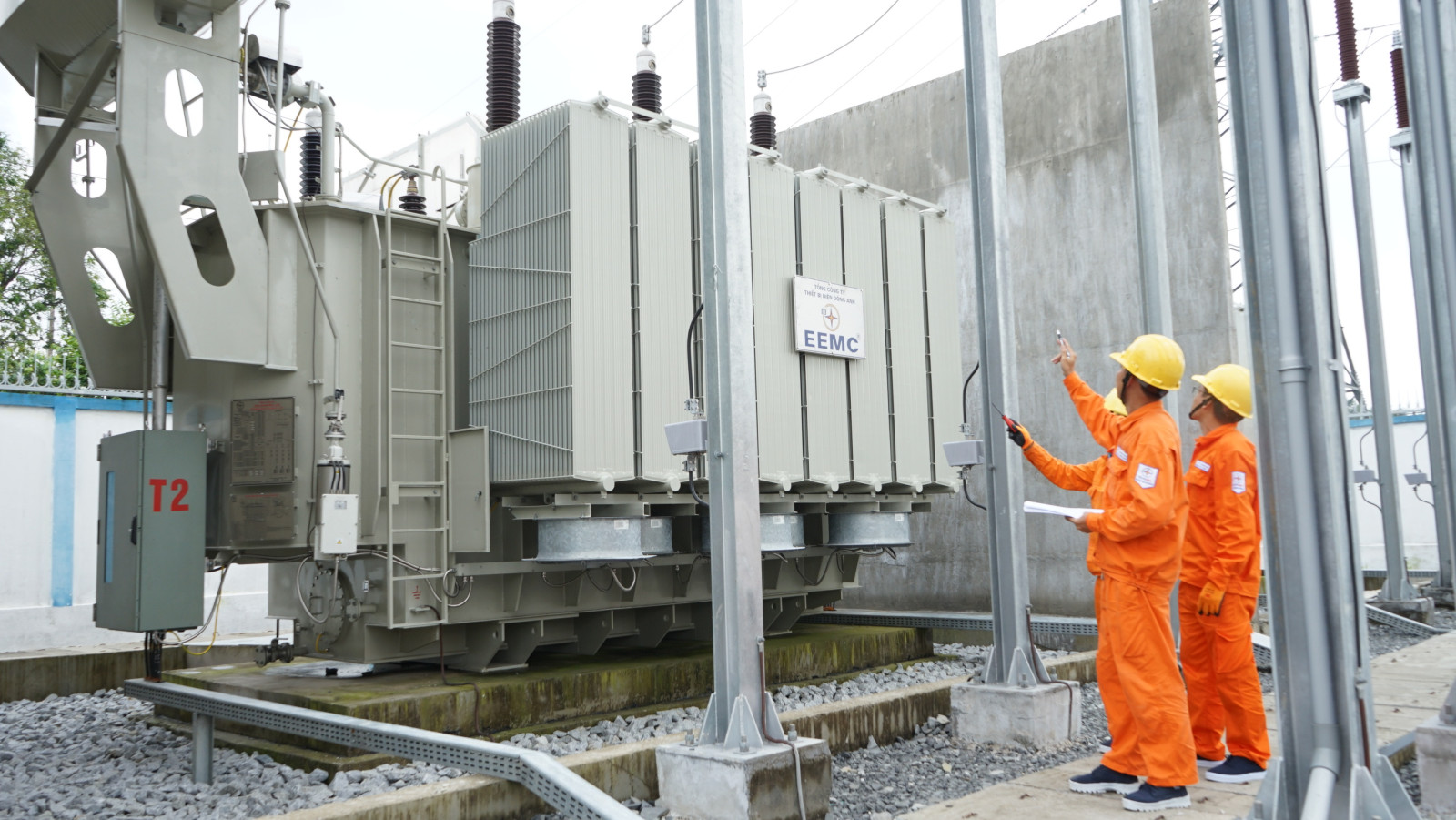 My Hoa substation in Ben Cat town has been put into operation, contributing to ensuring power supply source for the local industrial production
"First of all, it is difficult to balance the cash flow to pay the cost of buying electricity for power generation units, affecting the ability of power plants to operate continuously and thus affecting the task of ensuring power supply. Secondly, in the last few years, major repair costs had to be reduced by 10%-30% and asset repair continues to be reduced, which will greatly affect the safety of the operation of electricity system in the coming years. The third is the difficulty in mobilizing capital, balancing capital sources to invest in power projects, repairing and maintaining power projects to ensure electricity supply," said Mr. Khanh.
Possibly speaking, the cause is due to the Covid-19 epidemic affecting the economic situation of the world in general and Vietnam in particular. Especially, the commercial power output has not met the set requirements. Binh Duong's power sector is also greatly affected by production and business activities. According to the latest forecast from international organizations, the world's fuel price in 2023 will not tend to decrease to the average level in 2021. And it is expected that in 2023, the electricity sector will continue facing many difficulties in production, business and financial balance.
Efforts to save
Due to fluctuations in the price of fuels such as coal, oil and gas in the world, the cost of electricity production and electricity purchase has increased very highly. Mr.Khanh added that Binh Duong Power Company has set up many operating solutions to ensure a stable power source to serve the people's life needs and meet enterprises 'production and business activities in the province. The company has attached special importance to implementing solutions on reasonable power supply management, contributing to improving the efficiency of electricity sales.
Specifically, Binh Duong Power Company will quickly supply new power for customers, ensure stable and continuous power supply, quickly handle incidents and restore power supply in time for customers, especially customers, regions and time frames with higher electricity prices. The company will also enhance savings and cut costs by saving 20% ​​of regular expenses, implementing solutions to optimize cash flow, balancing fixed asset repair costs, temporarily paying salary for staff with the level that is equal to 80% of the average level in 2020. Along with that, the company will promote online transactions of electricity services, strengthen the administration of electricity price reduction, research solutions for restructuring and innovating the methods of managing and operating the power grid and production-business activities.
Binh Duong Power Company will further urge, propagandize and guide customers to make non-cash payments, contributing to reducing costs of the electricity sector and customers; speed up the investment progress of medium and low voltage power grid projects, regularly coordinate with relevant departments, sectors and units in the preparation for investment in 110kV projects. The electricity sector will also promptly propose solutions to remove obstacles for works pertaining to compensation and site clearance, grid agreement or master plan of the province. In the context of many common difficulties, Binh Duong Power Company will try to overcome many difficulties in order to further fulfill its assigned tasks, ensuring electricity supply for the local socio-economic development.
Le Hong Khanh, Deputy Director of Binh Duong Power Company: In the context of domestic and foreign economic difficulties, Binh Duong power sector's production and business activities have been greatly affected. Besides, its investment in basic construction works has faced many difficulties. As of late October, the company started construction for 38 works, completed and put 27 projects into operation. And the remaining works are under construction. With the goal of best meeting the local needs for socio-economic development, the electricity sector will make maximum efforts to fulfill entrusted tasks.
Reported by Minh Duy-Translated by Kim Tin