Part 2: Strengthening foreign cooperation
Despite facing many difficulties due to Covid-19 pandemic over the past 2 years, Binh Duong was still very successful in FDI attraction. So far, with a total registered investment capital of more than USS 39.55 billion, Binh Duong has ranked second nationwide in FDI attraction (after Ho Chi Minh city).
Strengthening local position
The news that Lego Group spent more than US$ 1 billion on building a factory in Binh Duong has attracted special attention from international and domestic media. What is the reason that Lego chose Binh Duong for investment despite the province just swept by the "storm" of Covid-19? Vo Van Minh, Chairman of provincial People's Committee shared that in order to be selected by the Lego Group to build its factory, besides the help of the Government, Binh Duong province also made great efforts in diplomacy, marketing and promotion. This result was the effort from many sides, including the local diplomatic work.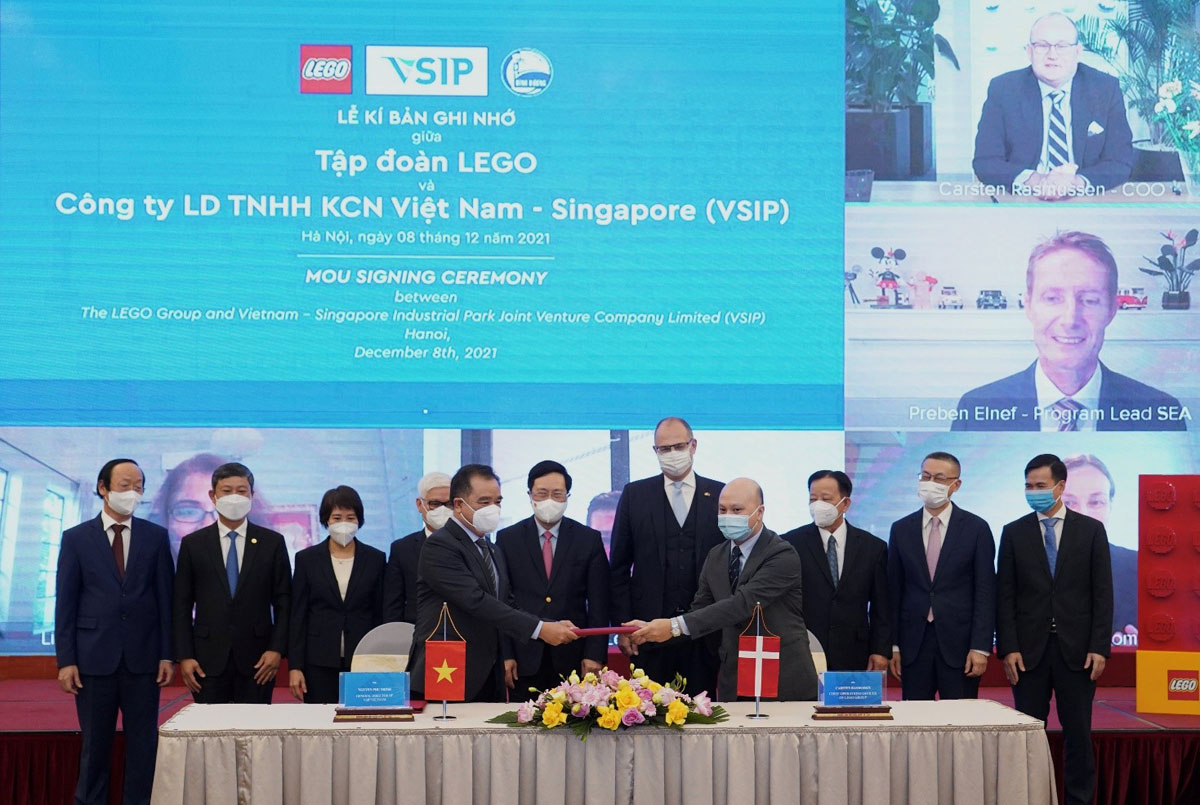 A memorandum of understanding signing ceremony between Lego Group and Vietnam - Singapore Industrial Park (VSIP) Joint Venture Co.Ltd. to invest in building a factory of more than US$ 1 billion in Binh Duong
Carsten Rasmussen, Director of Lego Group shared that few people know that Lego took a decade to explore the Southeast Asian market, but it took only 3 months to make a decision to choose Vietnam, particularly Binh Duong to "make a nest". The decision to choose Binh Duong as the investment and construction site for a new factory has been carefully considered and is part of the group's development strategy. "The Lego group is delighted to coordinate with Binh Duong province and Vietnam - Singapore Industrial Park (VSIP) Co.Ltd. to build this state-of-the-art factory, contributing to creating thousands of new job, providing more quality products as well as contributing to the local development", added Mr. Carsten Rasmussen.
Over the past time, Binh Duong promoted economic diplomacy to enhance cultural exchanges and cooperation in trade and investment, etc., contributing to the local socio-economic development. For many years, provincial People's Committee has directed departments, agencies and sectors to actively coordinate with enterprises in the province to organize many conferences on domestic and foreign investment promotion, with focus on calling for investment from potential markets, such as the United States, Japan, Korea, Singapore and European countries.
Le Phu Hoa, Director of provincial Department of Foreign Affairs said that with the view of expanding foreign affairs, taking advantage of integration to serve the local economic development in a sustainable way, the province has always paid attention to foreign affairs. Close combination between Party diplomacy, State diplomacy and people's diplomacy has contributed to the development of cooperative relations between the province and localities, partners at home and abroad, creating favorable conditions for strengthening regional linkage, international integration, contributing to the local socio-economic development. Upon this, the position and reputation of the province have continued being enhanced.
Dynamism, effectiveness
In 2021, the Covid-19 pandemic had significant impacts on the province's socio-economic development, including FDI attraction. Amidst many difficulties, many foreign investors still saw Binh Duong as a "good land" for long-term development. That was clearly shown when the 4th Covid-19 wave broke out strongly, many FDI enterprises still boldly poured more investment capital into the province. Eliseo Barcas, General Director of Tetra Pak Vietnam said that despite the complicated developments of the pandemic, Tetra Pak Co. still decided to invest additional 5 million Euros in a paper box factory in Binh Duong.
This is also the result of the efforts by the province in further pioneering in promoting online investment "marketing". According to Le Phu Hoa, Director of provincial Department of Foreign Affairs, in the face of difficulties caused by the pandemic, the province is still interested in effectively exploiting the relationship with investment promotion focal points in foreign markets that the province pays special attention to. Even during the peak of the Covid-19 pandemic, the province hastily organized 7 online conferences to solve associations and investors' difficulties. In addition, the province has accelerated the organization of many online conferences with major markets such as Japan, Korea, Taiwan, Thailand, the United States and European countries.
In terms of the "bright spots" in Binh Duong's FDI attraction in 2021, Alain Cany, President of the European Business Association (EuroCham) said that despite being affected by the pandemic, Binh Duong has still retained its growth in attracting investment and developing enterprises. This is a proof that Binh Duong is continuing becoming a dynamic, innovative, convenient, safe locality and a new investment destination with attractive opportunities for investors, including European enterprises.
According to provincial Department of Planning and Investment, dynamic and effective external economic activities have contributed to attracting more and more foreign investment projects. In the first 6 months of 2022, with many suitable solutions, Binh Duong continued attracting many domestic and foreign investors. With US$2.53 billion in FDI capital, Binh Duong became the country's leading locality in FDI attraction in the first half of 2022. As of now, Binh Duong has ranked second nationwide in FDI attraction after Ho Chi Minh city with 4,053 valid projects with a total registered capital of more than US$ 39.55 billion.
Vo Van Minh, Vice-Secretary of provincial Party Committee, Chairman of provincial People's Committee said that in 2021, although the Covid-19 pandemic had strong impacts on investment activities, the province still attracted nearly US$ 2.5 billion (up 127% over the same period). Overcoming the multi-dimensional impact of the pandemic, many large capital flows still confidently "flew into" the province. This achievement showed the relentless efforts by the province along with new and drastic ways in economic management, improving the local business climate in the right direction which was spoken highly by the business community. This result continues being the driving force contributing significantly to the local socio-economic development in 2022 and the following years. (To be continued)
In order to achieve high efficiency in investment attraction, provincial People's Committee has focused on setting up a plan "Innovating in attracting investment, consolidating and developing external relations in order to improve the competitiveness of the economy", aiming to carry out the tasks set out in the Resolution of the 11th provincial Party Congress for the 2020-2025 tenure. The content of the plan has set the goal of innovation, creating an obvious change in awareness and action about the importance, significance and role of innovation in investment attraction, strengthening and developing foreign relationships in order to improve the competitiveness of the whole province's economy. The plan also sets out specific tasks and solutions for implementation in order to improve the quality of innovation and effectiveness in investment attraction in the direction of selective attraction and sustainable development.
Reported by Ngoc Thanh-Translated by Kim Tin