On September 21 and 22, provincial People's Committee coordinated with Becamex IDC to organize a workshop on provincial planning for the period of 2021-2030, with a vision to 2050. Chairing the workshop, Nguyen Van Danh, Vice-Chairman of provincial People's Committee emphasized that provincial planning for the period of 2021-2030 must ensure that the role and position of Binh Duong province is always promoted as one of the most dynamically developing localities in the South and whole country towards building Binh Duong with harmonious, humane and sustainable development, a civilized, rich, beautiful and smart city.
Following hard on strategic orientation framework
Pham Trong Nhan, Director of provincial Department of Planning and Investment (DoPI) said that with a consistent view, integrated planning must contain a set of multi-dimensional strategies with cohesive development and highly practical applicability. Provincial DoPI and Becamex IDC Corporation have agreed to choose a consulting joint venture, led by Vietnam Institute for Urban and Rural Planning (VIUP), a unit that is full of experience in planning as well as converging all factors and conditions to build a quality, scientific and effective plan in association with the local actual development in the next period.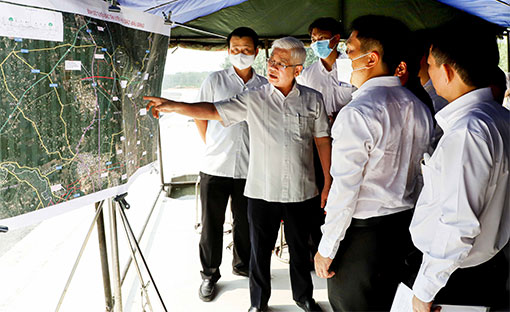 Nguyen Van Loi, member of the Party Central Committee, Secretary of provincial Party Committee, Head of provincial National Assembly Deputy Delegation inspects the construction progress of the North Tan Uyen - Phu Giao - Bau Bang arterial road project, a key work in the local development planning for traffic system
At the workshop, VIUP and scientists in the strategic consulting group together with provincial planning consulting partners all agreed on the integrated planning strategy for the local development under 3 development philosophies: building a harmonious, humane and sustainable society; building an effective business and investment climate; building a dynamic and creative local government.
According to Assoc. Prof. Dr. Nguyen Hong Thuc, from the Institute of Settlement Research under the Vietnam National University – Hanoi, integrated planning will become a tool to remove 6 current bottlenecks of the province, especially overcome the middle-income trap of the country first; make the 3 development philosophies of Binh Duong as well as 6 pillars and development goals that have been drawn up after the 25-year journey be blended, interwoven, connected and shared with other localities in the southern key economic region in particular and the whole country in general.
After hearing some orientations and strategies on provincial planning, Mr. Danh suggested the consulting unit and partners to stick closely to the strategic orientation framework approved by provincial Party Standing Committee as a basis for implementation in the process of provincial planning. In terms of core issues in setting up an integrated planning strategy, provincial leaders will continue inheriting achievements in the implementation of the existing development model with a combination of industrial-urban-service development while making the most of the local competitive advantages to serve as a foundation and motivation to promote Binh Duong in the new period.
Ensuring planning progress and quality
Provincial planning for the period of 2021-2030, with a vision to 2050 is a particularly important legal tool for provincial leaders and authorities at all levels to unify, make policies and create a driving force for development. Mr. Danh said that after being completed, provincial planning needs to perform 3 tasks: making strategic orientations with a long-term vision for the province through scientific calculation from differences and dialectical reasoning; From that strategy, it must be specific by projects on inter-sectoral investment, infrastructure investment that have far-reaching impacts on all aspects of social life and are distributed in the province's space. The core goal is to turn Binh Duong into a high-income land, ensuring harmony, sustainability, fairness and civilization with the principle of taking people as a center in all strategies.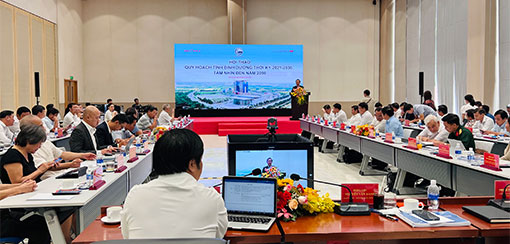 At a workshop on provincial planning for the period of 2021-2030 with a vision to 2050
Emphasizing the meaning and importance of Binh Duong's strategic planning for the period of 2021-2030, with a vision to 2050, Mr. Danh hopes that after being completed, the province's planning map will be a standard project with integrated contents that are integrated scientifically; have a monitoring and evaluation mechanism to give timely recommendations so that provincial leaders will direct right decisions in each important moment towards building a Binh Duong with harmonious, humane and sustainable development; building an effective business and investment climate with a dynamic and innovative local government.
In the coming time, Binh Duong needs to develop based on knowledge economy, creating high-quality human resources in association with technology, etc. to have its own direction, developing into a civilized and modern locality as well as building Binh Duong into a knowledge city. Being considered as a land of convergence, so when Binh Duong is already a "good land", it is inevitable that "precious birds" will come and perch. Therefore, the province needs to review and plan space and land fund for development. Synchronous planning with in-depth development for high-quality services has made pervasion on other services industries in the direction of civilization and modernity, serving the local urban and industrial development. (Prof. Dr. Dang Hung Vo, former Deputy Minister of Natural Resources and Environment)
The province's strategic objective for integrated planning in the period of 2021-2030, with a vision to 2050 is to maintain the growth rate in the period when it has already been a high-middle-income locality; become a high-income land with the GDP per capita of at least US$ 12,000 per year. Provincial planning needs to further pay attention to the local advantages in terms of geographical location, natural conditions, infrastructure facilities, investment environment, human resource development, smart city, e-government, digital government.... All will continue being highlights in the upcoming planning period of the province.
Reported by Ngoc Thanh-Translated by Kim Tin