Along with self-reliance and self-determination, businesses define the remaining period of 2021 as a period of total mobilization for their production and business intentions and plans to keep supplying chain sustainability.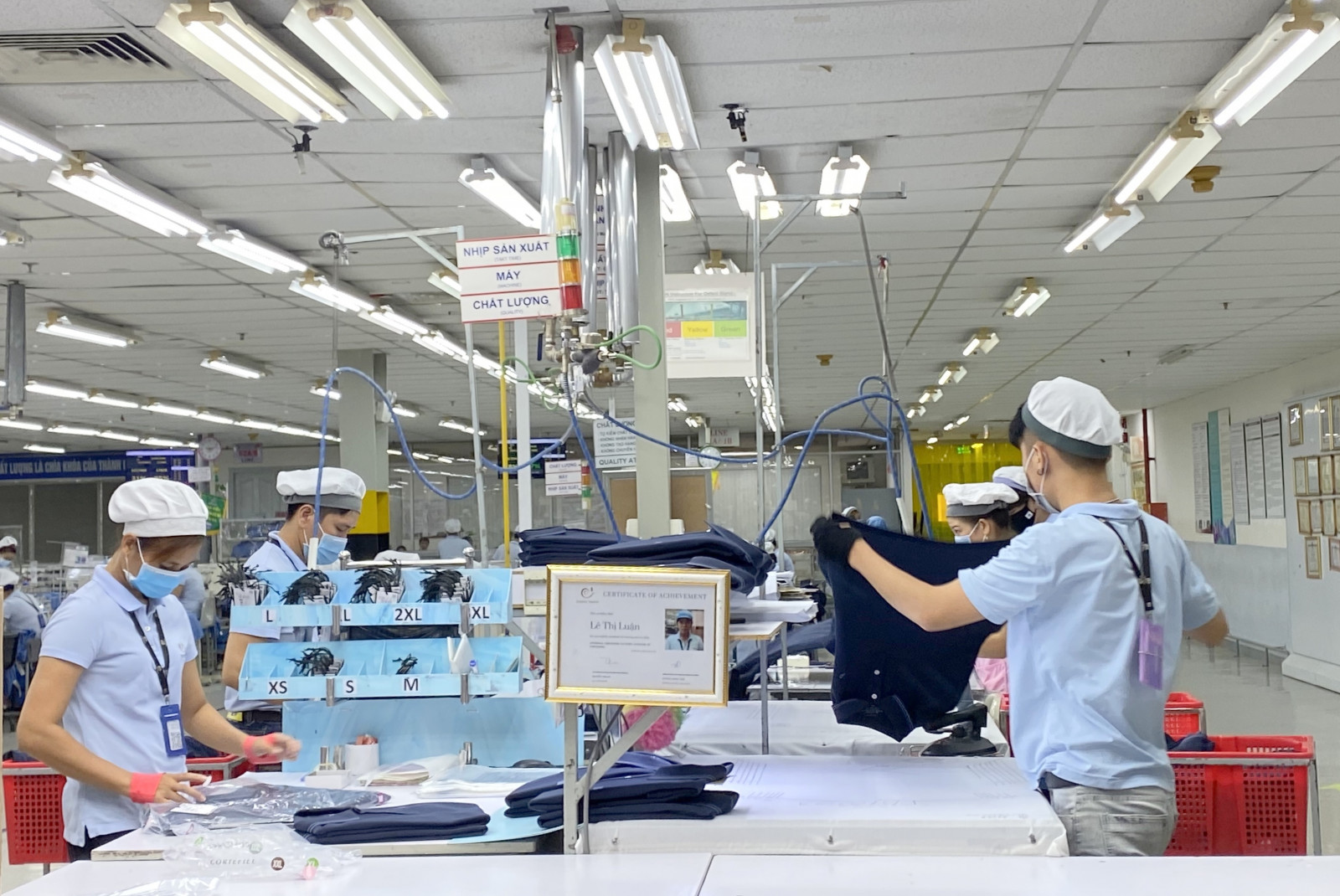 Roldale Spear in Tan Uyen town is making efforts to maintain production to ensure exportation
Self-determining enterprises
Thanks to the right and effective directions in Covid-19 prevention and control, the authority and business community have now begun to change their approach to the Covid-19 epidemic in the direction of safe, flexible and controlled adaptation to restore and promote socio-economic development. Accelerating the speed of vaccine coverage is a good basis for businesses to open up and resume activities in the new situation.
In the past few days, from meetings and dialogues, many difficult problems of enterprises have been focused on and solved by authorities and localities. Binh Duong has been flexible, giving autonomy to businesses in maintaining safety in the factory and managing employees. Thereby, the number of enterprises registering to return to production since the beginning of October has continuously increased. Enterprises are striving to restore 100% of capacity to handle orders and meet the requirements of partners. At the same time, enterprises have the opportunity to receive new orders to accelerate exports in the last months of the year as well as in the first quarter of 2022.
Mr. Mai Huu Tin, Chairman of Binh Duong Business Federation, said that in fact, when rejoining after a long period of social distancing, businesses are affected on many aspects such as goods supplying chain, consumption market, labor force, and costs incurred in Covid-19 prevention and control among others. Although it is very urgent to restore production to keep orders and not let the supplying chain be broken, businesses all agree on the policy of "safe for production, production must be safe". The protection of production is the protection of the enterprises' own assets, the local authority has been giving autonomy to enterprises as the right policy that the province is implementing. In the coming time, the business community expects that goods will continue to trade between localities. One of the bottlenecks that businesses need to be removed is that the southern localities need to have unity, avoiding the situation that "each place does one style" causing the links in the goods supplying chain to be interrupted.
Agreeing with the province's plan to restore production, Mr. Nguyen Liem, Deputy Chairman of Binh Duong Furniture Association (BIFA), said: "The plan to give autonomy to businesses right now creates a very psychologically stable state, even though businesses have to face new responsibilities and new worries. However, being able to decide "my own destiny", I believe that every business will make every effort to protect its achievements right now." Mr. Liem suggested that localities should follow general regulations, should not issue sub-licenses and separate regulations to avoid causing difficulties for businesses. Directive documents of localities should be consistent with solutions of the government, ministries and branches to create the most favorable conditions for businesses to operate.
Efforts made for purchase orders
Mr. Nguyen Liem said that the woodwork industry enterprises in recent years have drastically maintained the supplying chain. In particular, exports in the last months of 2021 are forecast to grow positively as many enterprises have orders until the end of the year and even until the end of the first quarter of 2022. Currently, many businesses are catching up again to speed up year-end orders. However, businesses are also facing a serious shortage of labor. For businesses, to keep orders is already difficult, to complete orders is even more difficult. Enterprises will not be able to resume production with high capacity if they cannot find an alternative source of labor.
The BIFA leaders are optimistic about maintaining the export target of USD 14.5 billion of the nation's woodwork industry, of which Binh Duong woodwork industry accounts for 50% of the total turnover. Mr. Nguyen Liem analyzed: "In the first nine months of 2021, the export value of wood and wood products was estimated at USD 11.14 billion, an increase of nearly 31% over the same period in 2020. In which, the export of wood products was estimated at USD 8.4 billion, increasing by nearly 31%. From now until the end of the year, if each month the exports should stand at about USD 800 million to 1 billion, the woodwork industry can ensure the export target of USD 14.5 billion. As long as workers continue to return to Binh Duong, fully vaccinated with the second dose of vaccine, to participate in production, woodwork enterprises will do their best for the goal of economic growth and recovery."
Reported by Tieu My – Translated by Vi Bao