Production and business activities have had good signals right from the beginning of the year. The business community's spirit of overcoming difficulties and creativity continues being improved. All aim at maintaining production development, firmly stepping on the "green" path.
New spirit
Entering 2023, the business community is making great efforts, closely monitoring the movement of the market, especially large export markets, thereby making appropriate business plans.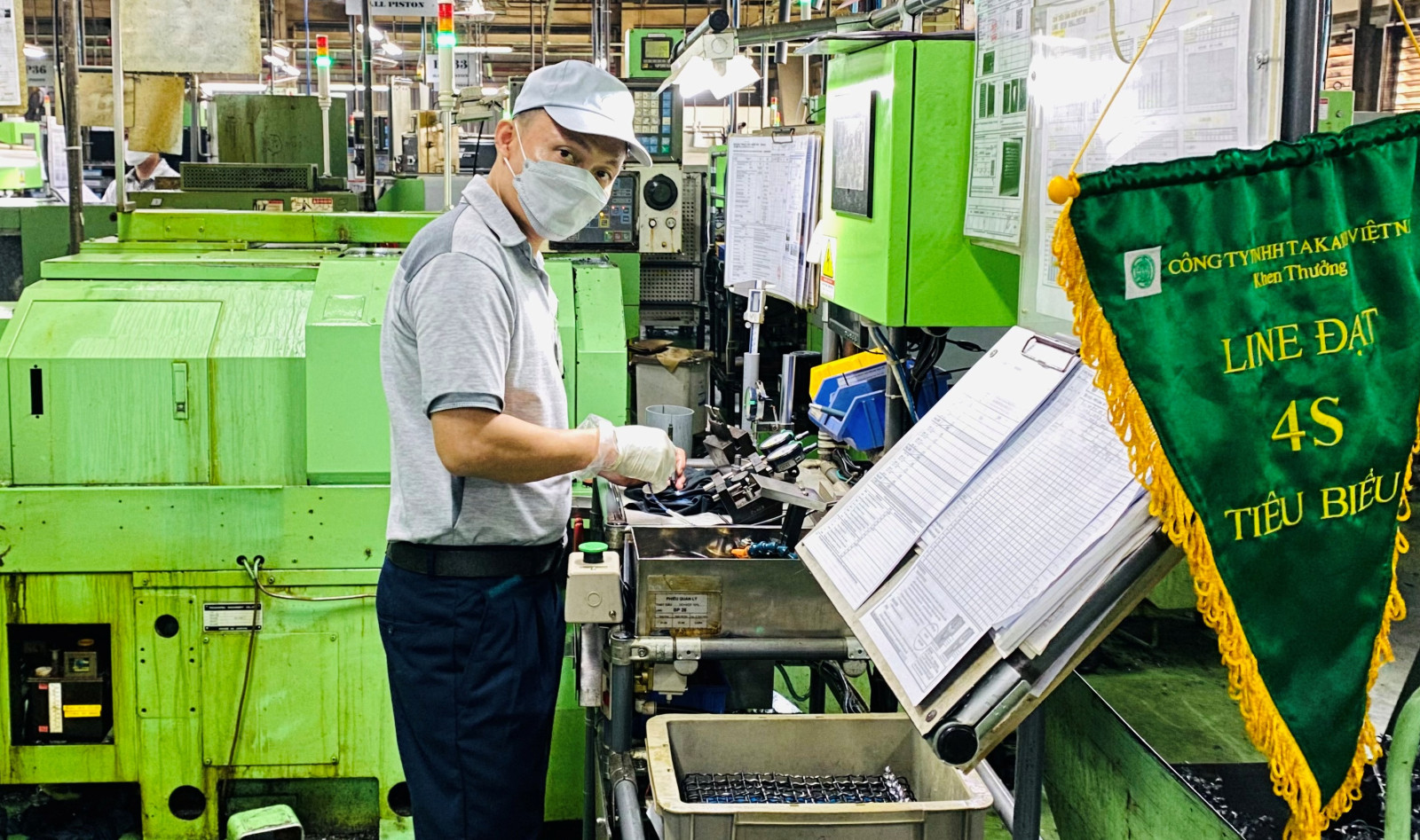 Leader of Takako Vietnam Co., Ltd. in VSIP I said that the company will continue making efforts to maintain its production and export activities in 2023
Majima Toshihiro, General Director of Takako Vietnam Co., Ltd. in VSIP I said that in 2023, it is fortunate that the company still keeps stable orders, which is a very positive signal for development. "We still strive to work in the spirit of creativity, efficiency, creating good products, making the mark as ever. We also hope that provincial People's Committee, leaders of functional sectors in the province will further listen to the feedback of enterprises, creating favorable conditions for enterprises to develop", said he.
Cyndi Che, Director of Dai Hoa Co., Ltd.'s Personnel Department said that despite difficulties in 2022, the company will further make efforts to maintain production, creating jobs and income for employees so that they continue sticking with the company. The good news is that the company has stable orders again and is looking forward to new steps in 2023. It is known that in order to improve competitiveness and productivity in the new situation, Dai Hoa has invested modern machinery and equipment, advanced technology from developed countries in the world, fostering and improving skills for workforce. In 2023, not only making efforts in production and business, the company also focuses on issues of social responsibility, complies with the provisions of the law, and takes good care of employees.
Large-scale groups in Binh Duong are also expecting a prosperous year, marking a new development step of the way ahead. Furusawa Yasuyuki, General Director of Aeon Vietnam said that the market of Binh Duong is still a big growth expectation. In 2023, Aeon will open its branch in Binh Duong new city, meeting the shopping needs of people in Tan Uyen and Ben Cat towns. In addition, Aeon is still researching to implement a strategy on diversifying the Aeon MaxValu retail model in Binh Duong in order to approach and bring "Aeon-standard" products and services to more customers. "We want to bring a new lifestyle with quality products and services to many consumers. Through the activities of upgrading and opening new business locations, we want to introduce many new products and services to customers at their increasing needs", he added.
New expectations
According to the assessment of the business community, the province's continuous efforts in the development strategy and support for enterprises have created great prospects for production and business activities. Mr. Preben Elnef, Vice-President and General Director of Lego Manufacturing Vietnam said that Binh Duong's plans on investing in expanding renewable energy production infrastructure facilities and promoting cooperation with high-quality foreign companies are the driving force for this group to decide to build a factory here.
President of the European Chamber of Commerce in Vietnam (EuroCham) Alain Cany said that although the difficult situation is likely to continue in 2023, Vietnam's economic opportunities continue outpacing its competitors in the region. This is obviously showed through the fact that many members of EuroCham further consider Vietnam as a center of their global investment strategies. Mr. Alain Cany said that it is encouraging to see that capital inflows from Europe and around the world continue pouring into Binh Duong, especially in green industries.
The business community believes that "the path is still far and it takes strength to go a long way". In that journey, enterprises should stick to green goals to firmly move on. Phan Le Diem Trang, Vice-President of Binh Duong Textile and Garment Association said: "In the current context, enterprises must closely monitor the market situation, choose appropriate orders to maintain production, ensuring jobs for employees, but they should not be too worried to sign orders at low prices, which will make them get disadvantageous in the long run. Enterprises can also consider this as the right time to restructure, invest in production under the greening model, and catch up with the world's textile and garment market with increasing emphasis on sustainable development standards.
Vo Van Minh, Vice-Secretary of provincial Party Committee, Chairman of provincial People's Committee: "Binh Duong determines that the development of the province is closely associated with the Southern key economic region, contributing to the development of the country. Binh Duong will give priority to completing regional connection projects such as national highway 13, belt roads 3 and 4, as well as new industrial park infrastructure projects such as VSIP III, science and technology industrial park, etc. to create "bait capital" to promote investment. In addition, large civil works such as social housing projects, 1,500-bed General Hospital project... will also be focused to be completed soon, bringing practical benefits to the people.
Reported by Tieu My-Translated by Kim Tin