As noted by reporters, on the morning of February 1, many businesses in industrial parks (IPs) in the province hung notice boards to recruit workers. Some labor supply units also let their staff sit along the roads in the Ips to recruit workers. However, the number of people looking for jobs is still not much compared to every year.
Massive direct recruitment
At Song Than 3 IP, Dai Dang IP in Thu Dau Mot city or My Phuoc 2 IP, Viet Huong 2 IP in Ben Cat town..., many enterprises have hung recruitment boards in large numbers. For example, Kim Xuong Shoes Vietnam Co., Ltd at Dai Dang IP needs to recruit a large number of skilled or unskilled workers for sewing, cutting and forming with simple job applications, quite favorable salary and benefits such as the basic salary of VND 5,258 million per person per month together with other allowances with the total monthly income of VND 10million- VND12 million per person.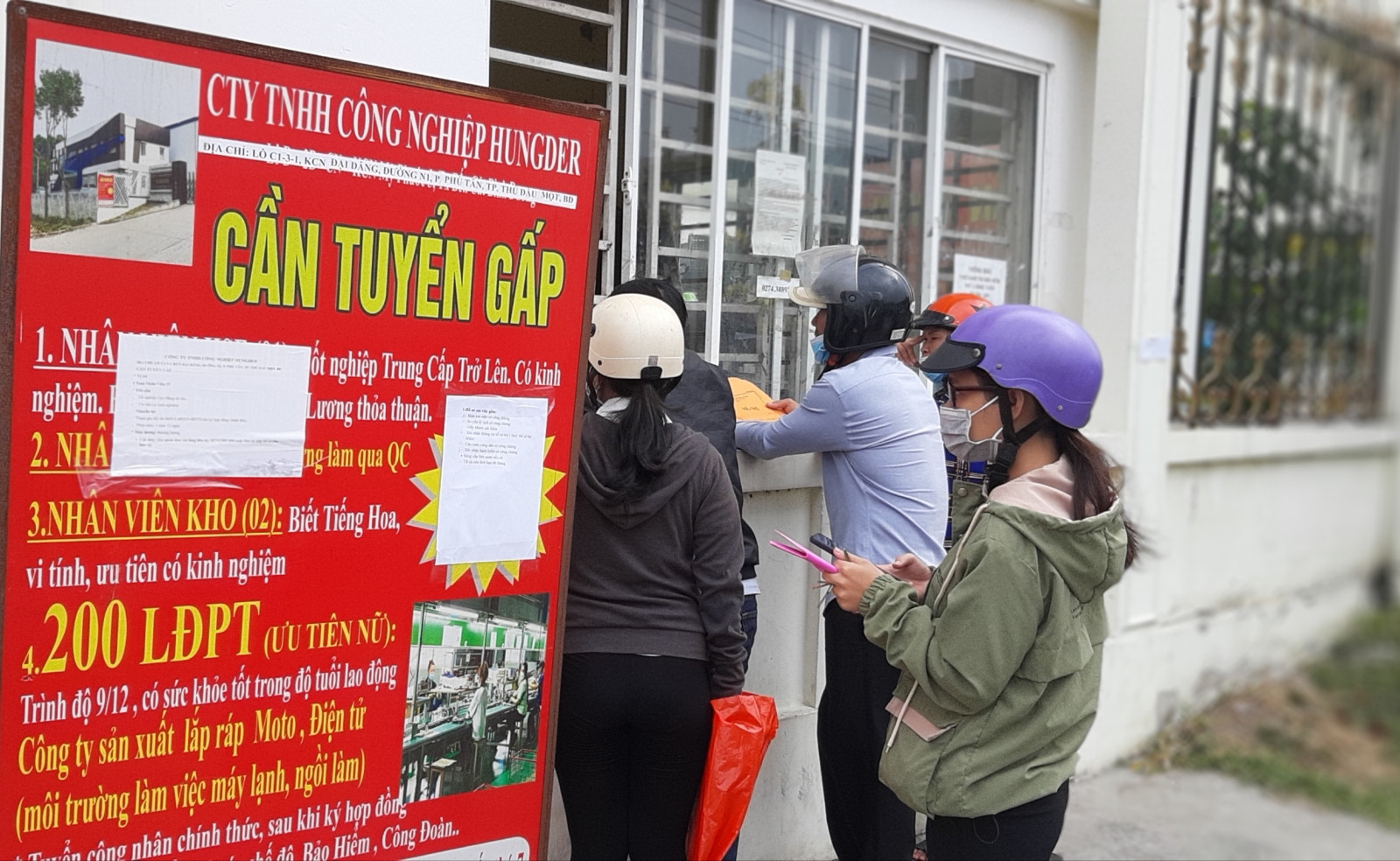 Workers look for jobs at Hungder Industry Co., Ltd. at Thu Dau Mot city-based Dai Dang IP on the morning of February 1
Meanwhile, VSIP I-based Uchiyama Vietnam Co., Ltd. which is specialized in the production of bearing seals and gaskets for automobile has also announced to recruit 300 unskilled workers, with priority to female workers with the month income of VND 8 million and above. The company gives priority to those with secondary school graduation or higher, under 40 years old. When being hired, employees are entitled to participate in all kinds of insurance and enjoy 11 days of annual leave, 22 days off of the company a year while being provided uniforms, bottled water, meals…together with Tet bonus, annual salary increase. After two years of working here, they will have the opportunity to be sent to Japan to work for 3 years...
In general, businesses have had recruitment needs with a large number of employees up to hundreds of people, with a very good salary and allowance regime. Therefore, job seekers at the beginning of the Lunar New Year have many opportunities to choose jobs that they love. Nguyen Cong Binh, from Tien Giang province, looking for a job at Dai Dang IP-based Hungder Industry Co.Ltd. said: "Last year, I worked for a furniture manufacturing enterprise in the South Tan Uyen IP. But by the end of 2022, I was given the Tet holiday early because the company lacked production orders. I just returned to Binh Duong for 3 days and then I went to look for a job. I did not return to my old company because I found that the job there was not secure and I wanted to find a place with more stable work. I find the current way of recruiting and receiving job applications directly at the security gates of enterprises is very convenient for people who need jobs."
Many businesses in need of workers
Besides direct recruitment at enterprises, there are many companies that need to recruit a large number of laborers through provincial Job Placement Center and Labor Union. According to statistics from provincial Labor Union, as of January 31, the unit has posted job recruitment needs on information channels with 49 enterprises in districts, towns and cities in the province with the number of more than 13,000 employees. Many businesses need a large number of employees. For example, KVB Production and Export Co. Ltd. at Ben Cat town-based My Phuoc 2 IP need to recruit 500 workers. Yazaki Ads Co., Ltd. in Di An city needs over 500 employees. Chun Xiang Rubber Plastic Products Manufacturing Co.Ltd. at Ben Cat town-based Viet Huong 2 IP needs 700 workers. Panko ViNa Co., Ltd. at Ben Cat town-based My Phuoc 1 IP need 1,200 workers. Vinh Nghia Shoes Co., Ltd. in Ben Cat town's Hoa Loi ward urgently needs to recruit 1,700 workers.
Along with that, provincial Job Placement Center is also actively connecting with many familiar businesses to recruit over 2,000 unskilled workers, helping those in need of jobs easily access and get jobs on the first working day of the Lunar New Year when returning to Binh Duong. The center is also actively coordinating with the Job Placement Centers of the Central, Mekong, Northern and Central Highlands provinces to bring laborers from localities to Binh Duong to work. The center's websites such as Zalo, Facebook, and website are posting announcements on labor recruitment widely. In addition, the center's stafff actively consult and receive job applications from employees.
In the first working days of the Lunar New Year, businesses have posted massive recruitment of workers, but in general, there were not many job seekers. According to people with experience in job recruitment, this is not a cause for concern. Like every year, workers from other provinces will return to Binh Duong, Ho Chi Minh City or some neighboring provinces after January 15 to 20 of lunar calendar because many of them face difficulties in travelling. According to provincial Job Placement Center, the labor market will be stable by the end of the first week of February, 2023.
Pham Van Tuyen, Deputy Director of provincial Department of Labor, War Invalids and Social Affairs (DoLISA) said: "In order to meet the recruitment needs of enterprises at present, provincial DoLISA has directed provincial Job Placement Center to strengthen labor market information activities; organize two job transaction sessions per month on the online job transaction floor; well implement unemployment insurance policies for employees who quit their jobs; promote activities on job introduction and consultancy".
In the first days of the year, enterprises have massively recruited workers, especially in the industries of garment, footwear, and electronic, showing that this is a good sign, showing that businesses are recovering very strongly in production and export. This will also help employees to secure their income and stabilize their lives in the early period of the Lunar New Year.
According to initial statistics from provincial Department of Labor - Invalids and Social Affairs, in the first quarter of 2023, businesses in the province need to recruit more than 10,000 workers. Among them, about 35% are new laborers to expand production while the remainders make up for the shortage of labor force after the Tet holiday. The industries that need to recruit a large number of workers are garment, footwear, electronics, mechanics and some service industries…
Reported by Quang Tam-Translated by Kim Tin