At the recently held trade promotion conference, Binh Duong always creates many conditions for local and Indian businesses to exchange information about investment cooperation opportunities, especially suitable industries and partners with the requirement of building a new type of ecosystem. At the same time, Binh Duong hopes that the two sides will engage in specific cooperation to jointly anticipate the opportunities for businesses to move globally, which are taking place strongly.
The solid fulcrum
According to Phan Thi Khanh Duyen, Deputy Director of the Department of Industry and Trade, India has so far become one of Vietnam's leading trade partners. In 2022, the total trade value of Vietnam - India was USD 15.05 billion, increasing by 13.6% compared to 2021, creating a dramatic change in trade relations of the two sides. Being one of the leading provinces and cities nationwide in socio-economic development and in attracting foreign direct investment (FDI), India, up to now, ranks 23rd out of 65 countries and territories to invest in Binh Duong with 10 projects and a total investment capital of more than USD 116 million. "The major areas of investment are medical instruments, processing industry, manufacturing, pasteurization of agricultural products and food," Duyen affirmed about Binh Duong's advantages on developing cooperation with Indian partners.
Duyen affirmed that in Binh Duong, she always makes good use of the advantages of geographical location to invest in building synchronous and modern transport infrastructure. At the same time, with the rapid development of industry, trade, and services, Binh Duong has been creating a strong driving force to rise and become one of the leading localities in the country in industrial and economic development. Currently, Binh Duong has built and developed 29 industrial parks on a total area of nearly 12,700 hectares.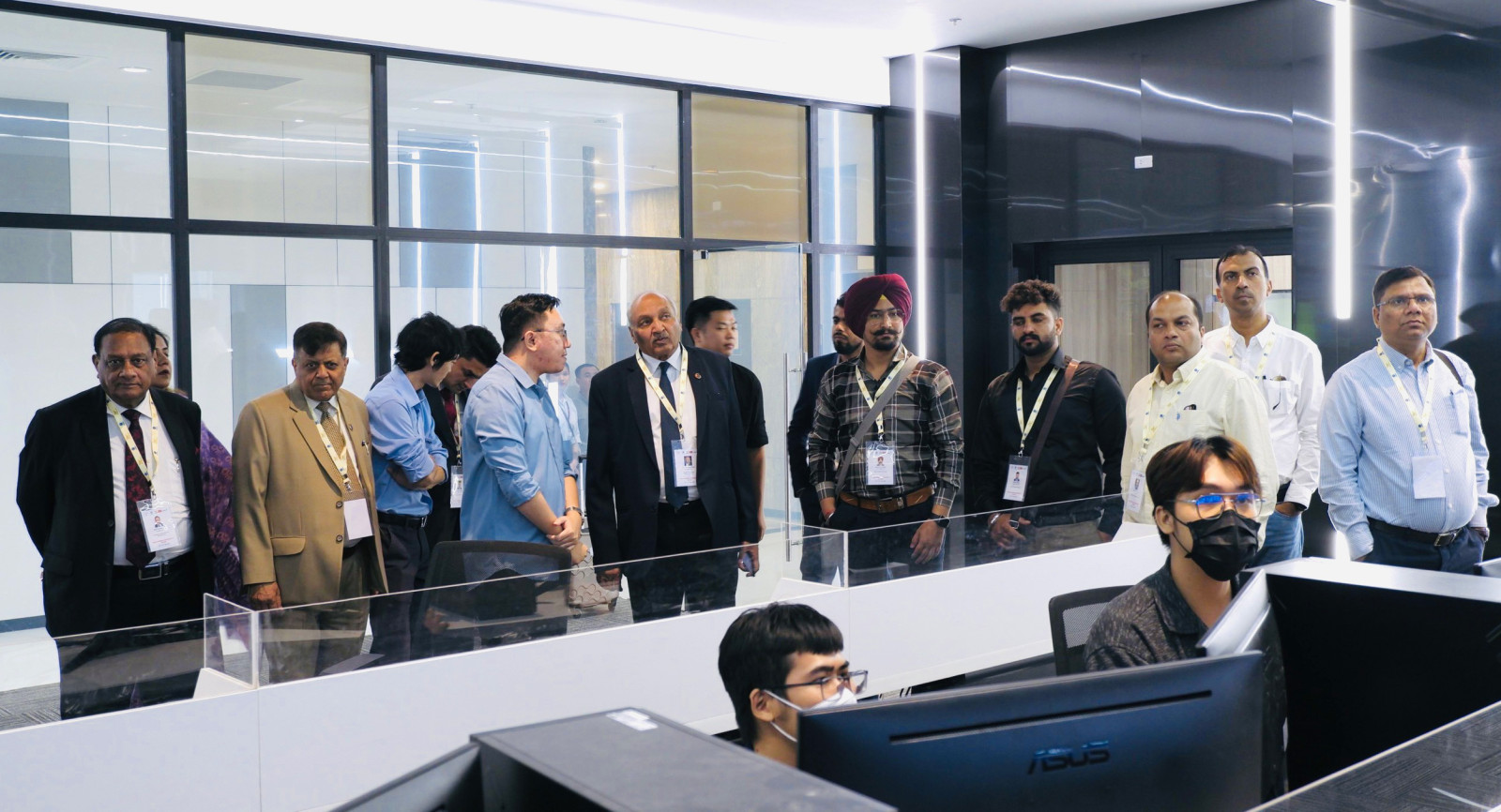 Representatives of the Chamber of Commerce and Industry of India and Indian businessmen visit a business in VSIP I Industrial Park
At the same time, Binh Duong promotes foreign economic activities to attract foreign direct investment capital inflows. Binh Duong also actively expands bilateral and multilateral cooperation relations with foreign localities and international organizations. Binh Duong is now an official member and a reliable partner of the Intelligent Community Forum (ICF), Horasis, and the World Trade Center Association (WTCA), all create opportunities for development cooperation built on a solid foundation.
"In the long term, in order to maintain a favorable and sustainable business and investment environment, Binh Duong is actively promoting information and communication on trade between Binh Duong province and the Indian market through the promotion, connection and efficiency improvement of trade promotion activities with more active support for businesses, industries, craft villages and products of the province to find partners in opportunities to exchange, purchase goods and provide services with Indian partners," affirmed Phan Thi Khanh Duyen.
Ranjeet Mehta, Deputy Secretary General of the Chamber of Commerce and Industry of India, said that he was really impressed by the socio-economic results, infrastructure and determination of Binh Duong in the development process. "We want to help Binh Duong and Indian businesses have the opportunity to learn about trade promotion, exchange and business cooperation policies in many fields according to their potential and strengths. I believe that under the available conditions, Binh Duong is a very good destination for Indian businesses to invest and has the potential for further development in the future."
Commodity restructuring
At the conference, leaders of the Department of Industry and Trade emphasized that the two sides have many cooperation opportunities to develop together to new heights. The conference create a restructuring of export goods in the direction of promoting high-value-added products to 0gradually reduce the proportion of raw exports. Thereon, the development of production of export products with competitive advantages are encouraged with the ability to penetrate internationally and participate in the global value chain, creating a stable market share in the world market to ensure stable production and business activities and develop the domestic market and grow exports in a sustainable way.
A representative of Binh Duong Furniture Association said that businesses of the two sides at the conference shared, discussed and exchanged a lot of comprehensive and relatively diverse information in many fields of mutual interest and inquiry minds. In the coming time, associations and businesses wish to have the opportunity to contact and exchange information with the Chamber of Commerce and Industry of India and Indian businesses in order to continue to maintain a close relationship, aiming to connection and trade development.
Reported by Tieu My – Translated by Vi Bao