In the past few days, in programs to celebrate spring and Tet in all wards of Di An city, local leaders together with departments and agencies visited, offered Tet wishings, gave gifts and encouraged workers, poor households and socially privileged families. Thousands of gifts from VND-0 markets have been delivered to poor households and workers in difficult circumstances. The warm spring day air is all around the city.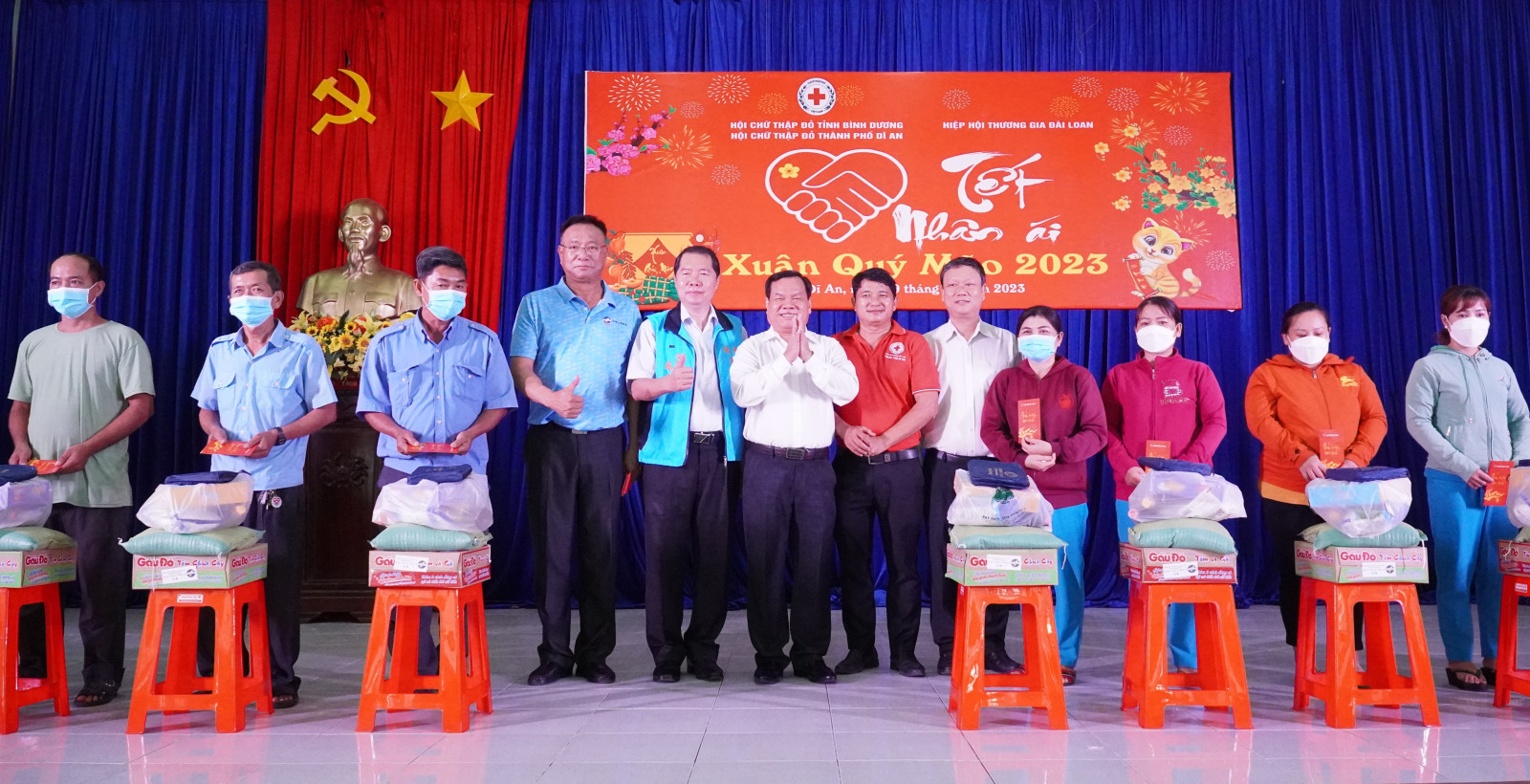 The Red Cross of Di An City organizes to give hundreds of Tet gifts in 2023 to poor households in the area
Kindness in the young city
With the determination to build a city in the direction of civilization, friendliness and gratitude, Di An city always actively takes good care of all people, especially socially privileged households, poor households, and workers with difficult circumstances and social protection beneficiaries. Pham Van Bay – Deputy Chairman of the People's Committee of Di An city said: "The city's leaders have brought up the issue of taking care of Tet, focusing all resources to take care of the subjects from a very early age. Thereby, city departments and branches focus on reviewing the number of subjects, so that no one is disadvantaged. Up to now, tens of thousands of gifts and support money from the city and all levels have been given to the subjects. From now until Tet, the work of receiving support and reviewing particularly difficult households will continue to be carried out by departments and agencies to take care of them."
Meanwhile, Tran Van Hop - Head of the Division of Labor, Invalids and Social Affairs of Di An city, said that during the Lunar New Year 2023, the division advised the city People's Committee on a plan to visit and give gifts to social beneficiaries, poor households, and children in extremely difficult circumstances and other subjects in the city. As a result, the city visited and gave gifts to 6,674 with a total amount of about VND 6.2 billion from the city budget. In addition, each division and ward has its own advocacy and care for each object they are in charge of. The division has cooperated with the city Social Insurance to compare the list to provide Tet gifts for retired officials and people who have lost their working capacity by allocating funds to the wards to provide thoughtful Tet allowances for the beneficiaries according to regulations.
The programs of welcoming the Spring of Peace and Tet of Kindness with many activities to exchange New Year's Day, and share difficulties during Tet, have synchronously been organized in the wards to bring up great joy for many families. Nguyen Huy Phong, a janitor at a preschool in the city confided: "Not only poor and disadvantaged households, but also cleaning workers like us are cared for by leaders at all levels during Tet holiday. The gifts, the New Year's red envelopes are small but bring great encouragement. Difficulties are still there, but the necessities of life during Tet are not lacking. I think the city's policy of taking care of the people is very good."
Nguyen Van Chai a 4th grade war invalids in Tan Binh ward, said: "Seeing the city growing to rich and strong position, especially the social security work is well taken care of, I am very proud of myself. Not only families with meritorious services, but all poor, disadvantaged households and workers away from home are still well taken care of during the holidays. Leaders at all levels are busy with work even on Tet, but every year they take time to wish their families a good year. Just like that, we also feel warm, see the responsibility and gratitude of the leaders of the city."
Gathering all resources
In addition to the city's gifts, the provincial leaders, the Red Cross, the city's Vietnamese Fatherland Front Committee, the People's Committees of the wards have also actively mobilized resources to take good care of those in difficult circumstances. Le Phu Tam - Chairman of the Red Cross of Di An city, said that with the common goal of taking care of the people in the area, the city Red Cross is the unit that bridge to coordinate activities and charity actions. The Association plays a pivotal role in humanitarian and charitable activities. In 2023, the Central Committee of the Red Cross directed associations to respond extensively to the movement of "Tet of Mercy 2023", so the association actively developed plans and coordinated with the wards to focus on propaganda and mobilize benefactors and people to participate. In addition, the association has a letter calling for all benefactors, businesses, and religious institutions in the city to join the program.
"The association has been giving gifts to poor, nearly-poor households, young workers in difficult circumstances, especially 74 children whose parents died due to the COVID-19 epidemic. The city Red Cross cooperates with all 7 wards to organize a charity Tet program with a VND-0 market. Particularly, the city Red Cross gave more than 600 gifts worth VND 500,000 each. Each ward gives about 1,000, all of which are donated by the society. By January 15, 2023, the association will end the gathering of supporting gifts for the subjects. However, the work of receiving support from other sources is still being carried out by the association, then reviewed and allocated more to families with special difficulties, so that the families can have a better chance to celebrate Tet," Le Phu Tam added.
Along with that, the city's Vietnamese Fatherland Front Committee also coordinated with the People's Committees of wards to mobilize hostel owners to exempt and reduce rent with a movement to donate thousands of banh chung and banh tet to poor households and workers staying to celebrate Tet in the area. Tran Thi Ngoc Huong, living in Dong Tac neighborhood of Tan Dong Hiep ward, said: "A few years ago our family belonged to the poor household of the ward. That day the job was precarious with low income; both husband and wife had to support our 4 small children. After that, we were built a house of great solidarity by the city;our children grew up to work and help, so we escaped poverty and stabilized our lives. For many years, the city has always had a policy to take care of poor households very well, so that people have a better life. Although I have escaped poverty, every year on New Year, my family is still given many gifts and cakes by the local authorities, departments and agencies, enough cakes for a few days on New Year.
By concentrating the caring resources of the authorities at all levels, these days, everyone in Di An city is eagerly entering the new year in joy and excitement in all aspects.
Up to now, Di An city has visited and given Tet gifts to 6,674 with a total amount of about VND 6.2 billion from the city budget. In addition, each department, branch and ward has its own advocacy and care for each object they are in charge of.
Reported by Quang Tam – Pham An – Translated by Vi Bao