The school year 2022-2023 has ended with many successes for the education and training industry in Ben Cat Town. In order to create many interesting and useful playgrounds for students in the area, Ben Cat Town Center for Culture, Sports and Broadcasting cooperated with Education and Training Office and the Town Youth Union to hold a summer sports festival for local students.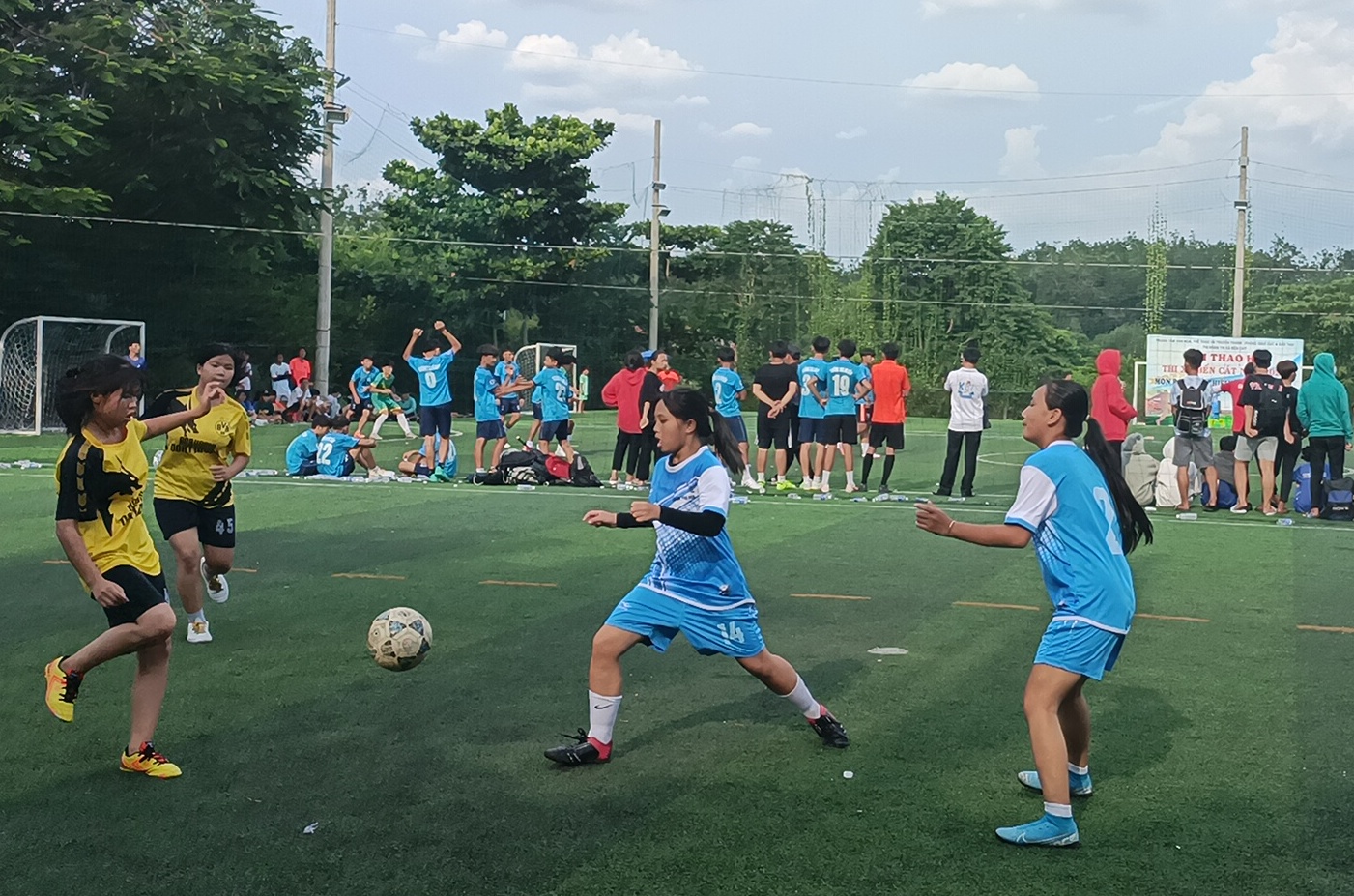 Women's football tournament for junior high school schools of Ben Cat town attracts the participation of many schools.
Useful playground
The summer sports festival 2023 in Ben Cat Town was held with two key sports, football and swimming, for teenagers and children. The sports festival takes place from May 28 and will end on June 11. Specifically, children's football will be for U9 and U11 ages, and junior high school football will be for both boys and girls. Meanwhile in swimming, both teenagers and children with boys and girls will compete at the festival. This is an annual activity every summer of Ben Cat Town and attracts a lot of students joining to compete after a hard school year.
Similar to summer sports festivals in previous years, when this sports festival ends, it is also time for local specialized coaches to select excellent athletes for province-level summer sports tournaments held in the summer of 2023. With the large and full participation of most primary and junior high schools in the area, the sports industry in Ben Cat town expects to find the most outstanding and elite faces to compete in the province-level tournament that will take place nearly 1 month after this festival.
It is difficult to describe the excitement, waiting for the competition time of young athletes. Because to teenagers and children, after a year of hard work with books on school chairs, now is the time for them to take a break and regenerate energy. This is probably the happiest and most comfortable time for the students. No longer worrying about homework, temporarily putting aside book pages, the children can show their talents with their favorite sports.
It is known that with regular participation in Binh Duong student sports tournament in recent years, most schools in Ben Cat town have built up a force of athletes ready to compete in two popular sports that are football and swimming. With football, this is an opportunity for strong teams to show their strength after what they achieved at the Binh Duong Student Sports Tournament in the 2022-2023 school year. Meanwhile, in swimming, this is also an opportunity for coaches at grassroots facilities to check the level and ability of young swimmers after they have been equipped with necessary skills.
Variety of playgrounds
In addition to organizing a summer sports festival with two main sports, football and swimming, relevant agencies of Ben Cat Town also organized other sports tournaments alternatively during summer 2023, such as chess, badminton, Vovinam... With their determination and experience, leaders of the sports industry always want every summer to be a real festival for students in the area. There, in addition to the competition for achievements and rankings among schools, the ultimate goal is to help students, who are future owners of the country, not only good in study, but also have a healthy body, enough to contribute to the development of the country. It is also a part of Ben Cat Town's program to respond to the campaign "All people exercise their bodies following the great Uncle Ho's example".
Similar to summer of previous years, the town Center for Culture, Sports and Radio will organize sports tournaments for students. In addition to creating a healthy and useful playground for students, this is also an opportunity for specialized coaches in various subjects to find more talents and add to the teams preparing for provincial competitions in summer.
Hopefully, the town's students will have fun and useful summer days before entering a new school year. With diverse playgrounds organized by agencies and departments of Ben Cat Town this summer, students will have exciting and fierce competition days and have a great meaningful and fun summer.
Reported by T.Hai, H.Tan - Translated by Ngoc Huynh