Because of the long holiday of this year's National Day 2nd September, provincial residents are planning for their trip. Meanwhile, resorts, amusement parks in the province are also preparing for guests welcoming.
Enhancing customer service quality
According to Dai Nam tourist complex, 70,000 tourists are expected to come to this park in three holidays of National Day. Apart from zoo, artificial beach, temple zone, etc., many new activities, like variety, circus, magic, comedy, music will be performed by HCM City's artists to carter for guests. Tickets to visit the square will be free in order for all guests to enjoy cultural activities.
Also in this National Day celebration, many exciting will take place at Thanh Le cultural park in Thu Dau Mot City, such as: sport festival celebrating the 35th Binh Duong Lottery Company foundation day, sport festival commemorating the 15th Vietcombank – Binh Duong branch – foundation, especially, "Voluntary white shirt" collecting program hosted by provincial Business bloc's Youth Union cooperating with Thanh Le Company's Union branch and Visso Detergent Company to collect white shirts for poor pupils.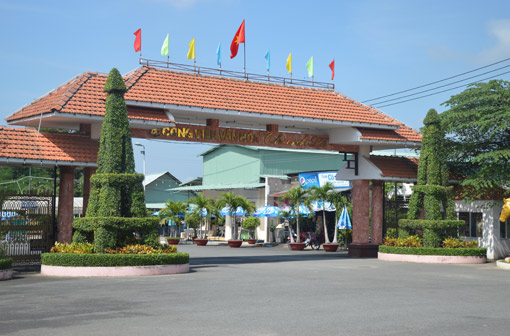 Thanh Le Cultural Park
Thanh Le Cultural Park's Deputy Director Tu Huy Giap said, on National Day holidays, entertainment spots in the park, such as: water park, swimming pools, sport complex, sport ground, 24-hole golf course, wedding service, social canteens will open and serve customers through this occasion.
Short tours booked
In spite of newly presence, short tours on National holiday of Dat Viet Tourism Company have been booked. Head of Binh Duong province Agency Mr. Tran Minh Tho said, on this occasion, provincial tourists preferred tours of Phan Thiet – Nha Trang – Da Lat. Additionally, the company will arrange for students to visit Binh Duong province and provincial historical sites.
At the present, domestic tours of Sapa, Ha Long, Da Lat, Phu Quoc, etc. are all booked on National holidays. According to provincial tourism companies, it is easy for customer to book a tour, because of online booking system. Meanwhile, demand for foreign tours decreases due to the increase of diseases and instability of political situation.
"Tourists prefer Korea, Singapore, because these countries have stable environment, beautiful sights, and tourists can exchange, learn more about culture, economy and so on", said Head of Viettravel Binh Duong agency Ms. Dang Hong Ha.
Reported by D.Chi – Translated by Ngoc Huynh