Amid the complicated developments of Covid-19 pandemic, leader of Binh Duong Furniture Association (BIFA) said that many woodwork enterprises have applied a "3 on-site" plan, including on-site production, dining and rest, to realize the dual goals of preventing, controlling Covid-19 and maintaining production.
Paying attention to workers' health
According to information from BIFA, up to now, many businesses in the association have quickly carried out the 3 on-site production model. For example, Lam Viet Joint Stock Company has applied the model since late June, 2021 when there was information about some community infections in ​​​​Tan Uyen town. As of July 15, the company had 20 days to perform the model for more than 700 employees.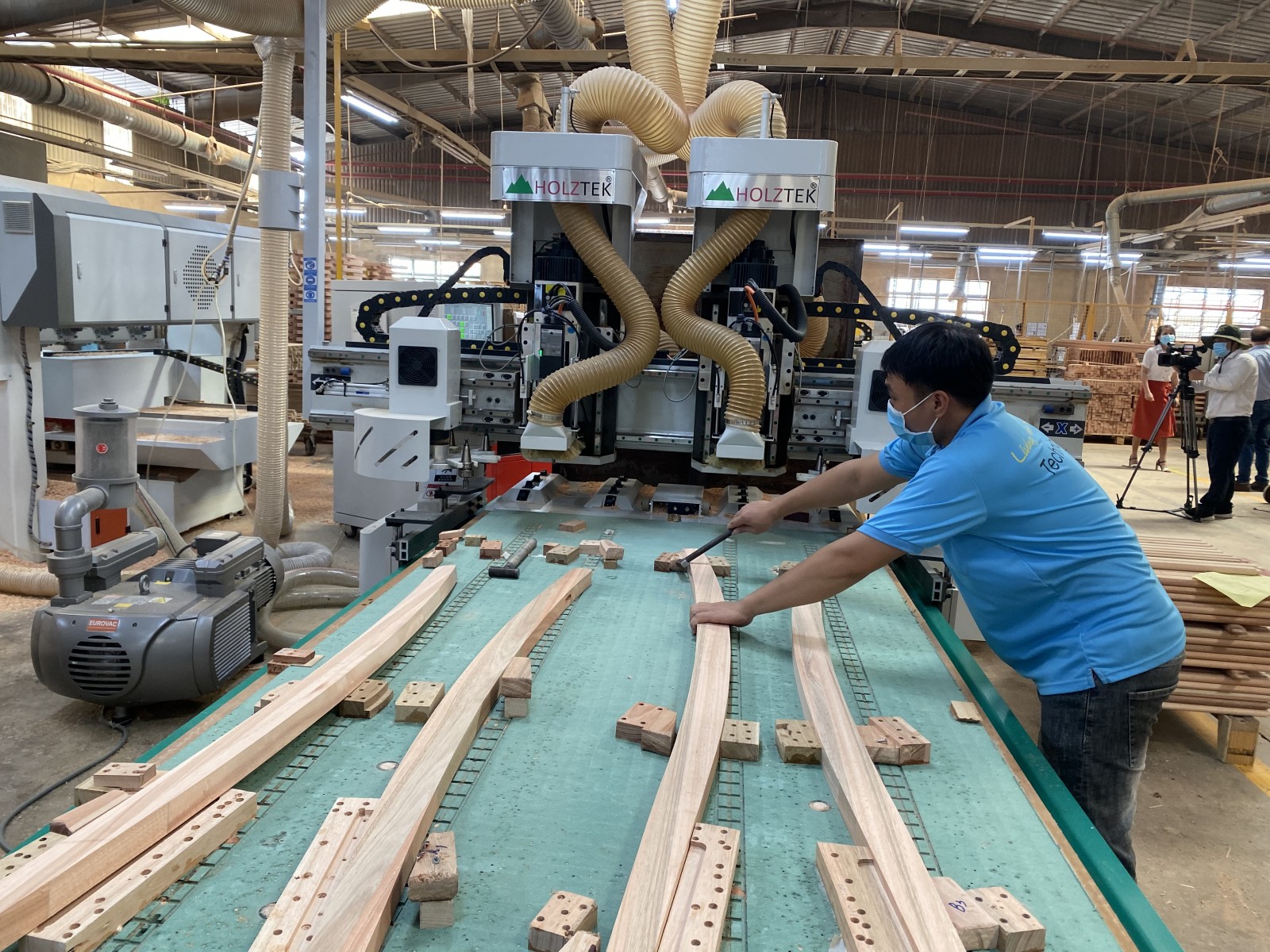 DAFI Co.Ltd. in Tan Uyen town is under the 3 on-site production model to maintain production and ensure orders amid Covid-19 pandemic
At an online meeting with 70 members of BIFA, Nguyen Thanh Lam, Director of Lam Viet Joint Stock Company shared that the company's directorate must meet with all employees to explain about the advantages of the 3 on-site production model, ensuring safety for them…
Thanks to propaganda well realized, the company has attracted about 80% of employees to accept to stay at its factory under the 3 on-site production model. To ensure safety, the company has conducted rapid antigen tests for all employees on the first working day under the model. If having negative test results, employees will be allowed to stay at the company to work. Fortunately, there were no F0 cases during the quick antigen test execution process.
Mr. Lam said that the most important thing is that enterprises must issue regulations to guide employees to conduct activities at the company closely and effectively so that they trust and understand the efforts by the company's directorate in maintaining production, taking care of the lives of employees. Lam Viet Joint Stock Company have strictly implemented processes in setting up its Covid-19 board for Covid-19 prevention and control. The company's workers are divided into groups in working areas. Each group is managed by a group leader. Group leaders are responsible for disseminating, explaining, and supervising the implementation of regulations in their groups.
The company has had appropriate arrangement for places to eat, live and work for employers... The company has regularly reminded them to get used to daily routine at the company; created a Zalo group between the company's directorate, board for Covid prevention department and group leaders to solve problems that arise immediately. The company has also provided wifi, organizes games…on Sundays to serve workers' needs for entertainment.
For food suppliers who often work at the company, they also need to stay and work at the company. The company has also carried out strict inspection processes to prevent the source of infection outside, aim to protect employees from the pandemic.
Connecting with local government
Lam Viet Joint Stock Company has actively exchanged with the local government for timely guidance and support, facilitating its 3 on-site production model. According to Mr. Lam, companies should bravely implement 3 on-site activities at this time. The pandemic is very complicated, so isolating employees at companies also contributes to helping reduce the local government's management pressure on employees. Specifically, Lam Viet Joint Stock Company sent a notice with the list of employees staying at the company to the local functional agencies.
Many woodwork enterprises, especially small-sized ones, have faced difficulties in carrying out the 3 on-site production model because the cost for the model is very great. Mr. Lam said that enterprises should call on their clients to give support for the model at this time. Lam Viet Joint Stock Company's clients have actively supported this proposal.
According to Nguyen Liem, Vice-Chairman of BIFA, the woodwork industry has developed strongly, becoming one of Vietnam's key export industries. "To maintain this achievement, we need to go slowly, overcome the crisis and even learn how to fail to ensure employees' safety and enterprises 'survival. Amid the complicated developments of Covid-19 pandemic, the balance between enterprises 'survival, growth and support for employees is to show the culture of humanity in enterprises on the spirit of "human beings are above all", said Mr. Liem.
Nguyen Thanh Ha, Deputy Director of provincial Department of Industry and Trade said that enterprises that well organize 3 on-site production activities will contribute to joining hands with the locality in stabilizing production, limiting the source of infection. This will also maintain their development while sharing efforts with the province to successfully implement the dual goals of Covid-19 prevention-control and socio-economic development.
Reported by Tieu My-Translated by K.T