"Developing inter-regional transport infrastructure is the most important factor of the Southeast region today. Not only road traffic, but also need to take advantage of the potential and develop all connected transport networks such as air, waterway and railway", Politburo member, Secretary of Ho Chi Minh City Party Committee Nguyen Van Nen emphasized at a recent conference summarizing the program of socio-economic development cooperation between Ho Chi Minh City and the Southeast provinces on March 18 in Binh Phuoc province.
Difficulties, challenges
At the conference, local leaders understood only "going together", Ho Chi Minh City and the Southeast provinces can effectively exploit the potential and strengths of each locality, creating a new, more cohesive and seamless development space, actively contributing to the economic restructuring process associated with growth model innovation, improving productivity, efficiency and competitiveness. Since then, this will create a strong breakthrough in attracting investment resources, create a comparative advantage in competition and driving force for sustainable socio-economic development.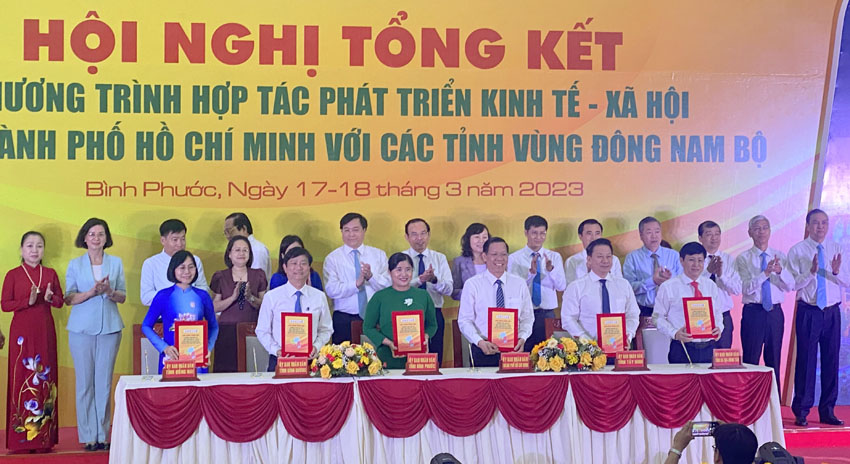 Leaders of Ho Chi Minh City and the Southeast provinces sign a memorandum of agreement on socio-economic development cooperation up to 2025 in key areas.
Leaders of Ho Chi Minh City affirmed that the city is aware of the central role and position of the region, the cooperation in socio-economic development with provinces in the region contributes to expanding markets and developing space for localities in the region in particular and the country in general. Although there are many bright spots in development, there are some difficulties and challenges.
Nguyen Van Nen said that at present, Ho Chi Minh City and the Southeast region still have many limitations and great challenges, such as: Development is not commensurate, the economic growth rate shows signs of slowing down, the development gap between localities has not been shortened, regional linkage is still a formality and has not been really effective. Therefore, Ho Chi Minh City and other provinces in the region need to build a regional linkage mechanism to become the dominant thinking throughout the common development process.
In particular, it is necessary to promote infrastructure connectivity, so that infrastructure goes first, businesses follow. In which, priority should be given to the development of road, waterway and railway transport and must be considered as urgent jobs in the implementation of the Party and Government's resolutions on the development of the Southeast region.
Vo Van Minh, Deputy Secretary of Binh Duong Provincial Party Committee, Chairman of Provincial People's Committee, said that the Politburo's promulgation of Resolution No. 24-NQ/TW on socio-economic development and assurance of national defense and security in the Southeastern region up to 2030, with a vision for 2045, and Resolution No. 31-NQ/TW on direction and tasks of Ho Chi Minh City development up to 2030, with a vision for 2045, is necessary and appropriate to eliminate bottlenecks, as well as create strong and breakthrough changes for Ho Chi Minh City in particular and the Southeast region in general in the coming time, then promoting the general development of the Southeast region and the whole country.
Clearing the "bottleneck" of the whole region
At the conference, Vo Van Minh said that after a period of rapid industrial development, the increasing demand for passenger and goods transport made Binh Duong's socio-economic infrastructure currently really overload. The traffic volume of arterial roads is increasing, while the connectivity and synchronization with railways and inland waterways is weak, thus this has increased travel time from Binh Duong to international seaports and airports. On the other hand, this increases costs of businesses, reduces competitive advantages. Meanwhile, the regional planning is now out of date, it is necessary to have a new, more modern and synchronous plan to connect the localities. From this plan, it is easier for provinces and cities to invest in integrated transport infrastructure, helping to promote synchronous development of the region.
"Currently, Binh Duong has put into planning the construction of four more bridges connecting Dong Nai province, two bridges connecting Tay Ninh province, and put into planning bridges connecting Ho Chi Minh City across the Saigon River", Vo Van Minh informed and added that he is proposing to raise the static level of Dong Nai bridge to develop waterway traffic.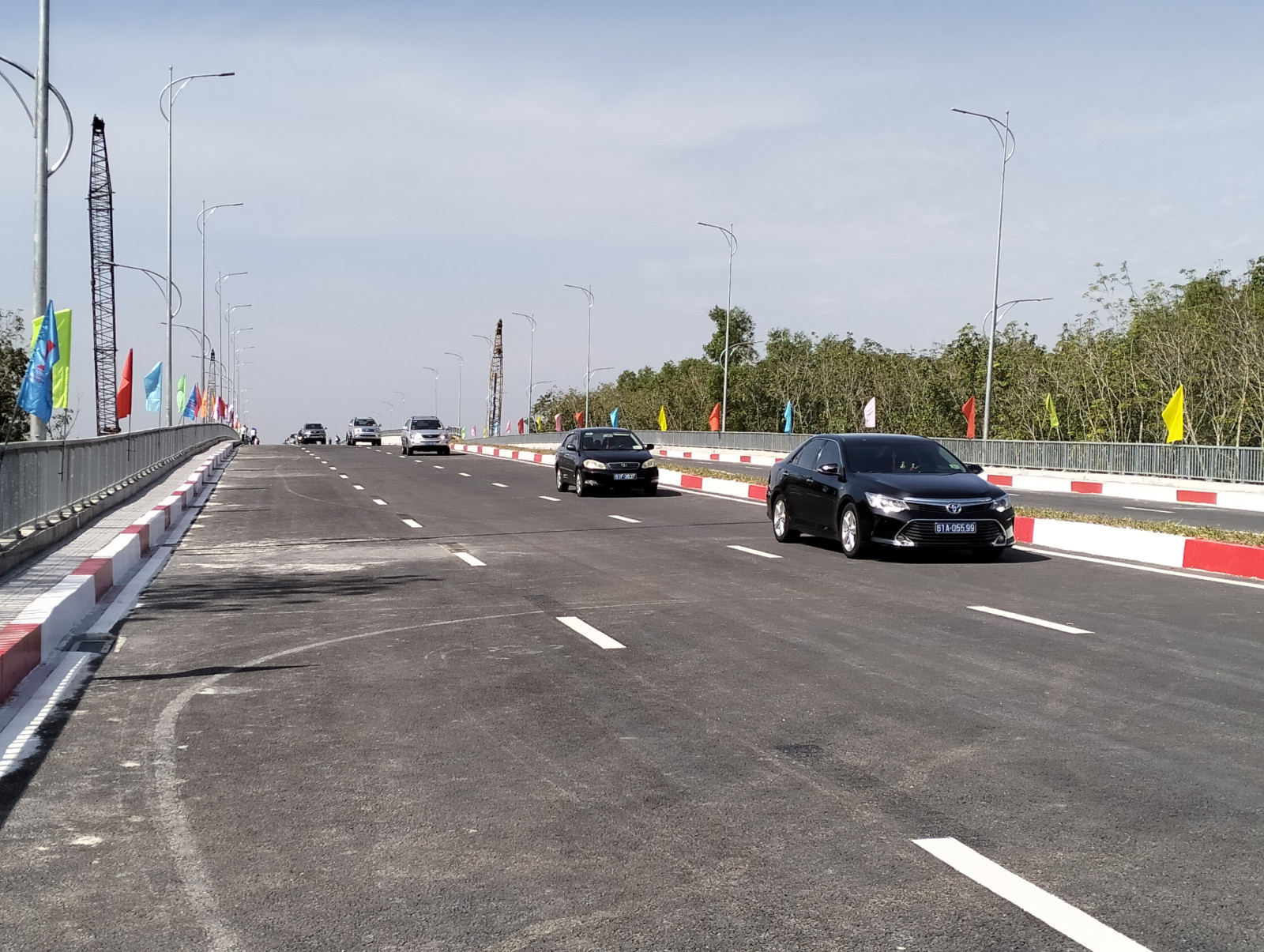 Connected transport infrastructure is an issue concerns provinces in the region. In photo: Construction of roads and bridges connecting Binh Duong and Tay Ninh provinces commenced.
Tran Tue Hien, Chairman of Binh Phuoc Provincial People's Committee, said that this locality is overcoming the disadvantage of geographical location through regional connection projects. In which, the focus is on the Ho Chi Minh City - Thu Dau Mot - Chon Thanh expressway, the North - South expressway to the west of the Gia Nghia (Dak Nong) - Chon Thanh section (Binh Phuoc province); Dong Phu - Binh Duong road; formulate and promulgate 58 projects, programs and plans with important orientations in many industries and fields. However, the province urgently needs the coordination and support of localities, especially in terms of transport infrastructure.
Nguyen Thi Hoang, Vice Chairman of Dong Nai Provincial People's Committee, said that Dong Nai, Binh Duong and Ho Chi Minh City have the highest proportion of migrants in the country, this contributes to economic development but also creates some problems. Although the localities pay attention to and solve these issues, most of traffic gateways are stuck, seriously affecting the socio-economic development of the Southeast region. Besides, Ho Chi Minh City, Dong Nai and Binh Duong have great advantages in waterway and maritime transport with a series of important routes. However, exploitation of these is still limited, have not reached their full potential, and have not shared the pressure for the overloaded road traffic.
Reported by Tieu My - Translated by Ngoc Huynh